Southern Rock Lobster Limited (SRL)
Established in 2004, Southern Rocklobster Limited (SRL), is a company limited by guarantee serving as the national peak body working to further the interests of the Australian Southern Rock Lobster Industry.
SRL Contact:
Thomas Cosentino
Executive Officer
email: tom@margoconsulting.com.au
web: www.southernrocklobster.com
FRDC IPA Manager/Contact:
Josh Fielding
Josh.Fielding@frdc.com.au
Industry Partnership Agreement
SRL's primary function is to facilitate a process to guide expenditure of Research and Development (R&D) levy funds independently collected from industry by State Government agencies and leveraged via the Fisheries Research and Development Corporation (FRDC). Accordingly, the FRDC is a key SRL partner with strategically aligned R&D priorities and objectives. Further information in relation to the FRDC and SRL Industry Partnership Agreement (IPA) click here
SRL also works to attract and secure other R&D funding sources outside of the FRDC process.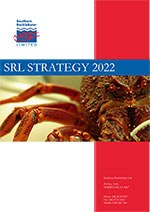 Southern Rock Lobster Research and Development Strategy 2022
SRL guides all industry R&D expenditure for this valuable fishery sector and, over the next five-year planning horizon, is working to deliver against the five strategic goals identified in the 'SRL Strategy 2022'.
The SRL have five strategic goals:
Secure access to a sustainable resource, which is harvested efficiently and safely in collaboration with other fishery users.
Community engagement with, and acceptance of, Southern Rock Lobster fisheries and policies.
Discerning seafood consumers prefer SRL's offer, in Australia and overseas.
An SRL that is engaged and influential in industry, communities and government.
Professional people and strong governance.
To view the SRL Strategy 2022 visit https://southernrocklobster.com/assets/SRL_Strategy_2022.pdf
Current Research Priorities:
Meeting dates:
Related projects are listed below