Opportunities to earn a living and to participate in fisheries management are providing the impetus for East Arnhem's first official Aboriginal fishing cooperative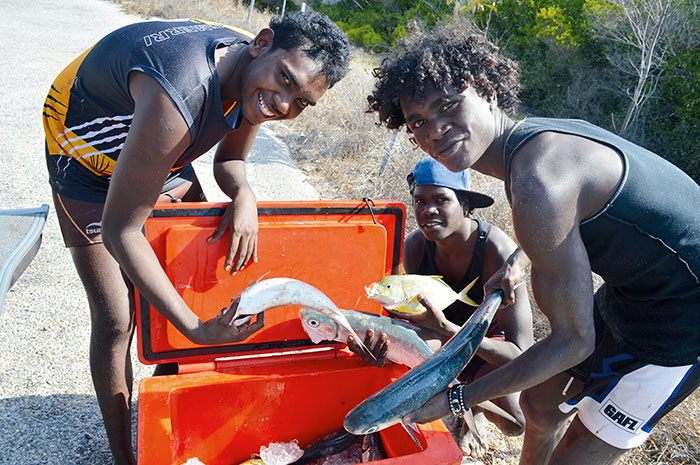 Young fishers in East Armhem Land will be able to sell their catch through the Garngirr Arnhem land.
By Catherine Norwood
After a 25-year gestation, the Northern Territory's first Aboriginal fishing corporation has been established at the easternmost tip of Arnhem Land. The Garngirr Fishing Aboriginal Corporation, on the remote Gove Peninsula, promises greater involvement for indigenous communities in the development and management of the region's abundant fisheries resources.
The corporation's inaugural chair and senior of the Warramiri people, Terry Yumbulul, has been a long-time proponent of establishing an indigenous commercial fishery.
He says before the corporation was formed, many traditional owners were already catching fish from the reef, line fishing along the coast.
"Many people thought that indigenous fishers were selling their catch, but the custom was sharing; we don't want to see other people hungry.
"What indigenous people see is others using their water and their fish to make money, but that could be a business that could help us make money, so we can teach our young fellas to fit into the world today, into the economy," he says.
In recent years, Terry Yumbulul has been supported in this vision by NT Fisheries and its manager for indigenous development, Bo Carne, who has helped to coordinate engagement with communities in the East Arnhem Land Indigenous Fisheries Network, which has evolved to become the corporation.
While encouraging communities to put their ideas into action, Bo Carne also recognised that finding the right structure and good corporate governance would be essential to success.
In 2012, he was awarded an FRDC Indigenous Development Scholarship to visit Canada and the US to investigate governance structures for indigenous groups involved in commercial fishing. He also reviewed fishing cooperatives in northern New South Wales as a potential model for assisting Aboriginal people to get started in fishing enterprises.
"Part of my role is to look at how we can get Aboriginal people into the fishing industry, whether it is Barramundi or mud crabbing, or handline fishing – anything that would be appropriate or relevant to the area, and also to increase indigenous involvement in fisheries management," Bo Carne says.
"Over the years, NT Fisheries has received requests from individuals and families to help them get into fishing, and we try to help everyone but don't have the resources, so we often spread ourselves too thinly to make a difference.
"I wanted to have a look at what other structures might exist and how we could set up a different structure, or a different approach that was relevant to NT. The question we tried to answer was − is it possible to set up an institution or corporation so Aboriginal people could control their own fishing industry involvement? If it is, then we could focus on helping the organisation, and in turn that organisation then helps the regional communities."
Fishing expedition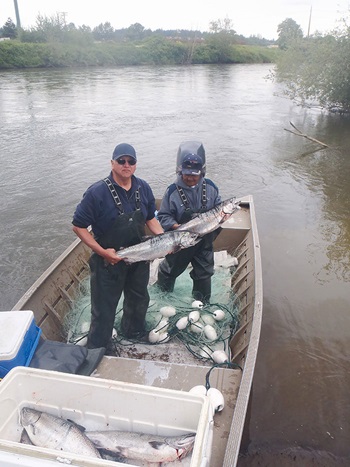 Fishing for salmon in British Columbia.
Photos: NT Department of Primary Industry and Fisheries
In Canada, Bo Carne visited British Columbia, where there is a strong involvement of indigenous communities in commercial salmon production.
The structure of the indigenous industry there allows every family to have a say through a representative at tribe or 'band' level. The bands then come together in each indigenous 'nation'.
In the state of Washington in the US, he found that native fishing rights were well founded and recognised.
The Native American community owns 50 per cent of the resource to manage, and operates the Northwest Indian Fisheries Commission, with its own fisheries managers and scientists.
Back in Australia, Bo Carne has used his investigations to help motivate members of the East Arnhem Land Indigenous Fisheries Network to take the step towards establishing the corporation. The key messages he brought home have helped guide and inspire members to take the next step.
He says the successful models he observed allowed individual 'autonomy', while providing alliances for a common and stronger voice with government policy and decision-makers.
From a First Nations perspective, in British Columbia and Washington, the key aspects of good governance were:
unity and autonomy;
land and marine stewardship;
innovation and diversification;
legal and financial capacity;
partnerships (indigenous and non-indigenous);
strong leadership using the right leaders;
ownership and collective purpose;
use of the past to plan for the future; and
a well-functioning board.
As chair of the newly formed Garngirr Fishing Aboriginal Corporation, Terry Yumbulul says fish remain an important source of food to the coastal people.
The corporation preserves respect for the Sea Country that is the traditional territory of the different tribes in East Arnhem Land and plans to develop a seafood 'cooperative model' to accommodate the different needs, opportunities and aspirations of the tribes.
Fishers from the different tribes will be able to go out and catch fish from their own waters.
"We are not setting where [tribal] boundaries are, we are just encouraging fishers to go out," Terry Yumbulul says.
The potential catch includes reef fish, Barramundi, crabs, oysters and other shellfish and aquaculture production. In the first instance, fresh seafood will be sold locally in East Arnhem.
NT Fisheries will work with members of the cooperative to assist with training in processing and packaging the catch to maintain condition and shelf life, as it heads to markets in Darwin or Sydney.
The corporation and its processing facilities will be based at the Gove Peninsula, east of Darwin.
Cooperative design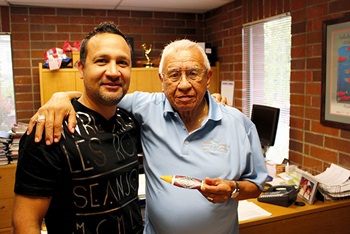 Sharing experiences, Billy Frank Jr (right), chairman of the Northwest Indian Fisheries Commission, receives a traditional Aboriginal message stick from Bo Carne.
Terry Yumbulul says the cooperative model will work to allow some individuals to hold their own fishing licences.
The cooperative may also hold licences that will allow individuals to fish on its behalf. It will take a percentage of sales, which could be used to provide boats for fishers, including the fuel and maintenance of the boats, as well as coordinating processing and marketing.
Some fishers will have a licence to fish with nets, which they can use to catch mullet and other inshore species.
There is already good demand for the mullet and whiting, and Terry Yumbulul believes the supermarkets will also be interested in buying from indigenous fishers.
"The cooperative will provide the main support to fishers across the region, so that fishers can maximise their fishing efforts; we leave it to individuals to work it out. We want to encourage them to work. It is about more than making money, it has high social and health benefits, but hopefully they will make money, of course," he says.
Bo Carne says the corporation also provides a formal structure that will make it easier for the government to engage with indigenous communities for business development via the cooperative, and for management of fisheries resources via the corporation.
The Garngirr Fishing Aboriginal Corporation will be seeking funds to assist with its strategic plan to develop the cooperative model.
The corporation will then assist with individual business plans. It has already had discussions with potential seafood industry partners and has received mentoring support from both NT Fisheries and industry.
"It's going to be important for Garngirr to work with seafood industry partners to ensure long-term success, but the real success will be through the indigenous leaders and support and direction they provide," Bo Carne says. 
---
2013 indigenous scholarships
The development of education materials for the Marine and Freshwater Discovery Centre at Queenscliff, in Victoria, is the focus of a 2013 FRDC Indigenous Development Scholarship awarded to Angela Jeffery.
Angela Jeffery will use her scholarship to improve her own understanding of past and current indigenous fishing practices, using her knowledge to prepare community educational resources for the discovery centre.
Gavin Bassani, from the Yintjingga Aboriginal Corporation in Queensland, has also been awarded an FRDC Indigenous Development Scholarship.
He will lead two young members of the Lama Lama Ranger program on a trip to Vanuatu to learn how the South Pacific country undertakes marine resource management and volunteer tourism.
Following from this, he and four Lama Lama Rangers will travel to the Torres Strait Islands to share experiences learnt in Vanuatu and exchange information on sea country management.
Lama Lama Rangers will also take part in maritime training with the Torres Strait Land and Sea Management Unit.
More information
Jo-Anne Ruscoe
02 6285 0400
jo-anne.ruscoe@frdc.com.au
Fisheries Research and Development Corporation
---
More information
Bo Carne, 08 8999 2164
robert.carne@nt.gov.au