Capitalising on existing research strengths and closer collaborations are expected to provide efficiencies in delivering research to meet national priorities
By Catherine Norwood
In 2010, all of Australia's fish and seafood-related jurisdictions – governments, industry and research institutions – endorsed 'Working Together: The National Fishing and Aquaculture RD&E Strategy'. The strategy covers all three fishing sectors: commercial, recreational and indigenous.
It creates a new national approach to the delivery of research priorities, incorporating three important developments.
The strategy identifies 14 research themes, which ensure a unified strategic approach to inform future RD&E investment. It describes the current government-supported RD&E capability and proposes a regional hub approach to developing more efficient and effective delivery.
It also establishes a national implementation structure made up of:
end-users (governance committee);
research providers network; and
extension and adoption network.
The National Research Providers Network (RPN) is providing answers to the questions that are priorities for stakeholders and industry.
David Smith, CSIRO's theme leader for Sustainable Ocean Ecosystems and Living Resources, chairs the RPN, which he says is already paying dividends through increased communication and collaboration between research agencies.
The RPN has established three regional research hubs, which recognise the significant differences in the habitat, species distribution and aquaculture in different parts of Australia.
These are the Southeastern, Southwestern and Northern hubs. There is also a separate aquatic biosecurity and health hub, which operates across all regions.
Research capability hierarchy
An important part of the RPN approach is the adoption of a Major-Support-Link concept at both a national and regional level.
Agencies with a particular strength or significant capability in a particular R&D field or industry are assigned 'Major' status and take a lead role in related research. Other agencies with lesser capability, but with a strategic interest, take a 'Support' role, while agencies without R&D capability in that field, but who still require R&D, play a 'Link' role.
Under the new structure, research funds will generally be guided to 'Major' providers – where capability and commitment are located. Major providers may be a lead agency within a formal or informal partnership that collectively delivers research capabilities.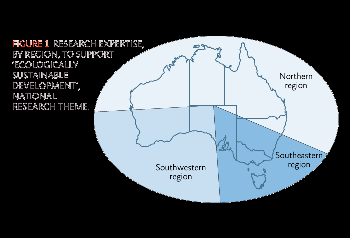 Figure 1
Research expertise, by region, to support 'ecologically sustainable development', national research theme
Figure 1 gives an example of 'Major' research providers identified in each of the three regional hubs, and the research capabilities they offer in targeting the national RD&E research theme 'ecologically sustainable development'.
David Smith says the Major-Link-Support strategy is not meant to exclude any research organisations, including private providers, from taking part; the goal is to develop a more efficient, more coordinated approach and to eliminate duplication.
The approach aims to build better communication and trust between agencies, despite the competitive funding environment. "There are a number of areas where the hubs have basically said they are happy for a particular agency or jurisdiction to do that area of research."
For example, in a practical sense, when the FRDC sends out the research priorities from the jurisdiction-based Fisheries Research Advisory Bodies (FRABs) the hubs look at those and identify possible collaborations. So rather than the FRDC receiving three applications, it gets one more focused application.
"As a nation we have only limited research funding, and our research needs and activities are becoming more complex," David Smith says. "In fisheries, the resource is a 'common' property, so there is also a strong management emphasis on the research that other sectors may not have to deal with."
FRDC executive director Patrick Hone says that the FRDC is committed to improving collaboration and efficient use of research capability. The FRDC has always played a leadership role where possible in facilitating collaborative partnerships between research providers and ensuring the best research service provider is used.
While the new approach aims to prevent duplication and increase coordination, Patrick Hone cautions against the loss of research diversity. He says while some issues, such as the development of a vaccine for a specific virus or bacteria, require a straightforward response, other issues are more open ended, such as identifying and addressing the cause of declining market share.
"Some issues are complex, and different organisations and different disciplines have different approaches to science. If you are too singular in your approach, you lose opportunities for alternative approaches and solutions."
A capability assessment was part of the 2010 Working Together strategy, but David Smith says capabilities have been in a state of flux, particularly as a result of government funding cuts on the eastern seaboard.
This makes the efficient coordination of existing skills and identifying capability gaps and funding even more crucial. Also important is the ability to identify changing capabilities and address research capability gaps.
Research theme: Ecologically sustainable development
 

To develop knowledge, tools and processes to support responsible use and management of aquatic resources

Northern hub
Major research expertise
WA
Fisheries assessments, fisheries modelling, management frameworks
Department of Agriculture, Fisheries and Forestry, Queensland
Fisheries modelling, fisheries assessment, governance and management
NT
Fisheries biology ecology modelling, stock assessment, data collection and management
*Also use the national CSIRO modelling capabilities where appropriate.
 
Southeastern hub
Major research expertise
Marine Innovation Southern Australia
Fisheries biology and ecology, ageing, data management, fish and stakeholder surveys,
modelling, oceanography, biogeochemistry
Institute for Marine and Antarctic Studies
Fisheries assess and modelling
NSW
Fisheries surveys; fisheries modelling; resource assessment process
CSIRO
High-level modelling capability – in partnership with state agencies; qualitative models;
minimally realistic models
Support research expertise
Fishing Victoria: Fishing surveys and data
Southwestern hub
Major research expertise
WA
Temperate invertebrate, finfish;
Fisheries assessments, fisheries modelling
Marine Innovation Southern Australia
Focus on warm temperate region and species of SA and southern coastal region of W A
Fisheries biology and ecology, ageing, data management, stakeholder surveys, modelling,
oceanography, biogeochemistry, fisheries assessment
CSIRO
Harvest strategy, national modelling capabilities
---
National approach
The National Primary Industries Research, Development and Extension (RD&E) Framework has been developed under the direction of the Standing Council of Primary Industries to encourage greater collaboration and promote the continuous improvement of RD&E resources.
Fourteen primary industry sectors, including fisheries and aquaculture, are incorporated within the framework, along with eight cross-industry sectors. Other industry sectors are beef, cotton, dairy, forest, grains, horticulture, pork, poultry, sheepmeat, sugar, wine, wool, and new and emerging industries.
Cross-industry sectors are animal biosecurity, animal welfare, biofuels and bioenergy, climate change and variability, food and nutrition, plant biosecurity, soils and water use in agriculture.
These sectors share an estimated $1.6 billion in research funding each year. As part of their commitment to the national framework, all are adopting the Major-Support-Link strategy, which establishes a hierarchy for research capabilities (see main story) to improve collaboration and coordination.
---
Partners in the north
The Northern Territory's director of aquatic resource management with the Department of Primary Industry and Fisheries, Bryan McDonald, says FRDC funding has supported the new approach by assisting with the formation of the Northern Research Partnership.
A memorandum of understanding has been signed by the fisheries research agencies in Western Australia, the Northern Territory and Queensland to provide a greater sharing of research expertise.
On the back of this, the Fisheries Research Advisory Bodies in all three states agreed to support one of the Northern Territory's major research priorities to increase the fisheries research capabilities of indigenous communities.
The project, 'Optimising the management of tropical reef fish through the development of indigenous scientific capability', has since been awarded FRDC funding to begin in 2013. The Northern Territory is taking the lead on the project, with Western Australian and Queensland research agencies providing supporting expertise to facilitate the project.
Bryan McDonald says through the Major-Support-Link strategy, lines of communication have greatly improved between researchers at the three agencies on a day-to-day basis as well as on specific projects. "It is allowing us to access expertise that we don't necessarily have ourselves."
---
Working Together: The National Fishing and Aquaculture RD&E Strategy – visit the RDEP Planning and Priorities page on the FRDC website.
More information