Preserving customary fishing practices is more complex than simply providing an allocation for Aboriginal fishers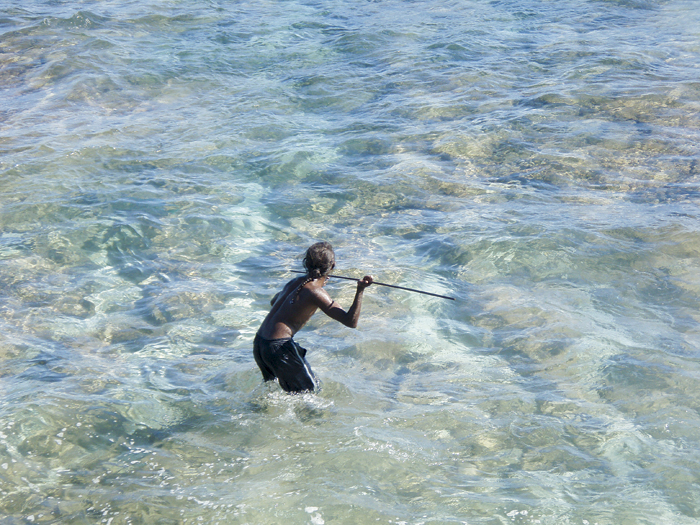 Spear fishing north of Carnarvon, Western Australia.
Photos: Guy Wright
By Rose Yeoman
"That's the fish we go for in the river 'Yirrigana' – the bony bream, that's our feed. Whitefellas use them for bait – they're our main tucker," says an elder of the Ngarla people, whose Native Title land is just to the east of Port Hedland on Western Australia's north Pilbara coast.
This comment was one of the many responses recorded from 150 Aboriginal people interviewed for an FRDC-funded study of customary fishing practices, economic development of fisheries and participation in fisheries management in WA.
The aim is to document Aboriginal fishing practices and to optimise access-rights allocation and opportunities as part of WA's integrated fisheries management program.
Guy Wright, a Fremantle-based anthropologist from Big Island Research, was principal investigator for the project. Supported by projects manager Teri O'Neill and field officer Brad Rowe, he has spent seven years collecting material about customary practices, summarised in the 2014 report Culture, Food, Flavour, Fun.
The title is based on a comment from an Aboriginal man who described his motivations to go fishing in that order.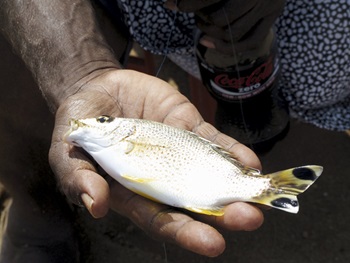 Yellowtail Grunter (Amniataba caudavittata), a favoured species of the project's participants.
According to Guy Wright, customary fishing is the extension of an ancient food tradition brought forward into modern times.
"Fish are eaten fresh and shared with family and friends, forming part of the web of reciprocities. People generally fish in order to eat it that day as they do not freeze or otherwise preserve large quantities. There is an ethic of 'no waste', which is a positive and powerful aspect of Aboriginal stewardship."
The 'no waste' concept is demonstrated by a woman's complaint that the public took too many crabs from her father's country:
"We've got that special place where all the [mud] crabs are ... but we'd like to get that place more protected because the whole town knows where it is and they just go there ... and we've seen photos where they've got crab piled up – so much! And I don't know what for ... We only go there and get a feed. We don't catch for parties and such. There may be 10 to 12 crabs that are good enough and that's enough for us."
Teri O'Neill says seafood may often support large cultural meetings and is used during "sorry time" when funerals occur and red meat may not be consumed but seafood is permitted.
She also describes how the mix of species preferred often differs significantly from that sought by other fishing sectors. The tools used may be scoop nets, spears and handlines, and also rods and reels.
The study's final report outlines how Aboriginal people fish; that is, opportunistically, in areas that they know and preferably on their own traditional lands. As boat ownership is rare, most fishing is done on the coast, in rivers, river mouths and tidal shallows.
Guy Wright says he believes Aboriginal people should have a right to not feel anxious about the myriad 'rules', such as for catch and bag size, developed for the recreational sector.
"The population of Aboriginal people relative to recreational fishers is very small and much Aboriginal fishing is for species that are not keenly sought by recreational fishers," he says.
Access issues
"This means there should be room for the relaxation of rules for customary fishers. They are fishing to feed themselves and their families, usually on their own traditional land, but access is becoming a major issue for them.
"The pace of development in WA, especially in the north-west, is phenomenal. Although the coastline is very long, much of it is difficult to access without boats or the four-wheel-drive gear that many non-Aboriginal people have," he says.
"Ports and mining operations are locking people out. Some pastoralists are willing to allow access through their property to the coast, but when stations are bought by mining companies, the old local courtesies can become more difficult."  
Guy Wright believes almost all Aboriginal people in WA benefit in some way from customary fishing. There is an active barter system and people often trade fish for kangaroo tails as well as the exchange of other goods and services.
Customary fishing is now recognised within WA legislation as a sector, along with the recreational and commercial fishing sectors.
"Other sectoral representatives in WA, for example the Western Australian Fishing Industry Council and Recfishwest, are aware of the importance of a well-recognised customary sector. Aboriginal people are less aware of fisheries policy development but this is changing," Guy Wright says.
The report recommends that Regional Customary Marine Authorities be established to deal with the range of marine and coastal issues confronting Aboriginal people. Fisheries would be an integral part of this.
"We need to create a situation where people can be informed and there is a solid, representative way of making decisions, although funding capacity may be an issue."
A shared resource
The development of Native Title in Australia has paralleled the development of a rights-based fisheries agenda: "Any discussion about how to share the resources of this land should include fish," Guy Wright says.  
He notes that a national set of principles was developed by the National Indigenous Fishing Technical Working Group in 2004 and endorsed by the FRDC, most Australian state governments including WA, and by industry, recreational and peak Indigenous bodies after Aboriginal people agreed that they would accept definitions for customary fishing that excluded commercial activity.
In return, they were to be helped into fisheries-related businesses and have better participation in management.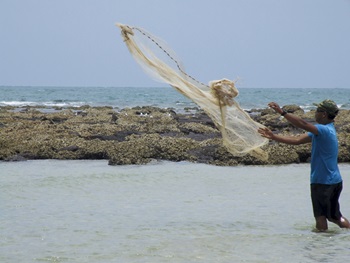 Netting baitfish north of Broome, Western Australia
"Now the definitional bit has been done, but the promised assistance has, unfortunately, not yet materialised."
In 2003, a substantial Aboriginal Fishing Strategy document was developed and published with support from the FRDC. The document remains in draft form and Guy Wright says while it is now somewhat outdated it contains many good proposals.
The strategy outlines consultative structures to engage with the other sectors and makes detailed recommendations for better fisheries engagement with Aboriginal people.
Culture, Food, Flavour, Fun identifies that people struggling with fundamental issues of poverty and access may not have the energy required to represent themselves on fishing issues.
"Senior Aboriginal people have more than enough on their plates," Teri O'Neill says.
"They are often on multiple boards or reference groups, they need to look after Native Title issues, and they often also have to balance their employment and look after their families like the rest of us. It is important for them not to waste their time and energies."  
One of the main issues in the WA Integrated Fisheries Management Program is the lack of quantitative and qualitative information to support the fisheries allocation process.
The Western Rocklobster (Panulirus cygnus), Abalone and demersal scalefish are being assessed for integrated allocation; however, there is little data for customary fishing of these species.
Culture, Food, Flavour, Fun reports that almost all Aboriginal fishing is customary fishing and Guy Wright suggests the relevant quantitative data could be obtained by basing it on a simple projection of regional Aboriginal populations. 
FRDC Research Code: 2006-067
More information
Guy Wright, 08 9335 3733,
guy@bigislandresearch.com.au