Midway between Victoria and Tasmania, King Island is a major trading centre for some of Australia's highest-value wild-catch fisheries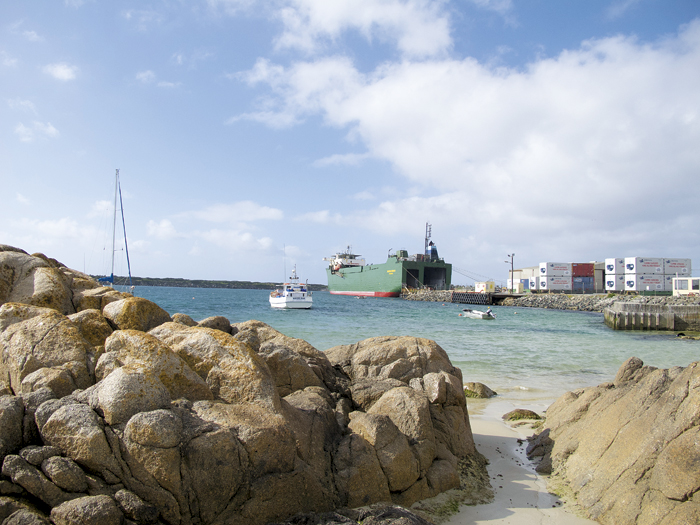 Grassy Harbour, King Island, is one of Tasmania's top landing ports for Southern Rocklobsters (
Jasus edwardsii
).
Photos: Catherine Norwood
By Catherine Norwood
King Island punches above its weight when it comes to an international reputation for gourmet food production. The island is hardly more than 1000 square kilometres, midway between Victoria and Tasmania, on the western edge of Bass Strait.
From this tiny base it produces a range of renowned beef and dairy products. Added to that are some of the nation's most succulent and sought-after seafoods: primarily Southern Rocklobsters (Jasus edwardsii), Greenlip Abalone (Haliotis laevigata), Blacklip Abalone (Haliotis rubra) and Giant Crabs (Pseudocarcinus gigas).
Although it may seem a logical step to add such premium foods to the King Island brand, it is a more complex matter for fish than it is for land-based produce.
Where do King Island's water begin and end?
Politically, King Island is part of Tasmania, although boats from both Victoria and Tasmania are licensed to fish in Tasmanian waters. And the island is a convenient landing point for rocklobster fishers, midway between the two states. It is also a highly-efficient trading point for rocklobsters, which constitute by far the island's largest seafood harvest.
King Island is, nominally, Tasmania's rocklobster capital. In both 2012-13 and 2013-14 the total volume of rocklobsters landed at the island's ports of Currie and Grassy represented 19 per cent of Tasmania's total harvest. In 2012-13, Currie topped the rocklobster volume for a single port, with more than 160 tonnes, or 10 per cent of the total catch that year.
King Island Seafoods handles almost all of the island's seafood trading. Boats deliver their harvest according to pre-arranged schedules at either Currie or Grassy.
The rocklobsters are sorted into 40-kilogram bins from the wells or tanks on the boats, and each checked to make sure they appear healthy and whole.
The rocklobsters are then transferred to the agent's live holding tanks at Currie, where they will be further sorted and packed for air freight to Victorian buyers, most of whom export the product, with some local sales.
But even on King Island, it can be difficult to know whether what you are buying is actually local product. Donna Summers, who runs King Island Seafoods with her husband, Max, points out that rocklobsters landed could come from almost anywhere along the Tasmanian coastline, including King Island.
Brand challenge
Donna Summers says she believes there is potential to build on the King Island brand, but guaranteeing provenance, to protect the brand, would be a significant issue.
The King Island Dairy, and local beef producers have been leaders in developing and promoting the King Island brand as representing the quality and simplicity of island production and life.
As a member of the King Island Brand Project, Donna Summers says maintaining the integrity of the brand is an issue locals take very seriously.
"There have been cases of people selling products as coming from King Island, when in fact, those products don't come from here. We follow it up, and ask them to remove our name from their product, if it's not accurate, and most of the time they're happy to do that.
"There have been reports of King Island flathead or garfish being offered for sale in other parts of Australia. But those fish aren't caught from King Island. Also, King Island rabbits – there aren't any rabbits at all on King Island."
She says while some of her Victorian customers comment that rocklobsters from King Island taste better, that is as far as the local identification goes.
Rather than regional branding, the King Island rocklobster fishers contribute levies through their industry organisations to state or national promotions of their product, such as the award-winning 'Australian Southern Rocklobster Clean Green' campaign.
Local supply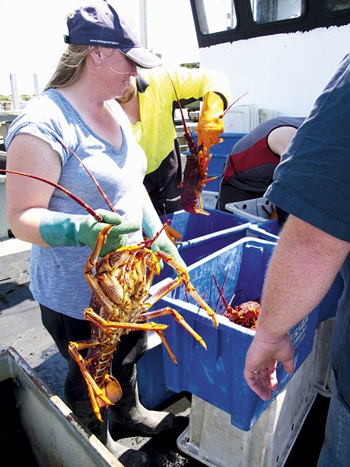 Donna Summers checks the health and condition of rocklobsters as they are unloaded from a vessel and packed into crates
In terms of the commercial rocklobster fishery, Donna Summers says the whole supply chain is tightly controlled and managed. One consequence of this has been to make it difficult for visitors to the island to experience seafood fresh from the boat.
For the commercial fishers, selling direct to consumers requires providing tags for each lobster sold, with corresponding forms to fill out and submit by the end of the business day to ensure that every single rocklobster is accounted for against the total allowable commercial catch (TACC).
Assuming a visitor is at the wharf as a boat is unloading, fishers say the paperwork involved is onerous, and a disincentive to ad hoc customer sales. As a visitor, if your heart is really set on fresh rocklobster, with 24-hours notice you can place an order at the Currie supermarket.
Donna Summers says the difficulties in providing the direct-to-consumer fresh fish experience is disappointing for the local tourism industry.
"For the kind of people who come to King Island for a holiday, this back-to-basics experience is exactly the type of thing they appreciate – highest-quality, fresh food direct from the source," she says.
The tight monitoring of the supply chain is part of efforts to ensure the sustainability of the fishery resources. Donna Summers says during her 20 years working with fishers, she has seen the level of professionalism and efficiency increase significantly.
A changing environment
Since the quota system was first introduced in 1998, the fleet of more than 30 boats has halved, and the quota also changed over this time.
It has dropped from over 140 kilograms to 100 kilograms per quota unit for the 2014-15 year.
"It was a lifestyle choice, now it is much more a business decision, and we see that in the quality of the catch and the way the fishers treat their animals. Fishers recognise that they are providing a premium product for a premium market."
The industry is also highly focused on improving efficiencies wherever possible, she says, which comes down to even simple things such as ensuring pots are in good repair.
Lease options
The shortfall between the allowable catch and the actual catch is generally small in Tasmania's rocklobster fishery. According to figures from the Tasmanian Rock Lobster Fisherman's Association in 2012-13, 99.86 per cent of TACC was harvested.
The leasing of quota has allowed for the active take-up of as much of the TACC as possible, although the lease prices can fluctuate wildly from year to year.
One of the patriarchs of the rocklobster industry on King Island, Jon Munn, says he has only ventured into leasing in the past few years, to supplement his own quota.
"When we did, we realised how hard it was for those who were dependent on leasing to make a living."
In years with good conditions for harvesting, such as 2013-14, lease costs can average $18 to $22 per kilogram, with a beach price of $51 to $53 per kilogram across the season. In years when harvest fall behind, the lease price of quota can drop to as little as $3 a unit.
However, Jon Munn says overall, business margins are being squeezed once operating and crew costs come out. In 2013-14, he leased more than three tonnes of quota to supplement the units he owns. But he was reluctant to actually buy more quota because of recent reductions in the yield per unit.
Technological edge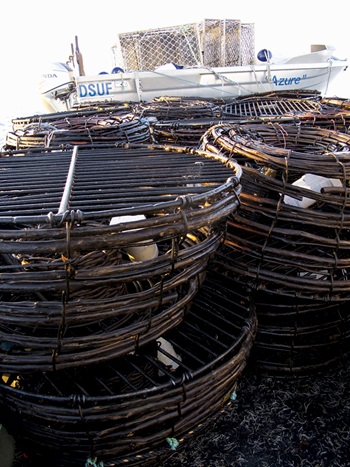 Most rocklobster vessels operating from King Island carry 50 cray pots.
For some local fishers, technology is providing the key to improved efficiency and catch per unit of effort. Robert and Dawn Jordan are also long-time rocklobster fishers on King Island. Robert Jordan only ventures out occasionally now that his son Paul skippers their vessel, the 55-foot Kingfisher 5.
But Robert is the one responsible for the major upgrade in technology onboard, which is helping to more precisely target their catch.
With a combination of new hardware and software he is able to map the sea floor in swathes 20 metres wide, as he lays out his pots. It helps to identify geological formations on the sea floor that may provide better rocklobster habitat. He is also able to cross-reference this mapping with decades of his own catch data. After a few initial technical glitches, he says the system is now paying for itself.
It has allowed the Jordans to catch their allocated quota ahead of schedule and to maximise prices for their catch, which peaked at more than $70 per kilogram earlier this year.
Most of the rocklobster boats operating from King Island are well boats. Flushed regularly with fresh ocean flows, the rocklobsters can be held alive in wells for more than a month without losing condition, depending on the season – longer during the colder months. This allows fishers to wait for peaks in the market, or to wait out gluts.
Abalone and crabs
Brothers Paul and Grant Jordan also harvest Giant Crab and abalone off King Island and further south along the Tasmanian coast. The state's Giant Crab quota is relatively small and the annual harvest at King Island is generally only about 20 tonnes a year.
Grant Jordan is one of two licensed abalone divers on King Island, and he will harvest between 30 and 40 tonnes of Greenlip Abalone and Blacklip Abalone a year.
The market suffered a setback three years ago when abalone viral ganglioneuritis (AVG) was identified as endemic in wild Tasmanian abalone stocks.
While animals only become symptomatic when stressed, the finding has led to a ban on importing live Tasmanian abalone into Australia's largest and most lucrative abalone market, in Sydney, where prices range up to $60 per kilogram.
The abalone are now largely sold for processing in Tasmania, at $24 to $34 a kilogram, although they can also be sold live to Victoria. 
---
Catch benchmark guides resource management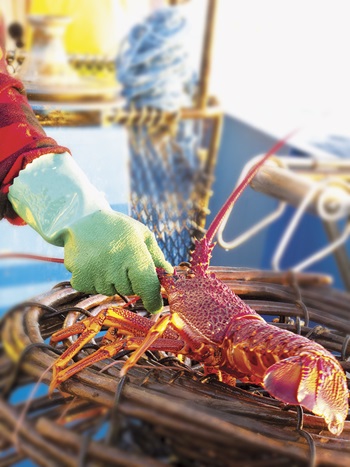 In the Tasmanian Southern Rocklobster fishery a benchmark for the catch per unit of effort (CPUE) has been set to help assess the economic sustainability of the fishery, along with the sustainability of the fishery resource.
Catch information supplements recruitment data. For some in the fishery, there are concerns about the effects of inefficient fishers on the overall CPUE benchmark. If fishers are unable to catch their full quota, perhaps that means the fish are not there to be caught.
However, there are many factors that can influence lower-than-anticipated harvests, including low demand and poor beach prices for rocklobsters, or fisheries closures in response to conditions such as algal blooms.
While the systems used to calculate CPUE across the state's fishery take into account many of these variables, fishers remain focused on efforts to improve the efficiency of the industry overall.
---
Adjusting the CPUE
In 2008-09, the total allowable commercial catch (TACC) was 1523 tonnes. But it was clear at that time, that the CPUE was dropping, says fisheries scientist Klaas Hartmann at the University of Tasmania. There were fewer rocklobsters in pots and they were smaller. Monitoring also identified low settlement of rocklobster puerulus.
"The fall in recruitment was unprecedented, with record lows for several years," Klaas Hartmann says. Considerable effort has been invested in research to identify the correlation between spawning and rocklobster recruitment, but the links have not proven as clear-cut for Southern Rocklobsters as they have for Western Rocklobsters (Panulirus cygnus).
In response to the combined scientific and commercial data that indicated a decline in the resource, the TACC has been gradually reduced over several years, to 1050 tonnes for the 2014-15 season, or 100 kilograms per unit of quota. Klaas Hartmann says the changes are designed to both protect the resource and the long-term viability of the fishery.
There has been a gradual increase to the CPUE, which scientists expect will accelerate in response to TACC reductions over the past five years. Recent puerulus sampling also indicates that recruitment in the past year is back to normal levels after a long period of poor recruitment.
"Things are looking positive on the recruitment front and with the current TACC we should be seeing some substantial CPUE increases over coming years," Klaas Hartmann says.
---
Storm-cast harvest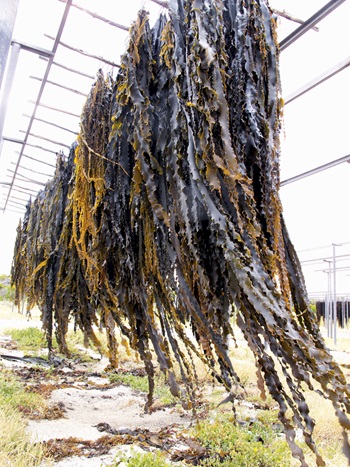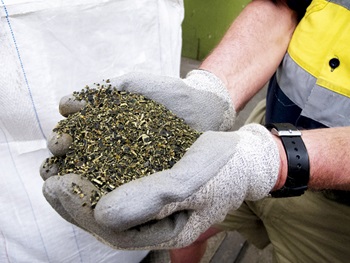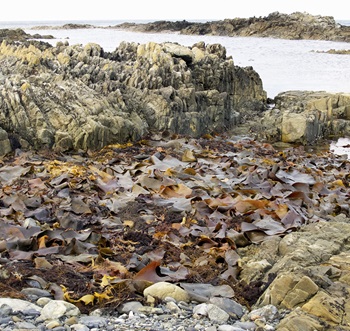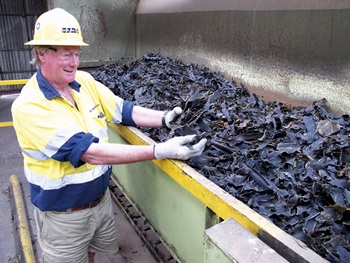 There is nothing John Hiscock likes more than a good south-westerly gale, raising swells to three or four metres to pound the King Island shoreline. It is the kind of weather that guarantees a plentiful harvest of Bull Kelp (Durvillaea potatorum) for Kelp Industries, of which he is general manager
The business is based at Currie on the western side of King Island, and it produces more than 2000 dry tonnes of kelp a year, from 10,000 tonnes of wet kelp. Most of this is exported to Norway for use in a wide range of food, pharmaceutical and personal-care products. The company's largest customer is the biopolymer division of the global manufacturing company FMC.
The kelp is also processed and sold domestically for use in garden and agricultural products including liquid fertiliser and stock-feed supplements.
Kelp Industries has been operating at its current site at Currie since 1975, after more basic beginnings a few years earlier at the Currie harbour. Although now owned by international interests, John Hiscock says the business was a local initiative, designed in part to address the problem of huge quantities of seaweed rotting on the King Island shoreline.
When an analysis of the kelp revealed it was high in alginate content, markets were originally developed with processors in Scotland.
The development of Grassy Harbour on the eastern side of King Island to cater for larger vessels and containerised shipping to and from the island provided the opportunity for larger-scale processing and export.
John Hiscock says the quantities of kelp washed up are significant because of the extensive reefs and rocks around the island.
"Kelp only grows from low tide down to about 10 metres, and we have a lot of shallow water here. We are not taking any living resources from the ocean, it is all storm-cast kelp, and the harvest varies from year to year with the weather."
For the past decade, the harvest has averaged about 2500 dry tonnes, but in the 1980s, this was closer to 3000 tonnes a year, with one record harvest of 4000 tonnes.
"We're just not getting the frequency of south-westerly gales coming through," John Hiscock says. "We need the mechanical action of the sea to bring in the kelp."
He has almost 50 harvesters on his books, with about 10 of those making a full-time living from collecting the kelp. They are paid on a per-kilo-dry-weight basis.
Most use winches to haul the seaweed off the rocks into trailers or trucks, for delivery to the factory at Currie, where it is hung to dry for one to two weeks, depending on the weather. It is then cut into smaller pieces before being fed into a wood-fired drying system.
There are two main products: one to five millimetres, most of which is exported for alginates, and less than one millimetre, used for garden and agricultural products.
John Hiscock says in some years there is demand for more than they can produce. "But we're entirely dependent on the weather."
Captions (from top)
Kelp is hung on racks outdoors to dry for up to two weeks before processing.
Dried kelp is milled to two different sizes for sale domestically and for export.
Storms wash Bull Kelp ashore, where it is harvested for processing.
General manager of Kelp Industries John Hiscock with chopped kelp,ready for further drying and milling
Photo credit: Catherine Norwood
More information
John Hiscock, 03 6462 1340
john@kelpindu.com.au
---
More information
King Island Seafoods
03 6462 1774, 0428 621 774
kingislandseafood@bigpond.com