Additional research and testing facilities will improve the responsiveness of disease-management efforts for Tasmania's expanding salmonid aquaculture industry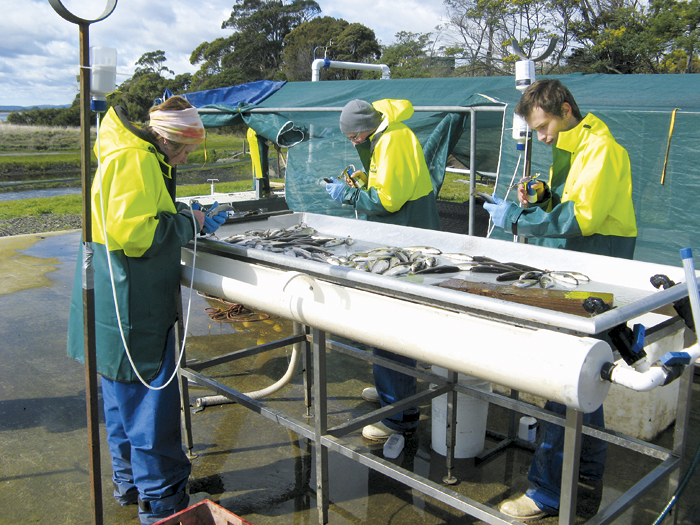 Atlantic Salmon (Salmo salar) being vaccinated with Corrovac in a field trial run by Huon Aquaculture Company.
Photo: Richard Morrison
By Sarah Clarry
Among the successes that Tasmania's fish health researchers can already claim are vaccines to treat four of the leading diseases that threaten the state's $500 million salmonid aquaculture industry.
But with plans to double aquaculture production to $1 billion by 2030, the salmonid industry is investing with government to increase research capacity to produce new vaccines as an essential part of its prevention strategy to secure a viable and healthy industry.
The establishment of the new Australian Aquatic Animal Health and Vaccine Centre this year is expected to further enhance existing capabilities for protecting salmonids and other fish and animal industries from new disease threats.
The centre will be part of the Tasmanian Department of Primary Industries, Parks, Water and Environment (DPIPWE) and based at the Fish Health Unit in Launceston.
Jeremy Carson, principal research microbiologist at the Fish Health Unit, will lead the new vaccine centre. He has been with the Fish Health Unit for almost 30 years – since the early days of intensive Atlantic Salmon (Salmo salar) and Rainbow Trout (Oncorhynchus mykiss) farming in Tasmania.
He says when salmonid farming first began in about 1985, the unit initially provided diagnostic services as part of the Tasmanian Salmonid Health Surveillance Program, but its role was quickly expanded to include research into disease control and prevention.
Diseases the unit have already addressed include vibriosis, yersiniosis, marine Aeromonas disease and Tasmanian Rickettsia-like organism (RLO). Each has different symptoms, but all ultimately result in septicaemia and fish death.
While vaccine development to date has kept ahead of disease development, limited tank space to run efficacy trials for new vaccines has restricted development.
Expanded facilities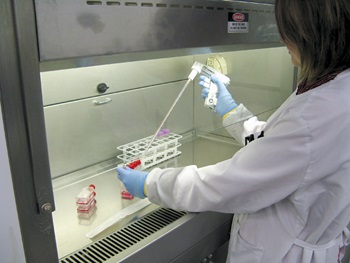 Martine Cornish, research assistant at DPIPWE, prepares fish cell lines for the culture of Tasmanian Aquabirnavirus.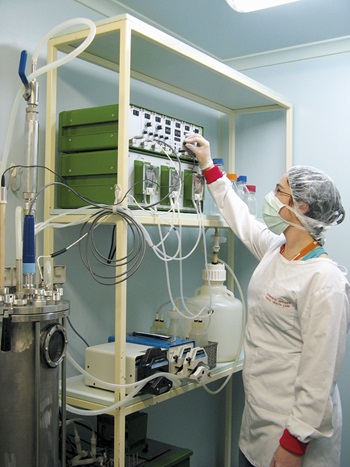 Pilot-scale production of Corrovac vaccine at the Fish Health Unit, Tasmanian DPIPWE, Launceston. The fermenter is used for mass culture of the Tasmanian Rickettsia-like organism.
Photos: Jeremy Carson
To overcome this, the Tasmanian salmonid industry, the Tasmanian Government and the FRDC have funded a fourfold expansion of fish-holding capacity at the existing research facilities, establishing the Australian Aquatic Animal Health and Vaccine Centre.
"We can already handle organisms safely under biosecure conditions; however, our capacity to do lots of tank trials is limited," Jeremy Carson says.
"There is a demand for several other vaccines that are in development, but space is the bottleneck."
The fish-holding capacity will expand from one room to four.
"The biosecure facility is a quarantine facility in its own right, able to handle infectious agents for both terrestrial and aquatic animals. We will be able to handle both bacterial and viral disease agents."
Jeremy Carson says all the targeted diseases are naturally occurring organisms, and are sometimes a variant of an organism that occurs elsewhere.
"With the increased intensity and length of aquaculture production, the likelihood of encountering new disease agents increases," he says.
"The diseases were not unexpected – salmonid production worldwide had encountered these types of organisms – but once an organism appears you have to learn about it."
"We ask: 'Is it the same as what occurs worldwide or a variant of what occurs in the Northern Hemisphere?' The diseases here have distinct differences and appear to be unique to Tasmania."
As Tasmania's salmonid industry has grown, diseases that were minor issues are starting to have a greater impact, so the demand for vaccines has increased. Vaccines can reduce the cost of production, and also allow the industry to avoid using chemicals to treat disease by preventing the initial infection.
Once a candidate vaccine is ready, it is tested by vaccinating a small group of fish, exposing them to the disease agent and measuring how effective the vaccine is at protecting the fish against the disease.
The Tasmanian DPIPWE laboratory in Launceston has 28 staff, about half of whom contribute to providing diagnostic services to Tasmania's aquatic animal industry. Three of these staff also undertake research, with a further six providing support to research projects as required.
The overall role of the new centre is to consolidate the expertise that already exists in aquatic animal health diagnosis and research. It will continue to be a centre of expertise for aquatic animal health and diseases and the development of vaccines.
The primary focus of the new vaccine centre will be salmonids, but it is expected to provide expertise for other species such as abalone and Pacific Oyster (Crassostrea gigas).
Construction is scheduled to begin in June, with the new facilities planned to be operational by the end of 2014.
Disease surveillance
The Tasmanian Salmonid Health Surveillance Program is the first line of defence in identifying potential threats. It operates as a partnership between the Tasmanian DPIPWE and industry to monitor the health of farmed stocks.
"Using active and passive surveillance, it allows us to assess disease trends and monitor for the emergence of new pathogens. The industry uses this information to decide the priority areas and commission research," Jeremy Carson says.
The first disease agent the industry encountered was one that the European salmonid industry had warned it against – vibriosis – first discovered soon after commercial Atlantic Salmon aquaculture began. The vaccine Anguillvac was released in 1988.
Almost a decade later, in 1997, Yersinivac was released, to treat yersiniosis, which affects fish in the hatchery of about one gram upwards.
By 2005, the size of the salmonid aquaculture industry had expanded to such an extent that the Fish Health Unit was unable to meet the demand for Anguillvac and Yersinivac vaccines, and production was taken on by the pharmaceutical company Merck Sharp and Dohme.
Working with Merck, Sharp and Dohme, the Fish Health Unit developed AnguiMonas – a single injection that provided protection against a new disease threat, marine Aeromonas disease and also against vibriosis. This was released in 2006.
The unit's senior research microbiologist Richard Morrison has led development of the latest vaccine, Corrovac, currently in the field-trial phase, which protects against Tasmanian RLO.
The FRDC has funded development of Corrovac, and is also funding development of two new virus vaccines for the Tasmanian Aquabirnavirus and the Tasmanian Aquareovirus. This work is also led by Richard Morrison.
Both new vaccine projects are collaborations with Mark Crane and Nick Moody from CSIRO's Australian Animal Health Laboratory in Geelong, Victoria. 
---
How to vaccinate a fish
The first method of vaccination, now rarely used, is the bath. The water level in the tank is reduced and once it reaches the correct amount of fish and water, the vaccine is poured in.
The fish swim around in the dilute vaccine for an hour until enough is absorbed into their system.
Dip vaccination is a very concentrated bath of the vaccine. A certain weight of fish is put into a basket and they are lowered into the bath for about 30 seconds.
Dip is used in hatcheries where there is a risk of disease at a very young age; a fish of one gram cannot be injected so dip vaccination is used. The downside is that protection only lasts for a couple of months.
With injection vaccination, the fish are first sedated and then the vaccine is injected into the abdomen before the fish are put into a recovery bath. Injection gives very long-lasting protection. Fish are injected at the hatchery (depending on the disease against which they are being vaccinated) at between 40 and 100 grams.
The injection method protects the fish for the entire life (production) cycle, about 18 months to two years.
---
FRDC Research Codes: 2010-032, 2011-224, 2013-051
More information
Jeremy Carson, 03 6777 2098
jeremy.carson@dpipwe.tas.gov.au