Australian seafood is set to shine in the light of increased national promotion of food and wine as part of the travel experience for international visitors
The opportunity to taste-test different prawn species proved popular as part of an Aussie Wine Month event in April.
By Peter Horvat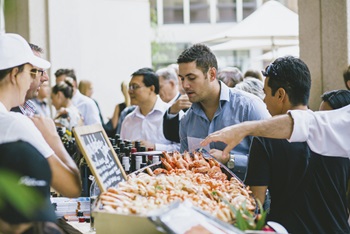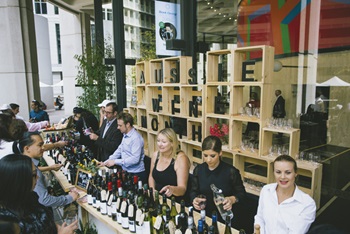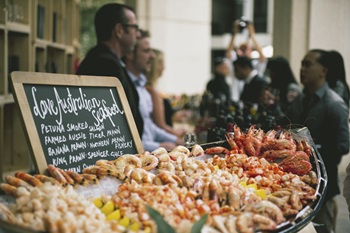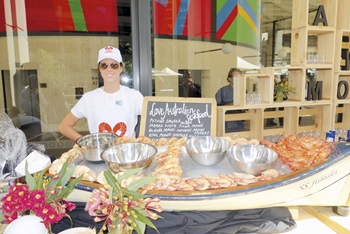 Photos: Tourism Australia
Recent research conducted across 15 of Australia's key international tourism markets shows that "great food, wine and local cuisine" is now a major factor in holiday decision-making (nominated by 38 per cent of survey respondents), ranking third, ahead of world-class beauty and natural environments (at 37 per cent).
For those who have visited, Australia ranks second for its food and wine experiences (60 per cent), after culinary giant France and ahead of Italy. Australia also ranks as the number-one destination for food and wine for people who have visited from China, the US, France, India, Indonesia, Malaysia, the UK and South Korea.
Tourism Australia is already evolving its successful global campaign – 'There's nothing like Australia' – shining a light on Australia's food and wine experiences. The idea is to reframe Australia as 'Restaurant Australia' – a place where, every second of every day, we are serving up unique and brilliant food and wine experiences in awe-inspiring locations.
The Restaurant Australia concept will focus on seven themes:
seafood;
restaurants;
produce;
people;
food events;
experiences and food trails; and
ldquo;the wine story".
Seafood stories
There are so many seafood stories to tell and this is an excellent opportunity to showcase the Australian seafood industry.
This is not limited to just the commercial industry; the recreational sector also has some great stories to tell.
The key is for industry to share their exceptional food and wine stories at the Restaurant Australia hub.
The Restaurant Australia online hub was launched in April 2014 and allows the industry to share its stories.
This can be done via completing an online form available on the website and by joining the conversation by using '#restaurantaustralia' on Tourism Australia's social media platforms.
Pinot, prawns and people
It is not hard to find opportunities to showcase Australian seafood. But it is even better when you get the opportunity to showcase it with some iconic Australian wines. Combining the two gives you a very powerful event.
This was the case with the pre-launch event for Aussie Wine Month 2014, held at the base of Australia Square in Sydney. Wines from 55 regions were on show, including d'Arenberg d'Arry's Original 2010, De Bortoli's Noble One 2009 and Pizzini's Nebbiolo 2010.
The FRDC has continued to build its relationship with Wine Australia, working with industry to provide seafood for the pre-launch event for Australian Wine Month. To get seafood to the event, the FRDC put the call out to select industry sectors based on what was possible to do at the event – minimal preparation space and no cooking.
The 'Love Australian Prawns' committee grabbed the opportunity, providing financial support and prawns for the event. Likewise, Petuna, from the Atlantic Salmon industry, took up the opportunity. Four different prawns were on show – Northern Prawn Fishery Banana Prawns, Spencer Gulf Western King Prawns, North Queensland Endeavour Prawns and farmed Australian Black Tiger Prawns.
In addition, Petuna showcased its smoked Atlantic Salmon (Salmo salar) for the tastings.
During the eight-hour pre-launch event, more than 1500 people are estimated to have visited Australia Square to try the wine and seafood. There was a high level of engagement from people attending, and many were interested in comparing the four types of prawns on show.
The event also provided some interesting insights into the consumers who attended – such as taste preferences and misheld beliefs (for example, only red prawns taste good).
Wine Australia was pleased with the event and full of praise for the participation and professionalism of the seafood team.
The FRDC coordinated the seafood participation, engaging Fishtales to undertake the preparation and to help with the display.
Miles Toomey from the Australian Seafood Cooperative Research Centre was on hand to assist with organisation and transport of the product. 
More information