A new online training initiative helps time-pressed apprentice chefs – and others – upgrade their seafood skills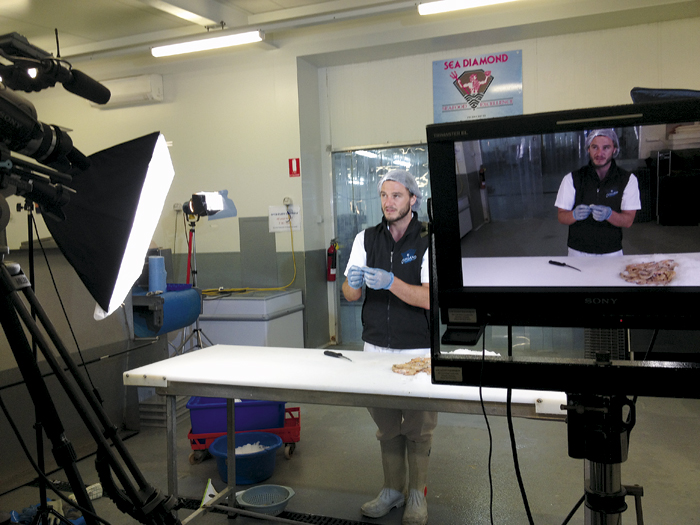 Josh Catalano focused on seafood processing and supply.
By Catherine Norwood
It can take four years to become a qualified chef, and during that time an apprentice may spend as little as four days learning how to select, handle and prepare seafood.
When compared with meat, seafood forms a small part of the formal training, but to counteract this a series of videos have been developed as a new national online training resource to make it easier for apprentices to improve their seafood skills.
The project brings together the expertise of the Australian Seafood Cooperative Research Centre (Seafood CRC), the West Coast Institute, Curtin University's Centre of Excellence for Science, Seafood and Health, the FRDC and leaders of the seafood and hospitality trades in Western Australia.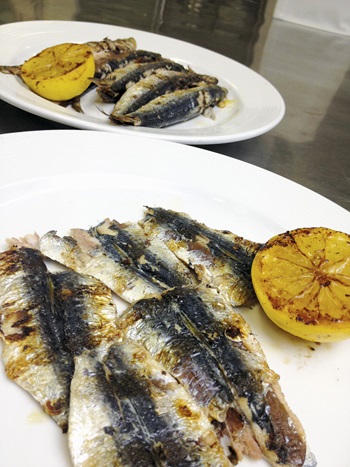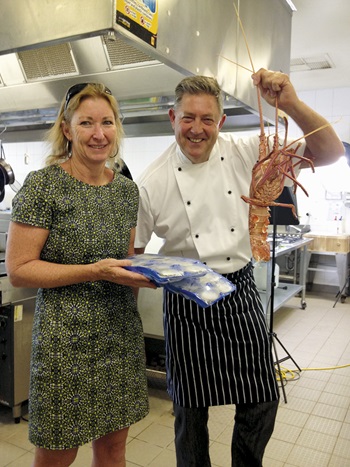 Janet Howieson with chef Don Hancey.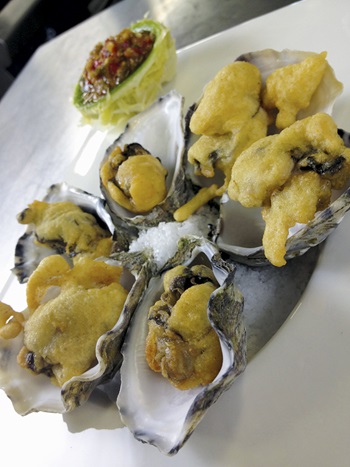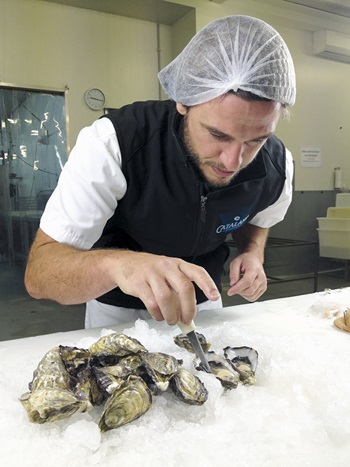 Josh Catalano
Photos: FRDC
Emily Mantilla, communication, education, training and extension program manager for the Seafood CRC, says the idea came from discussions during a training project for CRC-sponsored PhD and master's students in 2012.
"We brought the students together with leading chefs such as Adriano Zumbo and Jared Ingersoll to create a mock restaurant. The aim was to help students understand how seafood is used in a commercial setting and the end-use requirements of chefs."
She says conversations with chefs during the event identified a lack of confidence among apprentices when it came to handling and preparing seafood.
In a busy commercial kitchen it can be difficult for qualified chefs to find the time to provide the necessary training for apprentices on the job.
"We felt that creating an online learning resource would be useful not just for apprentices, but also for front-of-house staff who may be discussing menu choices with diners. It could also be used as a refresher for qualified chefs, and even by customers and the home cook," Emily Mantilla says.
Fishfiles
The FRDC has also created the Fishfiles website, an online seafood-preparation resource based on the Australian Seafood Users Manual. It provides a logical and easy-to-use format that explains handling and preparing seafood. In addition to the manual, it also includes recipes, videos and research on storage, quality, cooking and safety.
Fishfiles is now being used as a resource for students by hospitality training providers including the West Coast Institute. Linking the two projects was an obvious step.
Curtin University researcher Janet Howieson has been leading the development of the training materials, assisted by staff from the West Coast Institute.
"We selected six species to focus on for the training videos, following the food chain from harvest to the restaurant door," Janet Howieson says. "These are Australian oysters, rocklobster, farmed Barramundi, snapper, sardines and prawns.
Local industry leaders have delivered the presentations, which will be trialled as part of the training undertaken by apprentice chefs at the West Coast Institute. The students will be assessed against the video content, which is linked to the relevant curriculum.
Josh Catalano, from Catalano Seafood, explains processing and supply, and what happens up to the point when seafood arrives at the restaurant door.
Peter Manifis, executive chef at the Incontro Restaurant in South Perth, talks about the process for receiving and checking the condition of seafood.
Catering consultant and WA food ambassador Don Hancey demonstrates how to apply to seafood the standard cooking techniques that all apprentices are expected to master, such as steaming, grilling and baking.
Janet Howieson says the findings of research conducted in collaboration with Meredith Lawley at the University of the Sunshine Coast have been incorporated into the training video. That work involved interviews with 60 chefs in South Australia to identify 'What chefs want when buying Australian seafood'.
"Talking with chefs, Meredith Lawley found that what they really want is information, and this resource is a really accessible and simple way of providing it."
The training videos have been developed with the assistance of the FRDC's digital communications specialist Rachelle Etienne-Breidenbach who has been coordinating the filming and collection of digital content for the FRDC.
The videos will be added to the FRDC's Fishfiles website and are also available for industry sectors to use and to add to their own websites. Other industry sectors interested in developing something similar for their own products should contact the FRDC.
After a trial period at West Coast Institute, the training resources will be rolled out nationally to other TAFEs and registered training organisations.
The videos were officially launched in May 2014 and can be viewed at Youtube.
---
Fish feature in culinary championships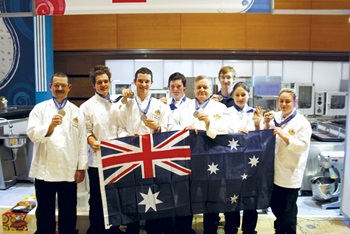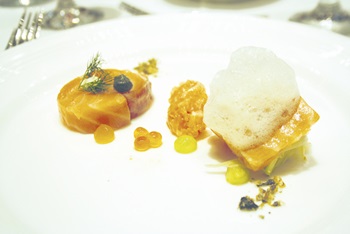 International cooking competitions provide a way to both challenge and showcase the talents of Australia's leading junior and senior chefs, and also to showcase Australian food products, including fish.
From state competitions to national events and international regional events, participants rise to compete in the IKA, or International Culinary Olympics, held in Germany every four years. In 2012, the Australian senior team placed ninth out of 35 teams, and the junior team placed seventh of 25 teams. Sweden and Norway took first and second place in both events.
In 2014, the leading international event will be the World Culinary Championships, in Luxembourg in November. In most events the competitors – teams of five chefs – have to prepare a total of 18 dishes, and serve dinner to 100 to 120 people.
Peter Tischhauser, who provides the logistical support for the Australian junior culinary team, says leading international chefs provide judging for these competitions and have been known to incorporate products they particularly liked in the competitions into the menus at their own high-end establishments.
In 2013, the Australian junior team featured the popular Western Australian Dhufish (Glaucosoma hebraicum) in its menu at the International Young Chef Challenge in South Korea, as well as Glacier 51 Patagonian Toothfish (Dissostichus eleginoides), Marron (Cherax cainii), prawns and Atlantic Salmon (Salmo salar).
Competing against 23 countries, they returned home with a silver medal in the hot kitchen competition and bronze in the cold table.
Peter Tischhauser says Australian seafood is always well received, particularly in Asia, where fast-grown aquaculture species dominate availability and often lack depth of flavour.
Image captions (from top)
(From left) Peter Tischhauser (logistics manager), James Cole-Bowan, Phil Grice, Christopher Malone (captain), Patrick O'Brien (manager), Nick Gillan, Cherise Minas and Jade Hugi-Fergusan.
Salmon three ways: (from left) salmon tartare, pickled cucumber, apple gel, salmon skin soil, salmon caviar and dill; smoked loin of salmon, horseradish cream and baby capers; and olive-oil-poached salmon belly, fennel Josh Catalano and apple salad, yuzu and elderflower dressing, apple air.
---
FRDC Research Code: 2013-711
More information
Emily Mantilla, 08 8201 7652
emily.mantilla@seafoodcrc.com