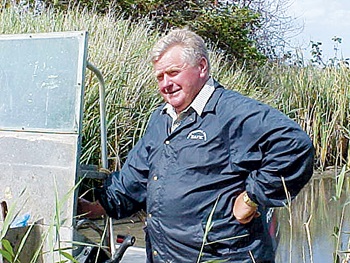 Henry Jones
The fishing industry and the Murray–Darling Basin community will miss the passionate advocacy of South Australia's Henry Jones, following his death in April 2014.
Henry Jones was a fourth-generation fisher who began fishing at Clayton Bay on Lake Alexandrina in 1961, at the age of 19, and became a visionary leader for the Lower Lakes and Coorong Fishery, and for the Murray–Darling Basin.
He was president of the Southern Fishermen's Association (SFA) from 1988 to 2000, and was also the delegate to the state's peak industry body, the South Australian Fishing Industry Council (SAFIC) from 1988 to 2006. This included 10 years as president of SAFIC, and he was awarded life membership of the peak body in 2001.
As president of the SFA, Henry Jones and other Lakes and Coorong fishers developed the world's first Environmental Management Plan for a commercial fishery, and he was instrumental in initiating the process that that resulted in the fishery's prestigious Marine Stewardship Council certification.
His extraordinary vision over many years has given commercial fishers in the Lakes and Coorong Fishery significantly more political certainty for their fishing businesses.  
Over the past 30 years, Henry Jones devoted and volunteered extraordinary amounts of time to addressing the issues of habitat degradation of the Lower Lakes and Coorong, recognising that "a healthy environment underpins healthy regional communities".
The closing of the mouth of the Murray River in 1981 as a result of low river flows was the catalyst for Henry Jones's commitment to securing the future of the river, the lakes, the Coorong and the fishing industry.
He became involved at a national level, advocating for better water management and more environmental freshwater releases specifically to the Lower Lakes and Coorong. Henry Jones was awarded the River Murray Medal by the Murray–Darling Basin Authority in 2013 in recognition of his instrumental role in developing the Murray–Darling Basin Plan.
He has also been awarded life membership of the SFA, and was inducted into the National Seafood Industry Hall of Fame in 2013.