Research on the Great Barrier Reef has identified a sea cucumber harvesting strategy with global application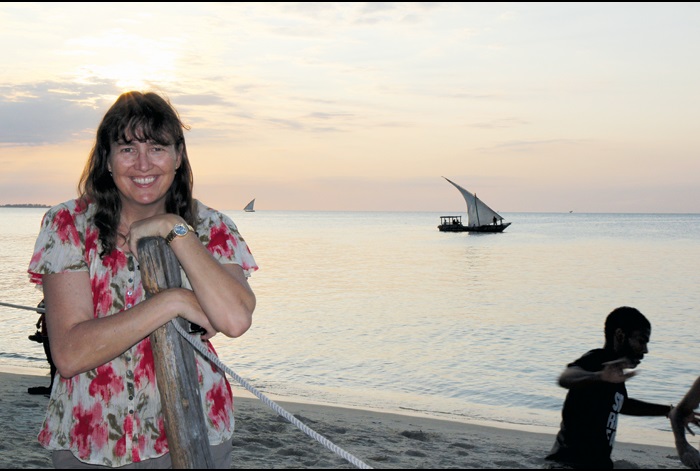 CSIRO researcher Eva Plaganyi at a workshop with a focus on sea cucumbers in the Zanzibar Archipelago off the coast of Tanzania, east Africa.
Photo: Tim Skewes, CSIRO
By Clarisa Collis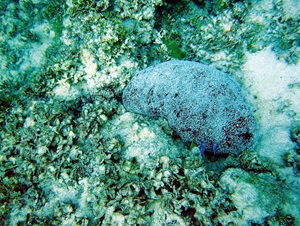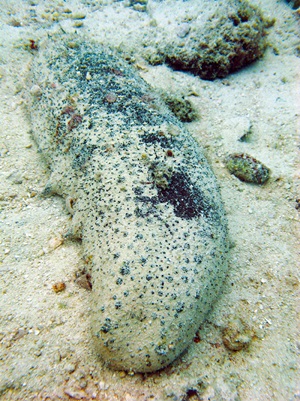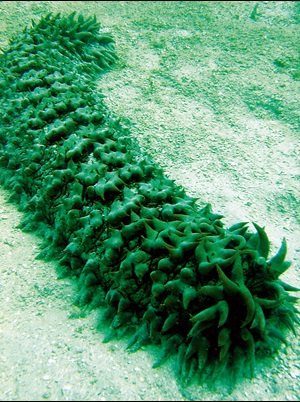 White Teatfish, Black Teatfish and Prickly Redfish are among the sea cucumber species hand-collected from 154 zones for 15 days every three years as part of a rotational harvesting strategy developed and implemented by industry in the Queensland East Coast Beche-de-mer Fishery.
Photo: Tim Skewes
New Australian research has shown that crop rotations and, more specifically, zone-based rotational harvesting have the potential to lift the sustainability, productivity and profitability of the sea cucumber industry.
CSIRO researchers Eva Plaganyi and Tim Skewes have led a two-year FRDC-funded project to evaluate rotational harvesting of sea cucumbers across 154 zones in the multi-species Queensland East Coast Beche-de-mer Fishery (ECBDMF) . Beche-de-mer (sea spade in French) is a commonly used name for the sea cucumber.
The two main operators in the fishery are Tasmanian Seafoods and Seafresh Australia, which voluntarily introduced a three-year rotational harvest strategy in 2004. Now researchers have verified that this novel approach can provide both biological and economic benefits.
"It's the first study that has used quantitative modelling to rigorously show that a rotational harvest strategy can reduce population depletion, increase long-term yields and improve profitability in a sea cucumber fishery," Eva Plaganyi says.
The ECBDMF covers 514,000 square kilometres of the Great Barrier Reef Marine Park. Fishers hand-collect a variety of sea cucumber species from each of the fishery's 154 zones for 15 days once every three years.
In contrast, the conventional approach to sea cucumber fishing involves harvesting animals every year from the entire, un-zoned area of a fishery. Eva Plaganyi says that apart from increasing the spawning biomass of sea cucumbers, the research has shown that the three-year rotational zoning scheme (RZS) could raise the fishery's productivity up to 10 per cent.
The annual average yield (landed catch) in the three-year RZS model simulation was 305 tonnes worth US$6.22 million compared with 296 tonnes worth US$6.07 million in the simulation based on conventional harvesting.
However, Eva Plaganyi says the nine-tonne improvement in the simulation is a conservative estimate, because conventional harvesting strategies have a higher risk of population depletion and subsequent declines in harvest.
The study also assessed RZS harvesting intervals from one to six years, applying the same level of population risk (probability of a species' biomass dropping below 40 per cent) to each. There was an exponential increase in biomass with the increase in rotation interval.
A modelled comparison of conventional harvesting with a three-year rotation strategy provided an additional 140 tonnes over 20 years, worth US$2.9 million, from the rotation strategy.
Such a production increase is significant in the context of the Australian sea cucumber industry, which has an annual average catch of 501 tonnes, valued at US$11 million.
Eva Plaganyi says the finding shows that while rotational harvesting can increase yields and gross margins at low catch levels, these benefits tend to further increase at higher catch levels.
Tim Skewes say the modelling highlighted the importance of the three-year RZS in reducing the risk of species depletion.
"The biggest benefit from the RZS is that it can markedly reduce the risk of over-exploitation both within each zone and across the entire fishery. Depletion of these ecologically important animals is something that managers and fishers are keen to avoid in the Great Barrier Reef Marine Park."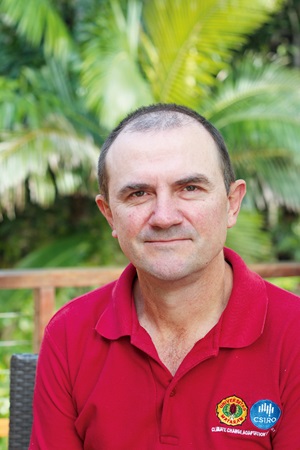 CSIRO researcher Tim Skewes.
Photo: CSIRO
Drawing on 160 simulations for nine sea cucumber species in each of the fishery's 154 zones over 20 years (from 2012 to 2032), the study also examined the trade-off between risk and revenue across different rotational harvest periods from one to six years.
It found the three-year period, developed and implemented by industry in the Queensland fishery more than 10 years ago, provided the optimal balance.
"With a six-year cycle, there is a much lower risk of population depletion, but revenue is slightly lower because this involves forsaking some catch," Tim Skewes says.
He says another important finding of the two-year study was the need to address "information gaps" as part of future research to help improve the sustainability of all species fished in the ECBDMF.
Sea cucumber species that have been harvested from the fishery include the Black Teatfish (Holothuria whitmaei), White Teatfish (Holothuria fuscogilva), Prickly Redfish (Thelenota ananas), Brown Sandfish (Bohadschia vitiensis), Golden Sandfish (Holothuria lessoni), Curryfish (Stichopus vastus, Stichopus hermanni), Deepwater Blackfish (Actinopyga palauensis) and Burrowing Blackfish (Actinopyga spinea).*
Black Teatfish is not currently included in the fishery's catch quota, as harvesting this species was banned in 1999 due to overfishing concerns.
Tim Skewes says better data for these target species, particularly age and size at maturity, growth rates and natural mortality, is required to better predict population trends and measure the risk of population decline.
"Information on growth and age at maturity is critical to the success of the RZS because the approach also relies on appropriate size limits to be effective," he says.
The study identified the need for future research to address gaps in the data about the fishery's high-risk species, specifically Burrowing Blackfish outside fished zones and White Teatfish throughout the fishery.
Burrowing Blackfish is not a traditional catch species and its stocks are managed differently to the rest of the fishery. Fishing is largely concentrated in dedicated 'Burrowing Blackfish zones' that are not part of the three-year RZS the commercial operators have implemented.
The annual catch for the White Teatfish declined from 120 to 70 tonnes between 1995 and 2011, in part because of reduced total allowable catch levels over this period, but also because the fishery switched its fishing effort to other species, such as the Burrowing Blackfish. 
* Scientific names of sea cucumbers are currently under review.
---
International interest
The findings from the Australian research have already drawn international attention with reports in Scientific American, among other journals.
Resource management is an important focus in sea cucumber fisheries worldwide because these animals are vulnerable to over-exploitation. In the Pacific region alone, overfishing has resulted in the closure of fisheries in Papua new Guinea, Palau, the Marshall Islands, Tuvalu and French Polynesia.
Sea cucumbers are sedentary animals are most live on the seafloor in shallow coastal and reef areas – which makes them an easy target for fishing and vulnerable to exploitation.
Risk of population depletion stems from increasing demand for the slug-like creatures in high-value Asian markets, particularly in China where they are prized for their culinary and medicinal uses. Demand from Asian markets is estimated to be worht US$60 million a year.
FRDC Research Code: 2012-200
More information
Eva Plaganyi, 07 3833 5955,
eva.plaganyi-lloyd@csiro.au
Tim Skewes, 07 3833 5963,
tim.skewes@csiro.au