Merging indigenous fisheries management and contemporary management frameworks provides an opportunity to get the 'best of both worlds'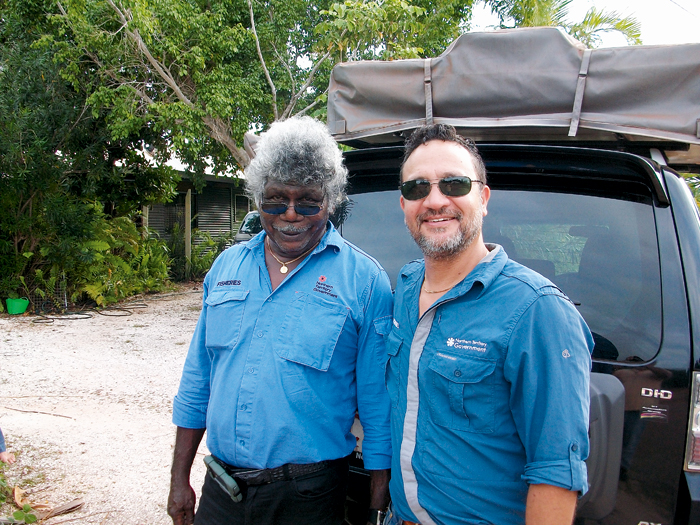 Terry Yumbulul (left), chair of the Garngirr Fishing Aboriginal Corporation, with Robert 'Bo' Carne, manager for Indigenous strategic development at NT Department of Primary Industry and Fisheries.
By Rose Yeoman
Most people think of fishing as falling into one of two categories – either commercial or recreational. But this fails to take into account customary fishing practices.
Robert 'Bo' Carne, manager for Indigenous strategic development at the Northern Territory Department of Primary Industry and Fisheries, and Terry Yumbulul, chair of the Garngirr Fishing Aboriginal Corporation (GFAC), have a wider perspective to offer.
Terry Yumbulul blurs the boundaries between story and poem, as he tells their story. "We, the saltwater people of East Arnhem Land, are listening to the sea and will take back our place as customary fishers in the holistic sense …"
"I am Manbuynga, we are Garngirr, we are the people of the sea, I am that sea, I am the custodian, I am a part of the sea, I belong to the sea and the sea belongs to me and my people.
"We do not wish to stop anyone from fishing our waters, we want to be a part of the management and fishing industry in this country and particularly in our area of East Arnhem Land. That is our longstanding right, responsibility and desire.
"We want to share our knowledge and methods and learn your knowledge and methods, we see this as a two-way journey fishing our waters but also protecting our waters and the fish stocks for future generations," he says.
Bo Carne explains that from his experience with first nation groups in Australia, fishing is regarded in a holistic way: "the social, cultural, spiritual, management and economic aspects are all linked as they have been for the past 40,000 years".
"It is not customary fishing without also being commercial fishing, recreational fishing, religious observance, fisheries management, fisheries compliance and fisheries and habitat conservation."
"But to me, customary fishing is not well interpreted in any Act in a way that is inclusive of all these. For example the Native Title Act 1993 says it's for subsistence only and even this aspect of the Act has inconsistent interpretations across Australia's jurisdictional fisheries Acts," he says.
Garngirr Corporation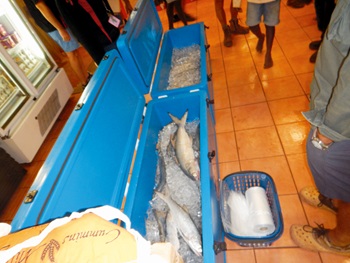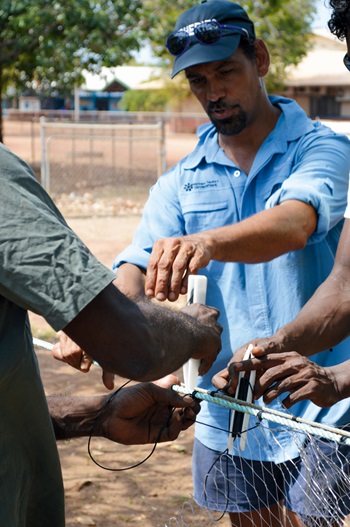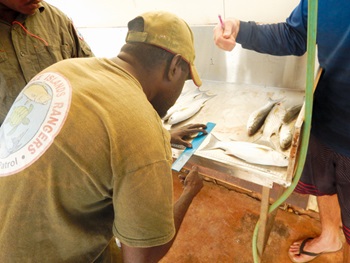 To help and empower Indigenous people to be 'complete' fishers again, the GFAC was established in 2013. A board of 12 directors was selected from the area to undertake contemporary governance and small business training and develop a business plan outlining their vision.
Inaugural chair Terry Yumbulul is an elder of the Warramiri and a well-known artist who has travelled in Europe and the US lecturing about art, culture and the importance of the ocean. It was through his role working with the Miwatj Health Aboriginal Corporation that he realised the importance of good nutrition to improve the health of his people.
Terry Yumbulul describes the link between Indigenous health and Garngirr as "perfect" and a good opportunity to get people eating fresh seafood. "This is not about knocking down non-Indigenous food but it's about retaining eating our healthy food, provided to us from the wild, our seas. GFAC will improve health by providing healthier food choices, especially for the children and old people. This food, provided daily, will also help our own fishing enterprises."
With the support of Bo Carne and the NT Department of Primary Industry and Fisheries, GFAC was developed to help people earn a healthy living using the sea's resources. Terry Yumbulul explains that they were asked to fulfil the dreams and vision of the old people: "To catch fish, employ our people, utilise our resources and share it with everyone".
Terry Yumbulul sees his role as ensuring that his people look at the bigger picture and notes that fisheries must be managed in a sustainable way.
"We not only go fishing but we also have to maintain our resources, through our sea ranger groups. This helps to keep that holistic approach to customary fishing, being able to catch and sell fish as well as working with our sea rangers to ensure we do it in compliance with both our management and non-Indigenous management rules."
"Garngirr (the sea) gives us our life."
Challenges and new learning
Bo Carne cites examples of how Indigenous fishers think and behave differently to commercial fishers. Under customary law, fish may not be taken from the sea country of another group unless a person from that group is present or the appropriate permission has been granted.
Also, customary fishers do not think about how much money they can make as individuals but how much can be provided back to the community. This relates mostly to people being employed and providing affordable fresh seafood.
Fish may be caught to trade for other food or bush tucker medicine and fishing may be practised in order to teach the young. Most importantly, fish is always shared.
The challenge now is to acknowledge fisheries management requirements around licensing, catch size and stock protection, and to see how Indigenous management frameworks can be incorporated into contemporary management. This presents an opportunity to get the 'best of both worlds' in search of best-practice management.
Terry Yumbulul describes how, for thousands of years, his people have bartered by trading one kind of fish for another, for example, fish for shellfish or crustaceans. This was their form of commercial fishing, but it was not recognised by governments.
"If we want to do commercial fishing today, we need licences, no more freedom of choice. Now all has to be recorded. This is new to us too, we need to learn and we are willing to do that."
"Many of our old people would remember when we were actively engaged in commercial fishing back in the 1950s and 1960s. We had our fishing co-operatives operating and now we want to bring them back."
Models for cooperation
One aim of the GFAC is to develop a co-operative that provides a workable model allowing different levels of commercial enterprise. It could be two men in a tinny, inshore fishing with nets or a commercial vessel with a crew.
Bo Carne says the co-operative model is likely to work best as it allows Indigenous people in East Arnhem Land to fish their traditional sea country and at the same time 'pool' their product.
"It's important to diversify and target some of the higher-value species, but there can be a lot of restrictions when you start stepping up," Bo Carne explains.
"You need a surveyed vessel and a coxswain. Many Indigenous people speak five or six languages so it's challenging when English is their sixth or even seventh language and they need to be proficient in that to pass the coxswain's exam.
"But the value of a coxswain's certificate is that it broadens employability and allows movement into different jobs, including that of sea ranger or fishing tour operator."
He says individuals or the co-operative could hold licences and the funding would come from a proportion of the catch, which would allow purchase and maintenance costs associated with boats as well as costs associated with coordinating, processing and marketing the catch.
At present Indigenous people are fishing with permits but the next step will be to formalise their business by obtaining licences and assets and learning from commercial fishers. The NT Department of Primary Industry and Fisheries has employed two Indigenous fishing mentors who work in remote communities to help teach commercial fishing skills.
Bo Carne says there is always plenty of interest, but without a more formal commercial business enterprise, this initiative will not be taken seriously: "We need more community-based fishing mentors, at least in the short term so we can create momentum."
Robert 'Bo' Carne and Terry Yumbulul will be among the presenters at the Seafood Directions 2015 conference in Perth from 25 to 27 October. Their presentation titled "Garngirr Dhapuluwan: 'The sea has spoken'" will describe the ways in which Indigenous people regard fishing and how that contrasts with that of non-Indigenous Australians and how the differing approaches might be merged to create a coherent whole.
Photo captions:
Top: Fresh fish sold by Crocodile Island rangers to a local community store.
Middle: Fishing mentor Klaus Jeffery at the Goulburn Islands in the Arafura Sea, off the coast of Arnhem Land.
Bottom: Rangers at the Crocodile Islands (located in the Arafura Sea, off the coast of Arnhem Land) collecting research data as part of their fishing permit that also allows the sale of the fish into their community stores.
Credit: Department of Fisheries, NT
More information
Robert 'Bo' Carne, 09 8999 2164,
robert.carne@nt.gov.au