Creating direct access from farms to restaurants is providing growers with greater returns and the opportunity to showcase their best oysters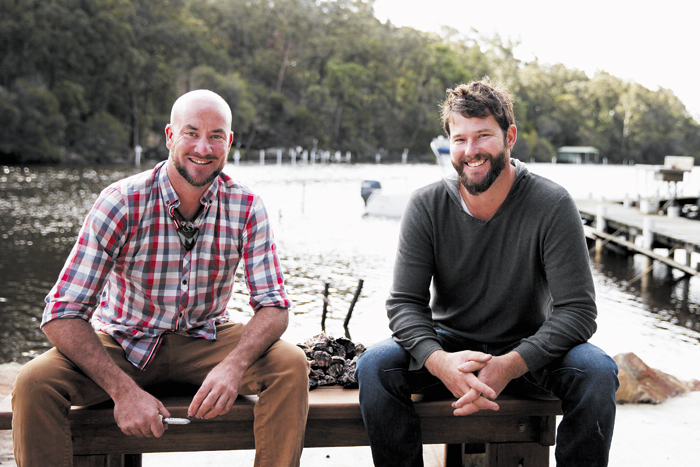 Directors of Signature Oysters Mick Daw (left) and Ewan McAsh aim to put more fresh premium oysters into restaurants around Australia.
By Catherine Norwood
It takes extra time to produce a premium oyster: a little longer in the water, extra gradings and additional time to sort and to box the very best of the crop. But an increasing number of Australia's oyster producers from all major growing regions are signing up to do just that.
More than 40 have already committed to supply Signature Oysters with their best product, which is then sold directly into restaurants and to retailers who are equally committed to providing customers with the best possible eating experience.
Signature Oysters is owned by a collaboration of farmers and promoters in order to access markets that will recognise and reward quality, most notably the high-end restaurant trade. The aim is to provide a year-round supply of the highest-quality fresh oysters – Pacific Oysters, Sydney Rock Oysters or Native Oysters, according to seasonal availability.
Following a small-scale trial in Melbourne, Signature Oysters officially launched in May 2015 with more than 20 leading restaurants, including Pei Modern and Rockpool, as customers.
Company director Ewan McAsh has been one of the main drivers of Signature Oysters. As an oyster grower on the Clyde River at Batemans Bay, New South Wales, he says he started to grade out his best oysters and sell them direct to restaurants to get a better price about four years ago.
The wholesale chain was simply not delivering the returns his business needed to survive. Looking at options to increase returns, he also established an oyster and wine bar at Ulladulla, NSW, which he ran successfully for more than four years before selling it in 2014 to focus on oyster production and on Signature Oysters.
"The culinary culture in Australia has changed and many chefs now like to receive their oysters live, to open them fresh for customers. And they want to know about the origins of the oysters – their provenance and distinctive characteristics," he says.  
This information is usually lost when oysters are sold into the wholesale or processing chains, according to Mick Daw, who runs the wholesale business Oyster Source, acting for several oyster growers across Australia.
He also joined Signature Oysters as a director, frustrated by the lack of returns for growers, who have often been pitted against each other – squeezed by their own rising costs and by wholesalers and processors intent on driving their own costs down.
He says the existing supply-chain arrangements are effectively jeopardising the future of the industry. Creating access to a premium market is the only real way to increase the profitability of the industry and to raise the quality and profile of Australian oysters – even if that market is only a small percentage of the total market.
A certain lack of respect for a product he is clearly passionate about has also been a driver in his support of Signature Oysters. "For many years we have been seriously underwhelming consumers," he says. "The industry is very good at producing 'average' oysters. I know our growers can all produce great oysters, but there has been no reward for doing so."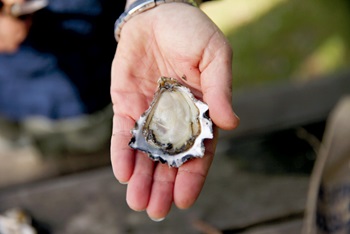 A premium paid for a high-quality product will help oyster farmers secure the future of the industry. Boxed oysters travel as a live premium product in the fresh-produce supply chain.
A quality proposition
Through Signature Oysters, growers receive 20 to 30 per cent more for their premium product, which Mick Daw says reflects the extra time taken to grow them and care in handling. Gone are the huge sacks of dripping oysters.
This product is packed in airfreight-approved polystyrene boxes that hold 10-dozen oysters, with hessian liners to absorb moisture. The boxes are then sealed, along with information about the provenance, taste and details of the business supplying the oysters.
"Growers put their own name on the oysters, so there's an incentive to make sure they are providing the best product they can. It is not a generic product. Their information goes all the way to the chef, and possibly the consumer. If the chefs like what they are getting, it's a chance for the growers to promote their own businesses," he says.
Mick Daw's experience in the wholesale trade has proven invaluable in identifying the best cold-chain processes for the oysters. He says he noticed that product delivered to Oyster Source by one particular transport company were in better condition than other products.
When this changed he contacted the growers involved, only to discover that the transport company had changed its delivery arrangements. Oysters previously sent with the fresh fruit and vegetables were now being delivered with the chilled seafood and meats. It was the change in temperature that made the difference.
While Pacific Oysters can handle short periods in temperatures used for the meat cold chain, 0ºC to 4ºC, Sydney Rock Oysters in particular do not cope well. When transported with fruit and vegetables, at 6ºC to 10ºC, all animals arrive in better condition; 8ºC is ideal.
Supply-chain partner
While there is clearly a market for a premium product, accessing that market and managing a fresh, on-demand supply chain have been barriers for the many small businesses that make up the oyster industry.
Ewan McAsh says the only way he could grow his premium sales was to increase the number of restaurants he supplied. But as his clientele grew he found it increasingly difficult to deal with the administration and deliveries
Finding the right partner to handle these aspects of the business, including transport, has been a critical part of the Signature Oysters venture.
To this end the business has initially partnered with Yarra Valley Farms. This business specialises in the transport and ordering systems for fresh fruit and vegetables, delivered directly from farmers to quality-focused cafes, caterers and restaurants – keeping oysters within the fresh-produce cool chain.
Founder of Yarra Valley Farms Bill Kollatos admits to being cautious when he was first approached by Signature Oysters. He has tried to expand the Yarra Valley Farms product range several times without any lasting success.
"Our sales people and our franchise operators have really embraced the idea. They see oysters as a specialty product that creates value for our customers. There has been exceptional uptake in a relatively short time; our customers are very, very interested in the high-quality, consistent oyster lines."
For Ewan McAsh, the software that now handles the Signature Oysters ordering and accounts – including full product traceability – considerably eases the administrative burden of selling direct to restaurants.
The low-key start of Signature Oysters in Melbourne has allowed both businesses to work out any kinks in the system and to test the market. Limited deliveries are also being made under the Signature Oyster brand in existing supply chains of grower members, including McAsh Oysters. Signature Oysters expects to expand to Adelaide, Brisbane and Sydney within the next few months, and possibly to Perth.
The May launch also coincided with the launch of the Signature Oysters' website, which profiles all of its growers, the different regions where the oysters are produced and the restaurants that are serving Signature Oysters on their menu.Ewan McAsh says the early feedback has been positive.
"Chefs love the regional diversity, and being able to offer a platter of different flavours and shapes of oysters that might come from Bruny Island in Tasmania, Coffin Bay in South Australia or the Clyde River in NSW. When you get them side by side you can compare the characteristics of the different provinces. It makes the oyster bar concept much easier to do."
Quality criteria
Mick Daw has been a judge for the Royal Agricultural Society of NSW (RAS) Sydney Royal Fine Food Show for the past three years, and says the same judging principles have been used as a basis for Signature Oysters' selection criteria.
"We have simplified the RAS criteria, which goes into a great deal of detail. It comes down to the condition of the meat, the cleanliness of the shell and the health of the oyster," he says.
The meat should fill the shell and be a deep creamy colour, rather than opaque, and rich and thick. Size is a factor, but meeting specific shape or dimensions is not as important as providing "a good mouthful" of oyster.
The shell should be clean and free of debris. And the oyster should be healthy, which he says is generally indicated by a good lustre on the nacre – the mother-of-pearl – on the shell's inner surface.
"In the past the premium product has not been getting onto the consumer's table. What we want to do is get more people eating great-quality oysters more often," he says.
---
Innovation opens new menu options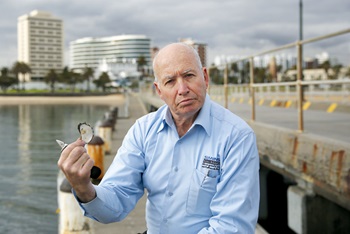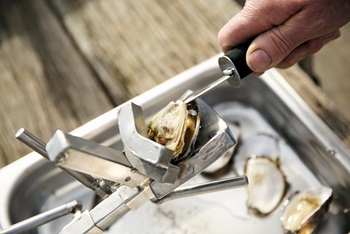 NSW fisher Steve Siminis has developed a new oyster shucking system that will make it easier to put fresh, premium oysters on the menu in more restaurants. The opening system provides a secure grip on the oysters, making them safer and easier to open.
Photos: Elisha Ross
Oyster shucking may be simple once you get the hang of it, but even in the professional kitchen oysters have been responsible for many an injury from the sharp edges of the shells or the slip of a knife.
Opening large quantities of oysters quickly, cleanly and without accident requires a considerable amount of training and practice.
But an innovation developed by New South Wales fisher Steve Siminis is making the business of oyster shucking safe and easier, and finding favour in an increasing number of restaurants, caterers and oyster retailers.
The benchtop system holds the oysters in place, making it safe and easy to open the shells from the hinge, which provides better presentation.
Director of Signature Oysters Mick Daw says the system is a great innovation that helps to overcome one of the barriers restaurants may face in adding fresh oysters to their menus – the lack of staff skilled in opening oysters.
"Staff can learn to use this system really quickly, and you don't have to be particularly strong – you just need good technique," he says.
It means more businesses can lift the quality of their offerings, moving from processed, pre-opened oysters, to fresh, live oysters shucked only moments before being offered to diners.
Signature Oysters is working with Steve Siminis to develop a demonstration video for the oyster opening system as part of the support it provides to customers.
---
More information
Steve Siminis, 0418 197 094