Strategies to optimise use of fishery resources and adapt to changing industry conditions were a key focus of the biennial Trans-Tasman Rock Lobster Industry Conference
By Natasha Prokop
The Chinese market for Australian rock lobster is booming, underpinning good returns in all state rock lobster fisheries. With Chinese tariffs on rock lobster imports being phased out over the next four years, the outlook is buoyant.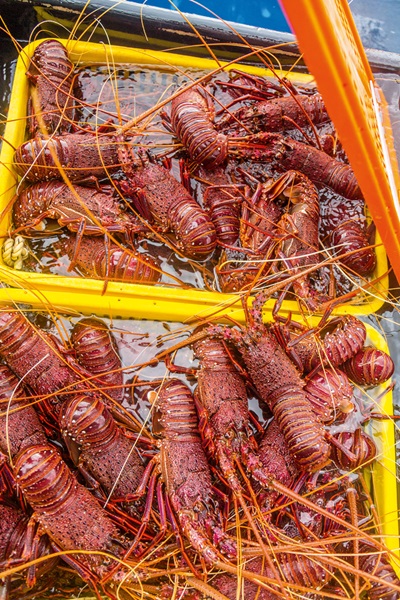 A haul of Western Rock Lobster.
Photos: Western Rock Lobster Council
However, economist Paul McLeod told the recent Trans-Tasman Rock Lobster Industry Conference that fishers should beware their over-reliance on a single market, with estimates that more than 85 per cent of total Australian rock lobster exports go to China.
Any hiccup in that dominant market – be it a decline in Chinese consumer demand or a contamination issue – could see prices plunge and fishers having to find alternative buyers and markets.
This was reflected in the theme for the joint 3rd Trans-Tasman Rock Lobster Industry Conference and 9th Rock Lobster Congress held in April in Fremantle, Western Australia, 'Adapt to thrive', which highlighted the need to make the industry more resilient in an increasingly complex environment.
Conference organiser and chief executive officer of the Western Rock Lobster Council John McMath said there was an ever-increasing range of stakeholders with an interest in the Australian rock lobster industry.
The diversity of delegates was a testament to this. A sell-out audience of more than 200 delegates included representatives ranging from investors and economists to environmentalists, researchers and fishers.
These stakeholders all hope to capitalise on the strengths of the industry: the high demand in China, which is driving high beach prices, and the continued sustainability of quota-managed harvests.
Fishing to demand
Australian rock lobster is an almost entirely export-based industry, servicing major markets in Asia (such as China, Japan and Taiwan), with an increasing emphasis on live exports to China.
Paul McLeod, director of Economic Research Associates, spoke of the growing need to understand the drivers of demand for rock lobster in China.
He said increases in Chinese consumer expenditure, primarily due to the expanding middle class, had driven demand and high beach prices in Australia. But he warned this was no assurance that demand would continue to grow at the same rate as it had been.
He said predictors of future demand needed to be developed to inform the catch (supply) fishers should take in order to maintain high demand and therefore prices.
The conference heard this was where bio-economic models could become useful. They allowed biological catch data to be considered in the context of the costs of production and harvest returns.
Bio-economic models could help to set management targets such as maximum economic yield (MEY) that optimise profits and sustainable use of the resources.
Wayne Hosking, CEO of Geraldton Fishermen's Co-operative, called for MEY – which has typically been an informal target – to be made a formal management target for the industry.
Wayne Hosking said that for a high-value product based on its status as a scarce and privileged commodity, fishing to maximise profit by maintaining supply below demand made sense.
"We need to deny ourselves now to build something really great for the future," he said. "You can make more money, work less days and have more rock lobster left in the water to catch again."
Meeting the market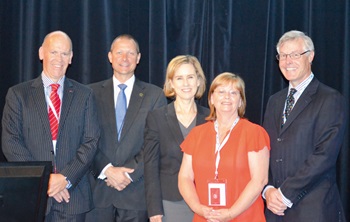 (From left) Western Rock Lobster Council (WRLC) chief executive John McMath, Member for Bateman Matt Taylor, Member for Fremantle Simone McGurk, WRLC chair Linda Williams and FRDC executive director Patrick Hone at the conference.
If Australia was to truly capitalise on the favourable Chinese market, An Yan, Marine Stewardship Council (MSC) country director for China, said Australia should develop business strategies to better meet the Chinese market on its terms.
She suggested stronger links could be established between consumers and Australian producers by promoting Australian rock lobster in Chinese stores and marketing directly to consumers through the booming e-commerce industry.
An Yan suggested the targeted 'fresh and safe' marketing strategies adopted for Alaskan and Canadian seafood were examples Australia should seek to emulate.
Patrick Hone, executive director of the FRDC, encouraged the industry to use the FRDC's R&D capacity to assist with developing such branding and marketing strategies.
"It's important that the research we do underpins your brand, but also help industry understand and know their customers" Patrick Hone said.
"So when we market Western Rock Lobster or Southern Rock Lobster to the consumer in China, or the consumer in the community in Fremantle, or anywhere in the world, we are using the right research to allow you to put the right products and brand on the table. The conversation you need to have is: who is your customer, what do they want and what is your brand?"
Potential and pitfalls
The June 2015 signing of the China–Australia Free Trade Agreement (FTA) has thrown the spotlight onto high-value products such as rock lobster, which is likely to benefit from a four-year reduction in tariffs from the current 15 per cent on live rock lobster to zero by 2018.
Mike Burnett, director of Lyford and Burkhart Exports, addressed the conference on the challenges New Zealand faced breaking ground with its FTA, which came into effect in October 2008.
He said trading with China under the FTA had not been a straightforward process. 
Differences in interpretations and unforeseen challenges had caused delays with product entry in the early days. He warned delegates that an FTA provides a mechanism for security of entry, but should not be seen as a panacea.
"Issues take time to resolve, meanwhile there is live lobster sitting on the tarmac," he said. Australia should ensure there were provisions for live lobster trade in the FTA and be aware of issues that may arise with certificates of non-manipulation and deemed values.
Australia would no doubt benefit from the lessons learnt by New Zealand, he said, and the now well-established standards for documentation, which would ensure faster customs clearance and, potentially, more profitable trade with China.
Food safety
The potential for a greater volume of, and more profitable, trade with China means the stakes become higher to maintain the reputation of the industry as sustainable, safe and fresh.
Independent certification of these qualities could provide a mechanism to achieve this.
Southern Rocklobster Limited has developed industry best-practice standards with its Clean and Green Program; and the Western Rock Lobster industry, the first MSC-certified fishery, is still certified sustainable 15 years on.
However, the potential for the presence of paralytic shellfish toxins (PSTs) in exported rock lobster could jeopardise these achievements.
Tom Madigan, research scientist with the South Australian Research and Development Institute, said this weakness was identified in 2012 when a case of PST in Tasmanian shellfish transported to Japan led to the testing of other marine animals in Tasmanian waters. The testing revealed that high levels of PST could also accumulate in rock lobster.
The Tasmanian industry now had mechanisms in place to deal with this, including closer monitoring of 'sentinel' species such as mussels and less lag time between testing and sending to market.
However, Tom Madigan said research into this issue and management plans in other states were still lagging.
This was despite the fact that China did not distinguish between different states of origin; any unfavourable event from one state would affect all states equally.
Tom Madigan has been investigating the extent of any risk to human health from consuming affected rock lobster and how long PSTs persisted in rock lobsters. The research is due to be completed in early 2016.
In the meantime, the industry needed to be more proactive on this issue, considering the potential implications for Chinese trade in the event of an incident with PSTs in exported rock lobster, he said. [FRDC project 2012/060]
Social licence to fish
Among the broader topics discussed at the conference was public approval, or the so-called 'social licence to fish', which has at least one high-risk issue for the Western Australian industry in the form of whale entanglements in rock lobster fishing gear.
A presentation on the issue of entanglements highlighted that while these were unlikely to threaten the expanding whale populations, they did carry a significant social price: loss of public confidence.
Maintaining the viability of small country towns reliant on fishing is also an important part of maintaining the social licence to fish. For example, Seabird in WA, which has a population of less than 100, depends on continued rock lobster fishing for its survival, although the economics would dictate that production moves to larger centres, such as Geraldton, WA.
Maintaining the viability of small fishing communities was the focus of a presentation from Kristan Porter, director of the Maine Lobstermen's Association in the US. He discussed the social incentives underpinning the management arrangements of the lobster industry in Maine. Of the seven fisheries management zones that harvest American Lobster, Maine is the largest producer.
"My town has 510 people," Kristan Porter said. "We are all pretty much reliant on lobster. It is our way of life."
It is this reliance that has maintained the fishery as owner-operated, with limited entry for newcomers.
He said there were only two ways to enter the fishery. One was to add yourself to a long list of people waiting to take up a licence when current licence holders did not renew. The other is through an apprenticeship program, which encourages young fishers to continue the lobster tradition and allows them to jump the queue in limited-entry fisheries if they are able to purchase a licence at 17 years old. Once they turn 18, they join the general waiting list.
Many attendees said the apprenticeship program was "commendable," providing "food for thought" on the Australian industry's own leadership succession and people-development strategies.
---
Take care in the sun
The CEO of melanomaWA, Clinton Heal, had a personal story to share with the rock lobster industry at the recent Trans-Tasman Rock Lobster Industry Conference in Perth.
After years playing football in the sun, at age 22 he found an unusual lump on his neck, which was diagnosed as a secondary melanoma.
The doctors later found more than 30 other secondary melanomas throughout his body.
When Clinton was first diagnosed his major concern was: "Can I still play football on the weekend?" His mother had a question for the doctors too: "How long does he have to live?"
More than a decade on, Clinton Heal is wary, but healthy and now a strong advocate for skin cancer and melanoma awareness.
He presented to the conference as a reminder to those in the primary industries that anyone spending time in the sun is at risk.
Conference organiser John McMath said the feedback from this presentation was particularly positive.
"Quite a few people said 'I went out of there and I made a booking to get my skin checked'."
"It's good to have the opportunity to promote awareness of additional or incidental issues that the industry needs to be aware of."
More information
John McMath, Western Rock Lobster Council,
0409 581 742, ceo@wrlc.com.au