Farmers and fishers have created new connections in a campaign to preserve the seagrasses that are an essential part of the aquatic ecosystem at Gippsland's Corner Inlet
By Ilaria Catizone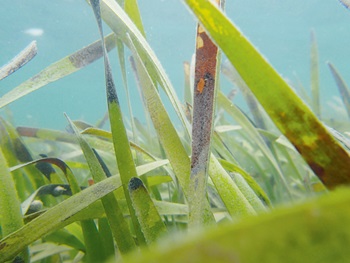 Broadleaf Seagrass
Two very different types of grass – pastures and seagrasses – are both crucial to important commercial food production businesses in the most south-easterly part of Victoria's Gippsland region.
While the management of one grass has the potential to affect the health of the other, the two groups of primary producers who share this connected ecosystem rarely cross paths.
But in May this year, farmers and fishers of Corner Inlet met for the first time to discuss shared management of the local environment and to learn more about changes in the region's seagrass habitat.
Corner Inlet is a 600-square-kilometre bay, 200 kilometres south-east of Melbourne in South Gippsland, surrounded by fertile farmland and Wilsons Promontory National Park. The inlet is listed as a wetland of international significance under the Ramsar Convention.
It includes shallow intertidal mudflats that support extensive areas of mangroves, saltmarsh and seagrasses, and the third largest commercial bay and inlet fishery in Victoria.
The surrounding area is prime dairy land, with Gippsland producing 22 per cent of Australia's milk. It is also home to many beef producers.
More than 40 farmers, researchers and fishers attended the May gathering, which was funded by the FRDC via a research collaboration between the University of Melbourne, the West Gippsland Catchment Management Authority and local commercial fishers.
Also integral to the day were South Gippsland Landcare, Dairy Australia and Corner Inlet Connections, a group committed to improving the health of the catchment.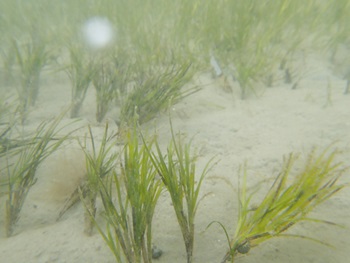 Fineleaf Seagrass
Photos: John Ford
John Ford, a researcher from the University of Melbourne, was the driving force behind the meeting as part of his investigations into the decline of seagrasses at Corner Inlet.
He said while there was no clear evidence of what was causing the decline, it was likely that excessive nutrient and sediment in the water over many decades had affected the health of seagrasses.
At the meeting he used a series of water tanks to demonstrate how the addition of nutrient and sediment-rich water to a tank containing seagrass could increase the water turbidity.
When turbidity became so severe that seagrasses were deprived of light, they would no longer be able to survive, he said. This seemed to be what was happening in Corner Inlet.
To better understand the issue, John Ford has been talking to the fishers about the loss of seagrass.
"Fishers have been here for a long time. Their stories tell me that the decline started in the 1960s and 1970s. My role is to listen to them and to document the changes to try and work out the causes and how to address them."
Seagrass is not an algae; it is a flowering plant that lives underwater. There are two species of seagrass found in the inlet: the broadleaf seagrass (Posidonia australis) and the fineleaf seagrass (Zostera nigracaulis).
The first one has a large root system and annual growth cycle. It grows in spring and summer and dies back in the cooler months. It is hardy, but slow to reproduce.  
The fineleaf species is like a runner grass and it is quick to grow and colonise new areas. Fishers have seen the distribution of this species change over time, but steep declines in the past five to six years have resulted in the lowest fineleaf cover in living memory.
Seagrass is used as both habitat and a food source for many aquatic animal species at Corner Inlet, supporting commercial and recreational fisheries for whiting, flathead, garfish and calamari.
"Seagrass is an important ecosystem in our area, it is very productive and diverse. Seagrass keeps the water clean, supports biodiversity and stores carbon," John Ford said. "There's still a lot of wonderful seagrass out here.
We have an opportunity to arrest the decline as we have not yet reached the tipping point where the seagrass is so low that it would take decades to bring it back."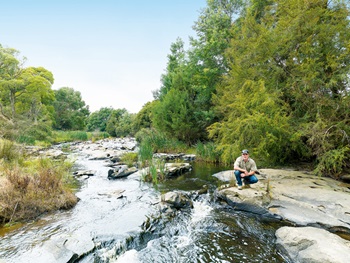 Dairy farmer Dan Knee and his family protect the Franklin River as it passes through their property to prevent contamination with sediment and nutrients, which would otherwise then flow into the Corner Inlet estuary and bay.
Photo: Warren Reed
During the past 30 years, fishers have watched as the seagrass cover on the inlet decreased.
They have observed how different fish species react differently to these environmental changes.
"This is a good year for King George Whiting, but the Rock Flathead are in trouble," says Brett Cripps, who has been fishing at Corner Inlet with his family since the 1970s.
The difference may lie in the lifecycle of these species: Rock Flathead breed in the seagrass, while the King George Whiting do not.
The fishery supplies small volumes of high-quality fresh fish for Melbourne, Sydney and the Gippsland region.
"We want to keep our fishery sustainable, as it has always been," says Brett Cripps. "We have self-imposed rules for the fishery, such as limiting our effort to no more than two seine net shots in a 24-hour period," he says.
Finding out about these voluntary restrictions was an eye-opener for Dan Knee, the dairy farmer who hosted the second part of the meeting at his property adjoining the Franklin River. He said it was good to learn that fishers were careful to prevent overfishing.
"It is also important for the fishers to realise that we have been working at improving water ways for more than 20 years," he says.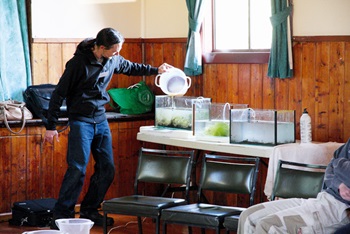 John Ford uses a series of tanks to show participants the effects of high-nutrient water on seagrass.
Photo: Robert Kenyon, Drift Media for West Gippsland Catchment Management Authority
Dan Knee's parents, Rae and Bruce Knee, were among the first to start planting trees and fencing off the large Franklin River frontage of their land. Now their herd is excluded from all but a minute portion of the banks.
These actions help to prevent soil, fertiliser or animal manure from farm-based activities from moving into surrounding waters. Dan Knee said soil was a precious resource, fertiliser was expensive and animal manure could be recycled to improve pasture.
Farmers went to great lengths to ensure their animal effluent stayed on their land, for their interests, and to meet legal requirements. Legislation dictated that dairy operations must keep all effluent on-farm.
Dan Knee said 80 per cent of dung and urine was excreted directly onto paddocks. "For the rest, we have ponds where we accumulate the effluent and we spread it back onto the pasture," he said.
Fishers attending the meeting were pleased to see how farmers were working to prevent run-off and said the creation of new connections between farmers and fishers was an important outcome of the day.
This connection would be essential to the care of Corner Inlet, John Ford said following the meeting. "I can be the facilitator and work with them. But ultimately they are the ones who can identify and carry out the solutions to save the seagrass in Corner Inlet."
FRDC Research Code: 2013-021
More information
John Ford, jford@unimelb.edu.au