The Australian Marine Science Association provides a valuable forum for student researchers to present their work alongside that of experienced researchers
A presentation of research into the impact of aquafeed nutritional changes on the environment has won the FRDC student award for the University of Melbourne's Camille White at the annual Australian Marine Sciences Association (AMSA) Conference.
A second FRDC student award was presented to Shona Jennings from Murdoch University for her presentation on Southern Bluefin Tuna spawning grounds.
The four-day AMSA conference highlighted the diverse range of research being undertaken in marine environments, including fisheries-related research. The 2015 event, held in Geelong, Victoria, featured presentations from more than 300 scientists on their current and topical Australian marine research.
Camille White's award-winning presentation was titled 'Does increased use of high omega-6 feeds in aquaculture impact on ecology of marine food webs?' She said the expanding aquaculture industry released extra nutrients into coastal and estuarine ecosystems worldwide through waste feed, faecal material and nitrogenous wastes.
During the past decade there has been a switch away from feeds high in omega-3 fatty acids based on fish oil, to feeds high in omega-6 fatty acids comprising mainly terrestrial plant oils and animal fats. This has led to a shift in the composition and quality of the waste released into the sea.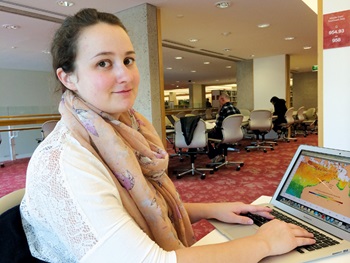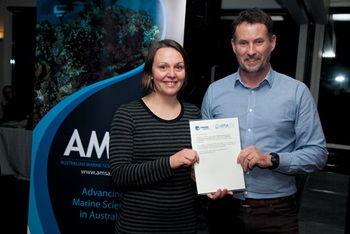 Top: Shona Jennings
Bottom: Camille White receiving her AMSA award.
Photo: Carlie Devine
As part of her work, Camille White demonstrated that nutrients from the wastes released by aquaculture were widely consumed by organisms in both benthic and planktonic systems. She subsequently investigated the health and reproductive consequences of consumption of this waste on several key groups of organisms.
Single and multi-generational experiments were conducted on common, rapid production fouling organisms, such as Caprellidae and Corophiidae amphipods, a shrimp-like form of crustacean.
Camille White and her team also investigated health and reproductive outcomes on several sea urchin species, which have the potential to be ecosystem drivers in many coastal and estuarine systems worldwide.
They found that urchins consuming aquafeed had enhanced gonad indices compared with those consuming a natural diet. However, this did not necessarily translate into larval success, with larvae of adults consuming the natural diet surviving at significantly higher rates.
Spawning conditions
Shona Jennings's presentation at AMSA was 'Oceanographic synopsis of the Southern Bluefin Tuna spawning ground in the eastern Indian Ocean'. Her work highlighted how the physical and biological conditions of the eastern Indian Ocean varied spatially and temporally, across seasons and also annually.
She said as this area was the only known spawning ground of the highly valuable Southern Bluefin Tuna, it was important to understand how changes in conditions affected spawning.
To do this, Shona Jennings and her team compiled five years of data about ocean conditions at depths of 50 metres and 500 metres from a variety of national databases to identify trends, anomalies and seasonal variations of sea surface temperature, sea level height, ocean body temperature, salinity, nitrate, phosphate and oxygen.
The data identified the physical and biological changes that occurred in the spawning grounds, one to two months before spawning began, that promoted favourable conditions for larval survival.
As larval survival is dependent on the strength, timing and duration of these oceanographic changes, modelling these processes will allow the fishing industry to predict Southern Bluefin Tuna population growth.
This research will provide background information to the emerging East Indian Ocean Upwelling Research Initiative, which forms a part of the coming Indian Ocean Expedition. 
More information