Connecting with the community is a crucial part of Damien Bell's efforts to ensure the long-term sustainability and social acceptability of his fishery
By Melissa Marino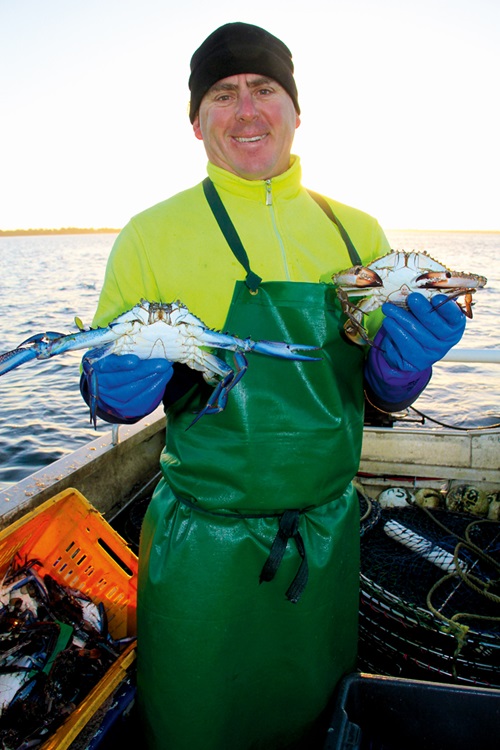 Damien Bell fishes for Blue Swimmer Crab, Sea Mullet and Yellowfin Whiting in the Peel-Harvey Estuarine Fishery.
When Western Australia's Damien Bell describes what he does, it is hard to believe he can run a viable business. "We are primarily sole operators fishing in a Ramsar-listed wetland, in less than a metre of water, with six-metre-long boats," he says.
The Peel-Harvey Estuarine Fishery is so shallow that he once waded home, dragging his boat behind him after its motor failed, "dodging crabs and stingrays on the way."
But while the estuary is an internationally recognised conservation zone, it is also a hive of human activity. The commercial fishery, operating out of Mandurah, is less than an hour south of Perth and is a magnet for recreational fishers, birdwatchers on kayaks and a growing population driven by urban sprawl.
The fishery's success is based on its "social licence to operate" forged through co-operative agreements between fishers and the estuary's diverse recreational users, aimed primarily at protecting the resource.
"We are trying at all stages to work with all the stakeholders around us so we can stay forever," says Damien Bell, who is president of the Mandurah Licensed Fishermen Association and head of BellBuoy Seafoods.
The right place
Damien Bell always wanted to be a fisher, inspired by a childhood spent "bouncing around" on the back of the Abrolhos Islands rock lobster boat where his dad was a deckhand. But it took some time to find his place.
He could never afford to buy into the rock lobster industry, so he followed his love of the water into an honours degree in aquaculture. Study was punctuated by summers spent on the rock lobster boats, and followed by a decade of pearling in both Indonesia and Broome, WA.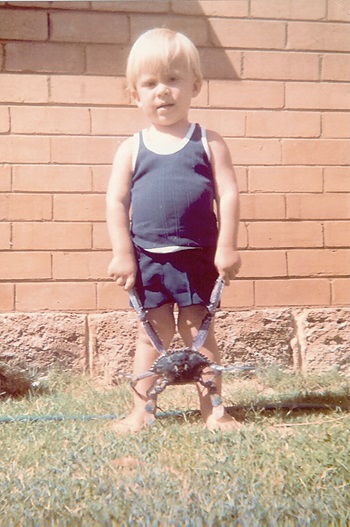 From a young age Damien Bell loved fishing, unfazed even as a toddler, by a Blue Swimmer crab.
The life of a pearler – offshore for weeks at time – did not suit family life, however. So, newly wed, a move to Perth soon followed.
But a desk job in environmental assessment was also the wrong fit. So when his dad, Aiden Bell, bought into the Peel-Harvey Estuarine Fishery more than a decade ago, Damien Bell had little hesitation in taking over his dad's boat.
"I booted him off his own boat and leased his licence off him," he says. By the time another licence came up for sale 18 months later he was in a position to buy one for himself.
Damien Bell credits his marketing-consultant wife Susan Bell with supporting him for his first two years in his new job as he learnt the ropes in his "little estuary", which, despite all his experience, took time to master.
He had found his niche, finally doing what he had always wanted, and soon set about ensuring he could continue for as long as possible.
"The ecosystem in this waterway is in delicate balance so we have had to find ways to keep the environment in the best shape to ensure we have fish and crab stocks going forward," he says.
Changing fortunes
As a high-volume, low-value fishery, the estuary supported up to 150 fishers from 1880 to the 1940s with the majority of the catch canned directly onshore. When canning operations ceased after World War II, bait became the main game.
In 1976, it provided one million kilograms of mostly mullet and Yelloweye Mullet for rock lobster bait, although the estuary was quickly becoming a 'biological desert', according to environmental assessments.
While many environmental and political factors have since helped transform the fishery back to health, Damien Bell says he was inspired by the now-retired Peel-Harvey fisher Bruce Tatham who worked tirelessly with the community to build the estuary's health and the fishers' reputations as responsible environmental stewards.
His father, Aiden Bell, also played a major role in changing the market for the fishery. "Dad through his marketing enforced strict quality controls, changed fishers' mental ethos and ensured the best product was delivered daily to buyers," he says.
Today, there are just 11 fishing licences in the Peel-Harvey Estuarine Fishery, operated by seven families who provide local and sustainable catches of Blue Swimmer Crab, Sea Mullet and Yellowfin Whiting largely to market demand in and around Perth.
"Gone are the days of catching in bulk," Damien Bell says. "It is now fish to order, fish to high quality and for a better price."
Meanwhile, Damien Bell has led environmental initiatives for the fishery to shore-up its long-term sustainability – and therefore its viability. These include an environmental management system (EMS), resource sharing agreements with the recreational sector, and a world-first assessment, now underway, for joint Marine Stewardship Council (MSC) accreditation for both its recreational and commercial fishing interests.
With the recreational sector accounting for about half of the Blue Swimmer Crab catch, such an initiative is logical, he says. But it also serves a greater purpose.
"We will be able to hold up our fishery to the world and promote it as both commercially and recreationally sustainable," he says. "I want the region stamped as sustainable so people feel confident fishing sustainably, eating sustainably, buying our crabs that are caught sustainably."
The goodwill and promotion such environmental agreements can provide was evident when the fishery introduced its EMS in 2009 and landed itself in the pages of The West Australian newspaper.
"There we were, the fishers' association, the recreational fishers, environmental people – all the stakeholders – under the big, bold headline, 'We're Sustainable'," he says. "And you can't buy that."
Damien Bell says the EMS put the area on the local map and he hopes its profile will only increase with future MSC accreditation.
"I want it to be a red-hot talked about destination that is good for tourism, good for local restaurants, good for fishing stores, good for boat dealers, and good for us to stay here," he says.
Strong environmental credentials will also help protect the fishery as the region continues to grow. "If a developer wants to dredge a channel through my fishery, I can and will defend it," he says.
Leadership skills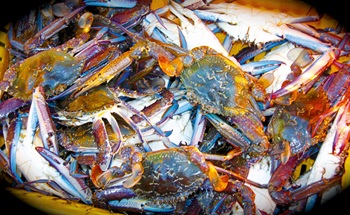 Photo: Karl Miethe
Damien Bell's wide-ranging background – from deckhand and science graduate, to pearl diver, environmental manager, seafood exporter and TAFE lecturer – has enabled him to see the big picture.
And that is that the fishery's survival depends on both its environmental sustainability and support for the commercial sector from the local and broader community.
In 2008 he added to his skills through the National Seafood Industry Leadership Program (NSILP), which he completed with sponsorship from the WA Fishing Industry Council and the FRDC.
"It helped me feel comfortable engaging with different people involved in the fishery," he says. "So I can talk to a minister of fisheries, a scientific researcher, a fisher on the ground or an elderly person on the boat ramp."
The NSILP also gave him new ideas about how to improve outcomes in the fishery. "It gets you out of your little backyard and opens your eyes," he says. "Seeing what was happening away from Mandurah gave me ideas of what I could bring to Mandurah."
One significant initiative Damien Bell involved himself with was the Mandurah Intervention Program, which ran for almost a decade. This five-week course in fishing skills offered three times a year was drawn from the TAFE curriculum and run with the local fishing club in conjunction with WA Police and local schools for teenagers at risk.
In the three years he was involved, Damien Bell saw the course provide real job opportunities and a future for the students, while building considerable goodwill in the community.
"I just thought it was a good idea to engage 30 kids a year who would engage 60 parents who would see a fisher as being a good bloke and prepared to give time to the community," he says. "But some of them have gone on to marine engineering, fishing charters, and the back of prawn trawlers and it's been very satisfying."
Community support and goodwill have also been strengthened through the involvement of commercial fishers as volunteer firefighters and as members of wildlife rescue services. "So we try and do as much as we can to show that we are part of the community, more than just going out there and taking stuff out of the water," he says.
More information