More information on the recreational take is emerging from the development of the Track My Fish app, which in turn is leading to better recreational fishing
By Andrew Cooke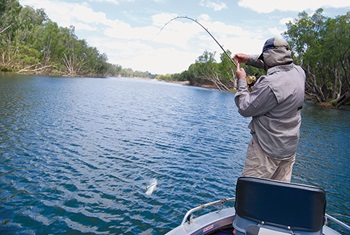 Efforts to quantify national recreational fishing activity have been notoriously difficult and expensive in the past, but a new approach developed in Queensland may offer a more targeted and reliable source of fishing activity data.
Led by founder Bill Sawynok and his son Stefan Sawynok, Infofish Australia has been collecting data on recreational fishing for more than two decades.
The accurate forecast of catch rates and fish sizes in some areas is becoming possible as a result of gathering information from the top 20 per cent of most active fishers who, Bill Sawynok says, are responsible for 80 per cent of the recreational catch.
"We are focusing on those 20 per cent – we call them the 'T20 fishers'. They are the ones who respond to changes in fisheries much more readily than the overall population, because they are out on the water more often and their catch rates are much more linked to changes in fish stocks," Bill Sawynok says.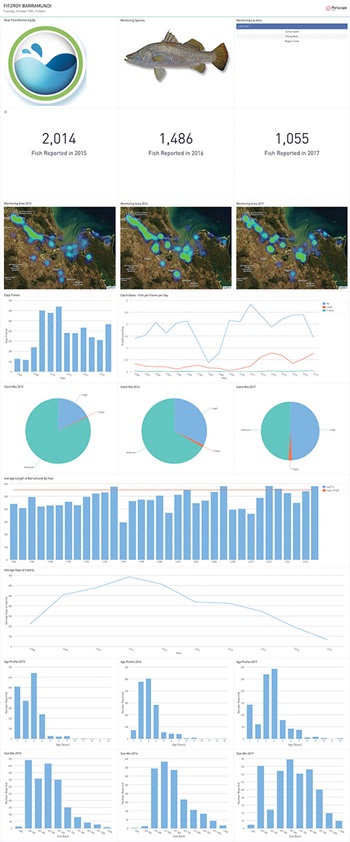 The Track My Fish app provides real-time data for recreational fishers.
Infofish Australia uses a range of digital technologies to gather and process real-time information. With more than 1.3 million fish records and 850,000 tagged fish in its database, it is Australia's largest non-government fisheries database.
This data feeds into its smartphone app 'Track My Fish', which collects information and provides services for recreational fishers.
Recreational fishers who contribute to the Infofish Australia datasets are part of a huge volunteer citizen-science effort. "At the moment we have about 300 to 400 registered volunteers, but we also have about 200 more who are providing us with data over and above that," Bill Sawynok says.
Fishers can also choose who they share their data with or not at all. Track My Fish collects data on everything, from tagging and catching efforts through to fishing competitions and fish health issues.
Infofish Australia has set itself a three-year timeframe to develop Track My Fish to the point where it provides real-time data to a broad range of clients nationally. From 2017 to 2020, Bill Sawynok expects the amount of information gathered and processed to increase five to tenfold.
Data provided by fishers is collated and made available on the app the following day. The data is presented on 'dashboards' and shows information such as catch-rate trends, fish sizes, and heat maps that show where the fishing effort is.
Track My Fish already has about 100 different dashboards and more than 1000 maps, charts and tables that are updated daily. As the database expands, more species and locations are expected to be included, and a move to real-time processing would allow fishers to use the app to make decisions "on the water", Bill Sawynok says.
Among these are Crystal-Bowl dashboards, which provide live monitoring of fishing activity, stock assessments and stock forecasts for popular Queensland species and locations.
As well as its Track My Fish website, smartphone app and online dashboards, Infofish Australia is investigating:
computerised 'machine learning' to identify fish and fish health issues;
neural networks to analyse data patterns and improve forecasting; and
the introduction of real-time stock-assessment technology from the US.
Automation of data analysis will be crucial to future applications. "Using photos and computers, for example, we can process a huge number of samples to identify fish health issues improving data that can be provided to pathologists," Bill Sawynok says.
Infofish Australia data collection in Queensland has already been aligned to match that of the state fisheries authorities and dovetails with the Queensland Sustainable Fisheries Strategy 2017-2027 to better integrate data and provide information from a broader range of sources. 
More information