The potential to make more from fisheries data through digitisation and technology uptake is gaining momentum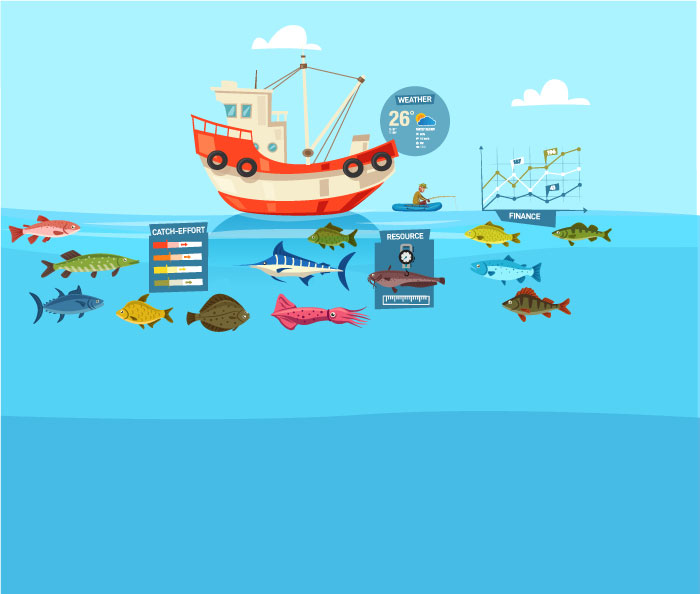 By Catherine Norwood
Advances in technologies such as cloud systems, smartphones and digital data hold incredible potential to create opportunities and improve efficiencies.
For fisheries, digital reporting offers far more opportunities than simply turning paper-based logbooks into electronic ones. With the right integration, fishers' data can be combined with other information in a host of ways to reduce the cost of data collection and fisheries stock assessments, connect fishers with chefs and provide a safer marine workplace.
Earlier this year, the FRDC coordinated a workshop in Melbourne to help industry and government begin the development of a national data vision. The aim, FRDC executive director Patrick Hone says, is to give the industry a lead role in developing the future of Australian fisheries' "digital data landscape".
"The future digital data, internet and cloud systems are going to be the largest transformation for fisheries in decades. Ensuring that this development is led by industry and government working together on a shared vision and strategy is critical to make the most of this opportunity," he says.
"Digitisation of data over the past decade has enhanced the possibilities of what data can achieve. The next frontier will be understanding how to use this digitised data, to collect it once and use it in many ways to drive efficiencies all the way along the fisheries supply chain."
The workshop attendees agreed that ensuring that ownership, privacy and governance processes are addressed to facilitate access and sharing of data would be critical to this development.
Developments already in the pipeline include the use of continuous digital data streams from satellite, ground radar and ocean current sensors to tell Western Rocklobster fishers where best to set their pots while avoiding losses from strong currents.
Similarly, the Spencer Gulf Prawn Fishery is proposing to develop a new digital decision tool using ocean, weather and catch data to inform a real-time gross profit margin assessment to maximise the fishery's profit – matching catch with market demand.
Patrick Hone says innovators will not wait for a national strategy in order to develop their software and hardware solutions. However, providing a framework and shared vision can enhance data collection and management across jurisdictions and help innovation to spread more rapidly.
It could also provide direction for those making major investments in related systems along the supply chain – everything from new equipment on vessels to upgrading the government communication systems that collate, process and store fisheries management data. Governments and fishers can take advantage of new technologies and work collaboratively to identify the point where the most effective data can be collected for the least cost.
The workshop identified key challenges, including the interoperability of data –ensuring it is highly adaptable and easily transferable across different digital operating systems and software programs.
The Australian Fisheries Management Forum (AFMF), a network of fisheries directors from around the country, is already committed to improving cross-jurisdictional harmonisation of data. This includes harmonising the kind of data that is collected – which can vary considerably from one jurisdiction to the next, even for the same species.
Following the workshop, AFMF's Fisheries Statistics Working Group will meet to discuss how they can harmonise their efforts to include interoperability and protocols to standardise the way data is collected and handled.
Further consultation with commercial, recreational and Indigenous fishers is proposed with this in mind and to ensure a national data framework is designed to meet the needs of end users.
FRDC Research Code: 2017-089
More information
Patrick Hone, patrick.hone@frdc.com.au