Machine intelligence underlies a new, more efficient and profitable way to manage oyster harvests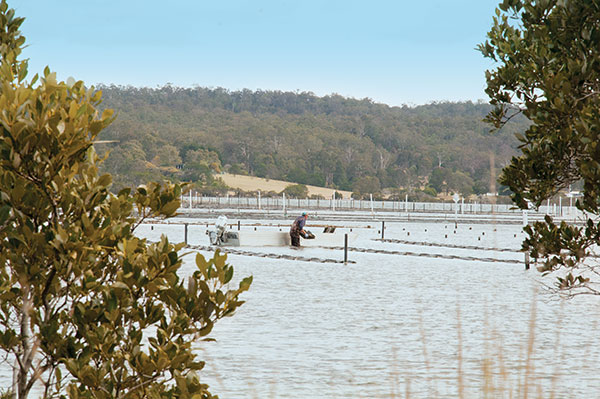 Oyster growers in NSW and Tasmania will benefit from The Yield's environmental sensors, which state governments are using to assess water quality.
Photo: Melissa Marino
By Gio Braidotti
There is a computing term rapidly growing in importance to food producers – the 'Internet of Things' (IoT). It is being hailed as the future for managing on-farm, weather-based risks, and Australian oyster growers are at the vanguard of its adoption.
Central to an IoT network, where food production is concerned, are sensors embedded into physical environments that sense the world in the same digital language as computers.
Wireless connectivity allows the sensors to feed huge streams of data to cloud-based computing platforms where data analytics and machine learning process it into useable information. This can then be fed to humans via smartphone apps or used directly to control machines.
It is the IoT that can make machines seem intelligent and, conversely, allow computers to sense – and 'learn' about – some aspect of the world. The breadth of applications – in monitoring, decision-making and automation – is potentially staggering.
The McKinsey Global Institute, one of the world's leading think tanks, forecasts that the IoT could deliver US$11 trillion to the global economy by 2025, including up to US$120 billion annually to the Australian economy.
For award-winning IoT entrepreneur Ros Harvey, applications in food production led her to establish agricultural technology solutions company The Yield.
She says The Yield's aim is to take the guesswork out of growing. "Australia is a really challenging place to grow things. This also makes it a terrific place to develop IoT-based technology that helps growers make important decisions," she says. Among the earliest applications is an "internet of oysters" called Sensing+ for Aquaculture.
As filter feeders, oysters are affected by changes in water quality, primarily due to rainfall washing land-based contaminants into estuaries that then transiently accumulate in oysters, making them temporarily unsafe to eat.
Monitoring water quality
The Yield's internet of oysters has proven it can safeguard food safety while reducing unnecessary harvest closures by an estimated 30 per cent. This corresponds to four extra weeks a year of harvest time. This could translate into a $5.3 million annual saving to the $24 million Tasmanian oyster industry.
State regulators have traditionally relied on rain gauges from public weather stations to guide when to shut harvesting down. But if the gauges are located hundreds of kilometres away from the oysters, the data they provide may not be easily applicable.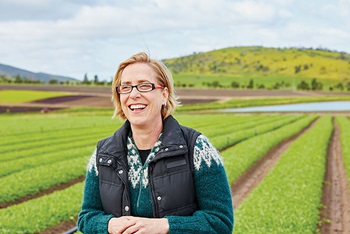 Ros Harvey, founder of The Yield
Photo: The Yield
Ros Harvey and her team at The Yield used Microsoft's Azure IoT Suite to host the data generated by electronic sensors that sit embedded in oyster leases.
"If you are going to do IoT, you need sensors that are robust and reliable," Ros Harvey says. "One of the things we are really proud of is the real-time electronic sensing technology we have working reliably in salt water, in the gale-force conditions, in open bays."
Estuary-localised data is combined with wide-area weather data and analysed using data-processing systems developed and patented by The Yield.
She says the system uses machine learning technology and neural networks to not only analyse what is happening with the oyster farms, but also to predict salinity, with 90 per cent accuracy, three days in advance. "These predictions are shared with growers and regulators in real-time via two separate apps that display temperature, salinity and water depth graphs against values that precipitate a closure."
Scheduling harvest
In addition, the technology is proving a useful tool for growers when it comes to labour scheduling and harvesting. With advance warning over a possible closure, growers now have time to schedule crews to get product out of the water and to market.
There are already more than 300 growers using sensors to measure a range of variables that affect oyster quality, health and that underpin food safety – water temperature, salinity and depth.
Tasmanian growers were the first to come on board, later expanding into NSW.
Only a year after its launch, the expanding network of growers has allowed Tasmanian and NSW government food authorities to rely on
The Yield's IoT technology to manage closures, with 50 per cent of growers using the IoT tool every day.
The system is also built with the flexibility to enable future innovation. Agreements with growers allow data to be made available to researchers to help with the development of new models of animal husbandry and disease risk management. In fact, The Yield is an industry partner to the FRDC-supported Future Oysters Cooperative Research Centre Project (CRC-P) and the Food Agility CRC, providing data to support researchers and a pathway to commercialisation for more rapid impact of research outcomes. 
---
Innovation at Barilla Bay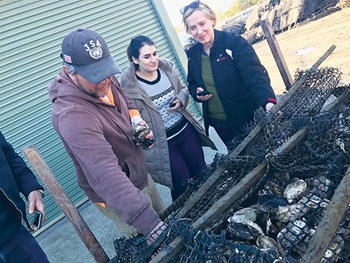 Oyster grower Justin Goc with Donna Forlin and Ros Harvey from The Yield at Barilla Bay Oysters, Tasmania.
Photo: The Yield
One of Australia's most fertile aquaculture regions lies along the southern coast of Tasmania – the Coal River Estuary, where Justin Goc works as general manager of Barilla Bay Oysters. 
Established in 1980, the company quickly built a strong reputation for innovation. Concerns over irregular quality led it to become a major shareholder in Tasmania's largest oyster hatchery, helping to pioneer the production of 'single-seeded oyster' techniques that ensure bigger, healthier and more accessible oysters.
More recently, environmental challenges – especially the devastating impact of Pacific Oyster Mortality Syndrome (POMS) – inspired the company to once again innovate.
In 2016, Justin Goc turned to The Yield and its Sensing+ For Aquaculture 'Internet of Things' technology, installing sensors inside his harvest area to measure important climatic conditions, including salinity, water temperature and depth, barometric pressure and sea tide height.
The system analyses the data and produces three-day predictions that help Barilla Bay Oysters to plan grading and harvesting activities, especially around rainfall-induced harvest closures. Justin Goc says closures can result in financial losses of between $20,000 and $100,000 a day, depending on the season.
"What we need is information that helps us make decisions, and that's where The Yield fits in. This gives us a road map of what is going on in the water, which has always been difficult to quantify.
"Twice already this year we were faced with lots of rain and changes in our environment. With The Yield's technology we were able to prove that the impact from water run-off was not significant enough to make us close."
Based on available data, it is estimated that Sensing+ For Aquaculture can also provide a greater understanding of the conditions most likely to spawn POMS. Increases in water temperature during the past three years coincided with an outbreak of POMS in Tasmania.
"Having this infrastructure in the water is integral to understanding the problems we face," Justin Goc says. "The historical data in particular is going to be incredibly important because, in the future, I believe we'll be able to see in advance when we will get hit."
---
More information
"One of the most sustainable farming enterprises" meets ..., CNBC story