NSW oyster growers are joining forces to promote Sydney Rock Oysters as an alternative to the more widely available Pacific Oyster, which has suffered reduced supplies in the wake of recent Pacific Oyster Mortality Syndrome (POMS) outbreaks.
Sydney Rock Oysters represent more than 90 per cent of oyster production in NSW. A new promotion is expected to feed into the NSW Oyster Industry Strategy, which aims to increase the sector's value. 
The strategy has been partly funded through the FRDC (2014-243) and focuses on issues identified by oyster farmers as the most significant in supporting their businesses: production systems; environment and disease; structure and governance; policy; and markets.
At the 2017 NSW Oyster Conference, a marketing and promotion workshop discussed strategies for developing and growing markets, including building strong industry-led campaigns based on the Sydney Rock Oyster's quality and unique features such as flavour and texture.
Such a promotion, says Wonboyn Oysters farmer and strategy committee member Caroline Henry, would draw on lessons from the wine industry by bringing growers together under the broad Sydney Rock Oyster umbrella while highlighting features of particular areas.
As with the concept of wine terroir, oysters from different estuaries have specific qualities, she says. "Every area has its own special flavour. The oysters take on the characteristics of the water they are in."
The importance of provenance in marketing was highlighted by NSW Farmers CEO Matt Brand, who urged conference delegates to trade on the industry's inherent strengths for market advantage.
"You have a raw product that is highly nutritious, with a great story to tell, which are key trends driving consumer choice," he said. "And you've got provenance.
"There are plenty of companies who would love your imagery but they just don't have it. A potato being pulled out of the ground isn't that sexy, whereas an oyster being shucked on the banks of a river – consumers are loving that sort of thing."
Celebrating provenance is a concept not lost on Claire McAsh, whose marketing company Signature Oysters supplies oysters from a range of farms, including her family's own at Batemans Bay, to some 50 restaurants.
Delivered in boxes, on demand, with a postcard about the grower and the farm from which they come, the oysters are also supplied with tasting notes highlighting their specific characteristics, which helps wait staff to promote the oysters and increase sales.
---
Limited edition Emerald Oysters
It was an odd-coloured oyster that revealed the power of social media, product differentiation and a good back story to oyster marketer Claire McAsh.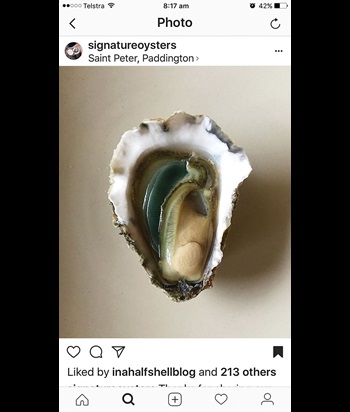 A "Merimbula Emerald" oyster.
Photo: Josh Niland, Saint Peter
Preparing her weekly restaurant oyster delivery, the Signature Oysters manager spoke to a regular supplier who had some "amazing" tasting oysters, but they "looked a bit green".
Some quick research revealed the effect was the result of particular algae that turns oyster gills green – conditions that can also be found in France. "And apparently there was a French king at some point who loved this green oyster," she told delegates at the recent 2017 NSW Oyster Conference.
So Claire McAsh got a photo and launched the green oysters on social media, as the 'Merimbula Emerald', a rare type of oyster not unlike those favoured by
French royalty and available for a limited time. (Once the algae disappears from the water, so too does the green hue.)
It worked; the green oysters suddenly became hot property. "I had chefs I had never heard of who had picked it up from Instagram contacting me saying 'I want
20 dozen and I want them tomorrow'," she said. "It went kind of crazy."
More information
Clair McAsh, info@mcashoysters.com