Up for a challenge, the team assessing the national judged Fish and Chips Award traversed the country in search of Australia's best
Story and photos by John Dory
(the identity of the judges has been kept anonymous)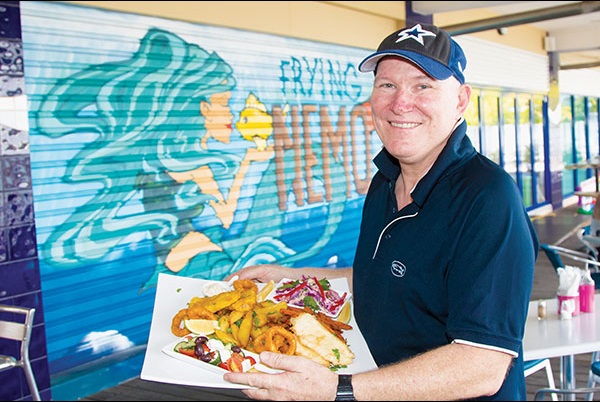 Eddie Willoughby-Smith, Frying Nemo, Northern Territory
Portrait: Michael Costa
It starts with anticipation, as all good meals should. You've agonised over what fish you want. Whether to have it crumbed, battered or grilled. Do you want chicken salt on the chips? If you're in Australia – it was invented Down Under, don't you know? – chances are the answer is "yes". Then it's a simple matter of whether to tartare, or not to tartare (hot tip: only if it's house-made).
Battered flathead, Trident Fish Bar, Victoria
Photos: John Dory
You take your little number and stand to the side as the wafts of fishy things frying fill your nostrils with expectation. And, just as impatience starts to set in, a 'BINGO' moment arrives and you've got the warm paper parcel you've been yearning for.
Inside, a veritable treasure trove of salty, battered seafood and potato goodness, and now it's up to you to leg it to the most convenient devouring destination – hopefully dipping your toes in the deep blue, too.
Fish 'n' chips is a meal to share with family, friends and the odd seagull, but the very act itself is quite a focused solitary affair.
A squeeze of lemon before you put your fingertips on the line to tear open batter fresh out of the fryer. Steam billows and reveals the pearlescent fish flesh inside (Yep, batter acts as a protective barrier from the direct heat of the oil. The batter fries, the fish steams).
And after a few optimistic blows of air on the fish, into the gob it goes.
The first few chews are always administered with an open mouth and half huffs of air as you realise it's too hot to eat, but you've gotta wolf it down before the batter goes soggy. Time is of the essence. Fish 'n' chips might be a simple culinary experience, but there is something special about the entire ritual. It is also one of the hardest dishes to get right – especially if you're dishing up a few hundred serves a day.
I mean it's not like flipping burgers. Most of us don't walk into a burger joint and demand to know where the cow came from, nor do we expect it to be spanking fresh off the land that morning either.
Seafood ambassadors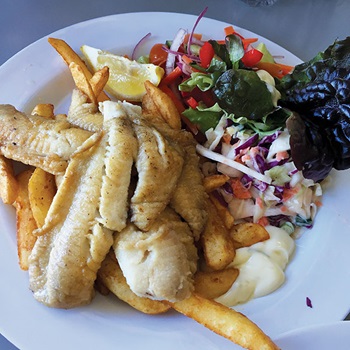 Grilled Sea Bream, Pelican Rocks Cafe, New South Wales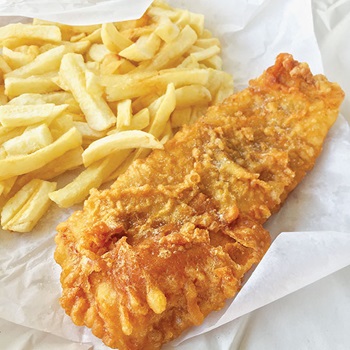 Battered Atlantic Cod,
Great British Fryer, Queensland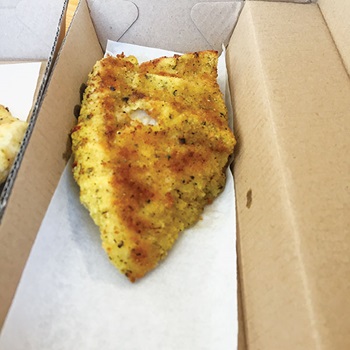 Crumbed Nannygai
Ocean & Paddock, Western Australia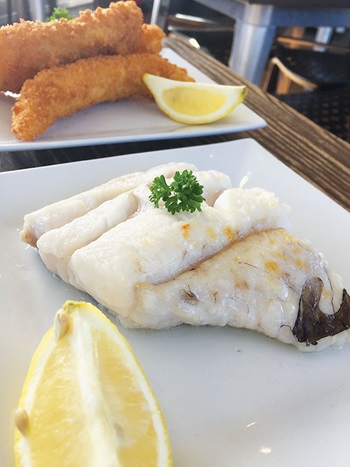 Grilled Blue Grenadier
Tasmanian Gourmet Seafoods, Tasmania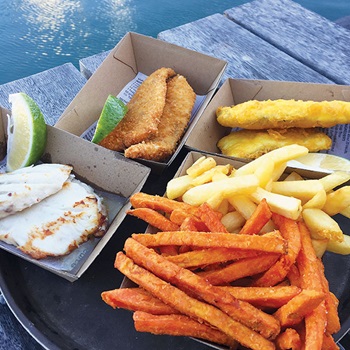 (From left) Grilled Jewfish, Crumbed Threadfin and
Battered Barramundi,
Frying Nemo, Northern Territory
Fish? Well we want local, we want variety, we want to know where it was caught, when it was caught and why the hell we should be eating it today.
Yep, fish 'n' chippers have it tough – even the supply of fish is at the whim of Mother Nature. Not even those rockin' the boat in gumboots while holding longlines during the wee hours can predict what they'll be reeling in each morning.
As such, our fish 'n' chippers aren't just cooks, they're seafood consultants, educators and ambassadors of the bounty that lands on the dock each day.
Forget celebrity chefs. We need famous fish 'n' chippers!
Finding the best among a list of stellar national finalists from seven states and territories in the Australian Fish and Chips Awards is like publicly declaring which of your children is your favourite.
Although each finalist offered differing propositions, the commitment of each was without question.
Stepping inside the unassuming shipping container plonked in the backstreets of nowhere at Tasmanian Gourmet Seafoods is a juxtaposition of large proportions. As tumbleweed rolls across the paddock outside, inside the large seafood offering defies belief.
On the NSW south coast the crew at Pelican Rocks Cafe work with local fishers who dock and offload their catch just a skimming stone's throw from their front door and even provide table service, too.
On Queensland's Gold Coast expat Brits at Great British Fryer might be importing the fish, batter and cooking oil, but they're showing us Aussies a thing or two about frying fish. The batter and fries were exceptional.
Meanwhile, in Victoria, Trident Fish Bar reminds us why old-school 'wrap it in paper' fish 'n' chippers are not just something from the nostalgic past, they're important institutions.
So too The Stunned Mullet, just a hop, skip and jump from Henley Beach, South Australia. The dedication to every detail is simply inspiring and left us feeling like stunned, erm, mullets.
And then there is the eventual winner, Frying Nemo, in Darwin, Northern Territory, which we'll get to shortly.
Our criteria
Firstly, what makes good fish 'n' chips?
We considered taste, service, choice, information and labelling.
How well did the batter, crumb or indeed time on the grill manifest in the mouth? Was the fish overcooked? Was everything well seasoned? Was it the right fish for that application? And how long did the various culinary applications last and maintain their integrity throughout the entire eating process? How well did the staff know their fish, and what lengths did they go to in order to share it?
We also considered value. Food is always about perception of value. Whether you're spending $10 for a sandwich or $200 for a special night out, the perception of value is how we all evaluate an experience.
Forget what the critics say about a place. Two simple questions will reveal whether a place delivered on its promise. Was it worth the money? Would you recommend it to a friend? If the answer is "yes" to both, chances are you've had a great meal.
There are fish 'n' chippers out there who are far better than we imagined. Celebrating seasonality, provenance, wild-caught seafood, cooking techniques, sharing of knowledge – all for an average spend per head of $20 across the board.
The best fish 'n' chippers were innately interested and connected to fishers and where and how the fish were caught.
The handling, storage, display and information were exceptional and it's hardly surprising that they also cared about the batter, the crumb, the grilling, gluten-free options, the oil they use, making the tartare in-house – and the final product on the plate too – even the plate/packaging.
They knew the best cooking application for a given species and why you should eat a specific species that particular day.
World-class winner
So why did Frying Nemo win? It was the absolute complete package. It altered our perceptions of what it means to eat fish 'n' chips Down Under: destination dining that should not only be celebrated, but championed.
It has a stellar location on Tipperary Waters Marina with al fresco dining (read: wooden tables and benches) for 100-plus people, a children's play area and a buzzer system to let you know when it's time to collect your catch of the day.
Its menu champions the local wild-caught fish – Barramundi, King Threadfin, Jewfish (mulloway), Spanish Mackerel, Blacktip Shark – and a few Australian heroes – King George Whiting, Garfish, Flathead, Atlantic Salmon – as well as a bevy of other seafoods – oysters, prawns, calamari, mussels, octopus and sardines too.
It offers four types of chips – shoestring, straight cut, rustic and sweet potato. It even makes its own tartare. But this isn't a restaurant. It's a canteen-style fish 'n' chipper that simply goes the extra mile at every step of the way with staff who know all the details of each fish and how to best cook them.
At Frying Nemo each fish is offered in five different cooking applications, although there are recommendations as to which best suits each fish. From beer-battered (thin, delicate and crisp to the final bite – with a touch of turmeric too), panko-crumbed (giving a light, textured crumb that lets the fish shine) to grilled (without any batter or protective coating and cooked so the centre was still just a touch opaque), tempura (light, crisp and aerated) and a gluten-free, vegetable-based batter as well.
Frying Nemo is the epitome of celebrating fresh, wild-caught local seafood and cooking with care without charging a fortune for the pleasure.
Perhaps through a program like this consumers and fish 'n' chippers will help elevate perceptions, expectations and also the delivery of the product nationwide.
I mean, wouldn't it be grand for a country girt by sea to have a swell of world-class fish 'n' chippers dotted all the way along our vast shorelines? And you'd be hard-pressed to find a fish 'n' chipper on the planet that does a better job than Frying Nemo.
FRDC Research Code 2016-136
More information
Peter Horvat, peter.horvat@frdc.com.au