The latest additions to Australia's fishing fleet are lighter and faster, and have more capacity and improved working conditions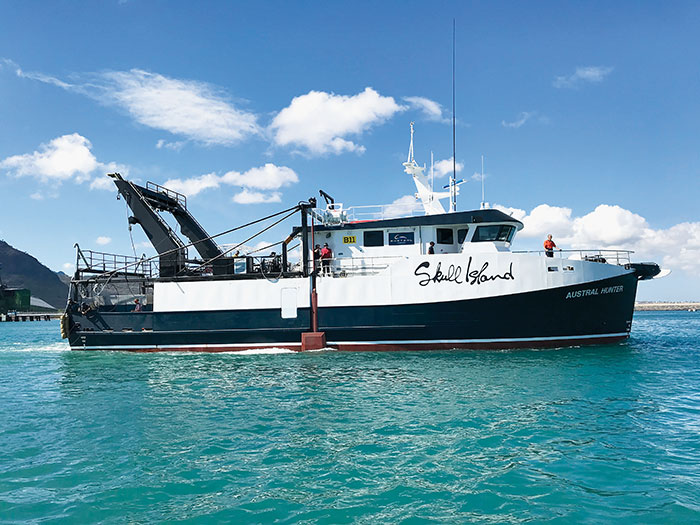 The
Austral Hunter
, Austral Fisheries' new prawn trawler.
Photo: Austral
By Ilaria Catizone
Increased confidence in the future of the Australian fishing sector is generating a new wave of capital investment to upgrade the status of the fleet. Top priorities for those taking this major financial plunge are improved workplace safety and more cost-efficient fishing.
Safety was the number one priority for family-owned business Abbott Fisheries, which recently invested in a new catamaran to replace an older boat and to expand its operations out of Narooma on the New South Wales south coast.
Future stability
"We decided to buy now because we couldn't supply enough fish for our second business – Narooma Seafood. This will also support our growing families into the future," says Hayley Abbott, who is managing director of both Abbott Fisheries and Narooma Seafood. Their fish are harvested from NSW and Commonwealth waters and sold for export and direct to customers at farmers' markets on the south coast of NSW and Canberra.
The Abbotts chose a catamaran to replace their previous mono-hulled steel boat built in 1972. The new vessel has increased stability and reliability with two motors. The aluminium construction is lighter, offering improved fuel efficiency and also reducing maintenance – all features that allow them to travel further and faster.
It also features a working area designed to easily move gear and heavy objects on the large sheltered deck, making the work environment safer than on their previous boat. The improved design means the boat can also hold more fish, and allows for the potential to process the catch on board as a future option.
The family named the 23-metre boat D&D, after their grandparents Des and Dottie Creighton, who started the business in 1949. The D&D was built in Adelaide and fitted out locally in NSW. "We wanted to try and keep it within the community and help support Australian families," explains Hayley Abbott.
Resource confidence
Having his new boat built locally was also important for Western Australia's Bruce Cockman, who found it easier to deal with people he knew. He fishes for Western Rock Lobster out of the Port Denison marina at Dongara, south of Geraldton. Most of his catch is destined for China. His aim is to deliver higher volumes of catch during the Chinese festival season when rock lobster prices are highest.
A better understanding of what is happening with rock lobster populations based on monitoring the recruitment into the fishery, fisheries management changes and his own personal circumstances have all combined to give Bruce Cockman the confidence to invest in a larger boat.
"The fishery went to quota (catch limit) in 2010 and we've had good lobster recruitment in 2013 and 2016, so this is a good time to maximise returns," he says. "Plus, I am 50 years old now so it is good to get the boat while I can still use it."
His new vessel is 24.85 metres, replacing an older 22-metre model. It includes better quality crates, which are more comfortable to handle and hold more live lobsters. This results in handling efficiencies and a better-quality product.
"The old boat was 25 years old and still rolling along well, but we wanted more capacity. The new boat holds six tonnes of rock lobster that will be delivered to the Geraldton Fishermen's Co-operative."
Northern expansion
Management changes resulting in quota increases also informed Australia Bay Seafoods' decision to expand and upgrade its fleet. Operating as part of the finfish trawl fishery in the Northern Territory, Australia Bay Seafoods' fleet mostly catches Saddletail Snapper, Crimson Snapper and Sweetlips 250 to 300 kilometres from Darwin.
The business retrofitted a second-hand boat, with a state-of-the-art cooling system to provide better quality products to consumers. When the fish come out of the water at 30°C to 31°C, cooling them quickly to 1°C using an ice slurry and holding the temperature at between +/– 1°C can extend shelf life to 30 days.
"For this particular vessel we paid nearly $120,000 for an ice-slurry machine from New Zealand. The boys have their hoses with a couple of tonnes of slurry available to cool the fish right away. You need really good refrigeration," Australia Bay Seafoods' Bill Passey says.
Once the fish are released from the net into the hopper, conveyors take the catch into the processing room where it gets sorted by species and put into open-sided bins with lids, stored into brine tanks. Once the fish's core temperature reaches 1°C, it is essential that it does not fluctuate. This means having faster conveyers and monitoring the temperature of the tanks, adding more slurry as needed.
"Brine tanks are not a new concept," Bill Passey says. "All boats have them. But these are bigger and better."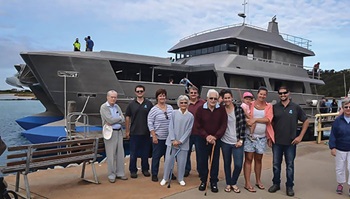 The Abbott family with its new catamaran
D&D
.
Photo: Stan Gordon, Narooma News
Greater flexibility
The Austral Hunter, the new boat just built by Austral Fisheries, also represents an upgrade in safety, endurance and efficiency as well as the ability to use a range of packaging styles to respond to customer needs.
Austral's new boat is a 30-metre prawn fishing vessel, the first northern prawn fishery boat built in almost 30 years. This is an addition to the existing fleet and the company plans to build more boats in the near future.
"The Austral Hunter was built in Mauritius where we have a solid relationship with the boat builder CNOI, but our refrigeration, electrical, electronic and hydraulic systems were all supplied by the Australian companies that we work with," says David Carter, CEO of Austral.
This new trawler provides increased fuel efficiency and, being bigger, it has the capacity to store more catch. " The larger size grants us much more freedom. We don't have to keep stopping to unload. Psychologically it keeps the catching momentum going for the crew," he says.