A look back at the last financial year shows that addressing the environmental factors that affect fishing continues to dominate research, but investment out of the water is also providing good returns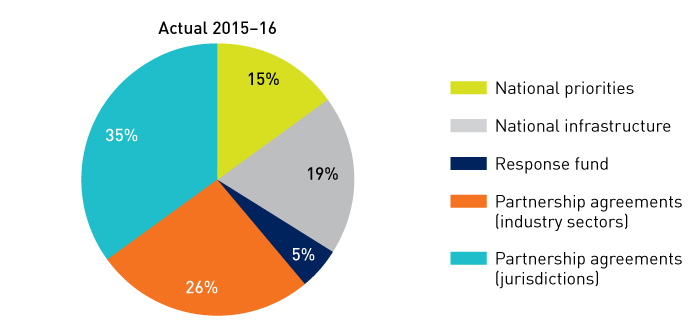 Figure 1 RD&E budget expenditure 2016-17 versus forecast expenditure 2017-18.
The business environment for the Australian commercial fishing industry saw continued growth in 2016-17 with the value of production increasing to $3 billion, up from $2.71 billion the previous year. This has been driven by increased aquaculture production, with Atlantic Salmon, Yellowtail Kingfish and Barramundi all set to further increase production in 2017-18.
The stable Australian dollar has helped seafood exporters remain competitive in most markets. Further benefits are expected from the final phase of free-trade agreements with South Korea and China.
Community perceptions of the industry's sustainability also increased to 41 per cent. However, the big movement was an 8 percentage point improvement in positive perceptions of the commercial wild-catch sector, with 32 per cent answering affirmative in regard to the sector's sustainability. This is the best result for the sector since the FRDC began perceptions surveys in 2012. The full perceptions survey report is on the FRDC website.
Year in review
The Australian Government has been developing a new harvest strategy and bycatch policy that will provide greater consistency in management across the country.
A new national peak body, Seafood Industry Australia, was also launched to represent the seafood sector as a whole to help develop national policy and programs, address collective risks and seize opportunities.
Biosecurity continued to be a major focus following outbreaks of White Spot Disease, Pacific Oyster Mortality Syndrome (POMS) and the discovery of the invasive Asian Green Mussel near Weipa, Queensland.
FRDC-funded projects also focused on improved practices and management for Atlantic Salmon production, particularly in Macquarie Harbour, Tasmania, to better understand oxygen dynamics, benthic recovery and risks to the endangered Maugean Skate.
The FRDC is coordinating the $15 million National Carp Control Plan, and intense research and engagement is underway to evaluate the possible release of carp herpes virus (Cyprinid herpesvirus).
This includes how best to release the virus, clean-up, ecological impact, legislative approvals and community consultation. The earliest possible release date for carp virus, pending approval, is late 2018.
Marine noise control was in the spotlight following several Australian research findings demonstrating effects from seismic testing. That will mean ongoing negotiations between the seafood, oil and gas sectors on ways to work together into the future.
Marketing
A large number of participants at the inaugural Queensland Seafood Marketing Symposium revealed strong interest in marketing and promotion. Changes to the Primary Industries Research and Development Act 1989 were introduced in the 2017 autumn session of Federal Parliament, allowing for the voluntary collection of marketing funds.
The FRDC worked closely with the Australian Prawn Farmers Association and the Abalone Council Australia Ltd to develop a marketing levy, but an industry vote on the issue was put on hold following the outbreak of White Spot Disease.
The FRDC partnered with state and territory fishing industry councils on a new approach to inform consumers on the sustainability of Australian fisheries, developing the national Fish and Chip Awards in 2017. This included coordinating promotion of the awards with fish and chip shops. The FRDC's new people's choice award garnered more than 75,000 votes for 900 fish and chips shops in the three months to 30 June 2017.
Fish stocks
The third edition of the Status of Australian Fish Stocks (SAFS) reports was published in December 2016, assessing 294 stocks across 83 species chapters. This represents about 90 per cent of the volume and value of Australia's total wild-harvest fisheries production, with 60 per cent evaluated as sustainable. SAFS reports are online at a new FRDC website.
Within the FRDC
Senator the Hon. Ron Boswell was appointed as the FRDC chair in 2016, taking over from Harry Woods who steered the FRDC through a period of transition, including the launch of the new research, development and extension (RD&E) plan in 2015.
New members and chairs were also appointed to the FRDC's Research Advisory Committee (RAC), with appointments to the Commonwealth and Tasmanian RACs finalising the process. More on the RAC chairs and members can be downloaded at the FRDC website.
In October 2016 the FRDC finalised Success through innovation: The National Fishing and Aquaculture Research, Development and Extension Strategy 2016, one of 14 sectoral-specific strategies that underpin the National Primary Industries Research, Development and Extension Framework.
A new social and economic research subprogram has been established to tackle the human dimensions of shared fisheries resources.
The FRDC is also taking a more proactive approach to identifying and commercialising intellectual property arising from research. It has partnered with a leader in start-up science, X-Lab, and the Cotton Research and Development Corporation to run two workshops to help stakeholders take advantage of innovative ideas, with a view to turn them into a commercial reality.
Impact
In 2016-17, the FRDC started a five-year program of impact assessments on investments across the RD&E portfolio, undertaken by Agtrans Research and Consulting. The 20 investments analysed during the first year of assessments were evaluated to have an average benefit–cost ratio of about 4.5: 1. The Industry and People Programs reported the best performance (of up to 9.7:1), while the Communities Program had no quantified benefits.
People
In 2016-17, the FRDC invested five per cent of its total R&D investment in developing the people and skills of those in the fishing industry, with an audited benefit–cost ratio of 3:1 from this investment. There were 16 people who completed the National Seafood Industry Leadership Program, and the FRDC sponsored two Nuffield Australia Scholarships.
During the year, the FRDC continued its strong partnerships with Indigenous groups, seafood industry councils, recreational fishing bodies, peak bodies, fisheries managers, science providers, and the Australian Department of Agriculture and Water Resources, and remains highly regarded by stakeholders.
Table 1: Financial indicators of R&D investment
Expenditure
2012-13
2013-14
2014-15
2015-16
 2016-17
 
 $m
$m
$m
$m
$m
Total expenditure
25.69
27.56
28.16
28.34
 29.26
Total of R&D projects
22.14
22.87
24.85
24.58
 24.41
R&D Program 1
(Environment)
8.25
10.20
10.44
8.68
 7.46
R&D Program 2
(Industry)
9.57
8.33
10.09
11.54
12.31
R&D Program 3
(Communities)
0.74
0.75
0.83
0.86
0.98
R&D Program 4
(People)
1.80
1.94
1.49
1.55
1.34
R&D Program 5
(Adoption)
1.78
1.66
2.00
1.95
2.32
Management and
accountability
3.55
4.69 (1)
3.31
3.76
4.85
Total income
25.98
26.89
31.75
30.12
37.32
Industry contributions
7.98
8.46
8.57
8.29
8.18
Total government contributions
17.23
17.93
18.71
20.05
21.76
Project funds from other parties
0.48
0.17
4.27
1.48
5.63
Other revenue
0.29
0.33
0.20
0.30
1.75
Maximum matchable
(government) contribution (2)
5.83
5.99
6.25
6.78
7.25
Actual government matching
5.57
5.96
6.22
6.48
7.25
1. In 2013-14, FRDC had a $1.2 million write-down of assets which increased the cost of management and accountability.
2. Government funding and maximum matchable contribution (the maximum amount to which the Australian Government will match industry contributions).
More information