A national discussion is underway on how to improve recreational fishing and share the many benefits it offers with more Australians
By Joshua Fielding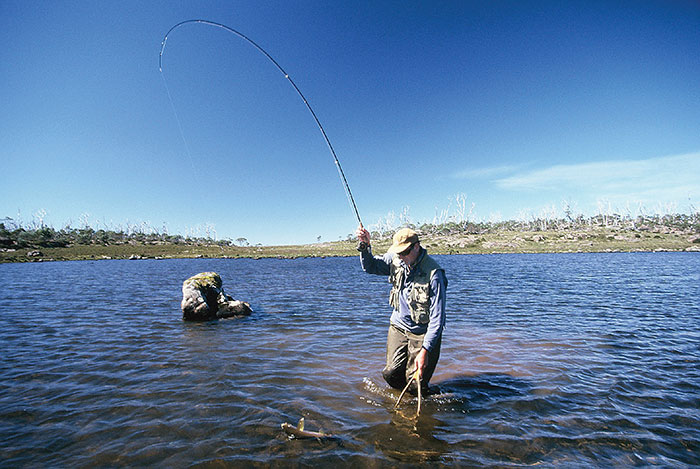 Recreational fishing has been shown to improve mental health and forge new friendships for participants in The Fly Program.
Photo: Brad Collis
Leadership, marketing and fisheries habitat improvement – these three topics were the focus of presentations and discussion at Australia's second National Recreational Fishing Conference held in Darwin in November last year.
The Australian Recreational Fishing Foundation (ARFF) coordinated the event. About 75 delegates attended, including fishers, peak body representatives and fisheries managers.
Assistant Minister for Agriculture and Water Resources Senator Anne Ruston officially opened the event with supporting comments from Brett Cleary, chair of the ARFF. They set the direction for discussion, with a theme of reinventing the way we think about and manage recreational fishing.
The keynote address was delivered by Martin Salter, a retired British politician, keen angler and fisheries habitat advocate. He is also the author of the Keep Australia Fishing report, commissioned by the Boating and Fishing Council of Australia in 2011. The report's aims were to counter threats to recreational fishing, build greater political and public support, and formulate some policy items, with details of lessons and best practice from elsewhere.
It also helped to develop a public narrative on the benefits of recreational fishing, reposition environmental issues and marine parks, and create a national voice for recreational fishers.
Charter needed
Martin Salter said positive steps in the six years since the report was released included the establishment of effective peak bodies in all states, a fully representative national body (ARFF) and a clear economic narrative and policy program.
Environmental partnerships and sources of secure, independent funding had been developed and there was also federal recognition of recreational fishing as a stakeholder in the public fishery.
However, Martin Salter is of the opinion that Australian recreational fishing still needs greater recognition politically, and an Australian Charter for Recreational Fishing could help do this.
"By having a single runsheet of what we want to achieve we stand a much greater chance of getting buy-on in the political sphere. But most important is that everything we do must be underpinned by ensuring healthy and sustainable fish habitats and stocks. Without this we have nothing," Martin Salter said.
Following sessions continued the themes of sustainability and management of recreational fishing, community involvement in habitat rehabilitation to improve fishing opportunities and expanding recreational fishing opportunities.
Habitat and jobs
Matt Hansen, from the Inland Waterways Rejuvenation Association, talked about the efforts of his team to improve fishing opportunities by restoring fish habitat in their local waterways of western New South Wales, which is part of the OzFish Unlimited national habitat community.
From raffling an "esky full or lures", the association now raises tens of thousands of dollars through the Lake Burrendong Fishing Classic, which is used to rejuvenate inland waterways – putting snags back into rivers, removing weeds and planting native vegetation.
"Probably our proudest investment and activity to date has been the River Repair Bus," Matt Hansen said. "We have purchased a mini-van and launched one of the biggest 'work for the dole' projects ever in western NSW."
The River Repair Bus has been active since late 2016 and has planted more than 7000 trees and removed about 100 trailer loads of rubbish.
"What makes me most proud is not just the work we have done for the rivers but that we have had 24 local Indigenous and non-Indigenous job-seekers working weekly on our program, and 16 of them have now moved into full-time work," Matt Hansen said.
Gone fishing
An extremely passionate recreational fisher, Paul Nagy is also chief creative officer at Y&R Group Australia, a brand-development, marketing and advertising agency that has helped develop the increasingly popular Gone Fishing Day for the ARFF.
His presentation was titled 'Brand Fishing, should you care?' "People find it hard to answer how they feel about fishing as a brand. Responses mostly outline the fact that fishing is a recreation or a sport," Paul Nagy said.
"But what about those recreations that we traditionally see as competitors to fishing, like cricket, golf, video games and even TV? People in the US spend more time watching Netflix on an average day than they spend with their friends or exercising. This doesn't happen by chance; brands and marketing have got them there."
He said branding of fishing was limited.
"But the good news is we have a spectacular product to market. It's about much more than just catching a fish; it's time in the wild, with family, teaching about all the outdoor experiences that come along with it, et cetera. Importantly this marketing needs to be done as a collective and outside of individual brands," Paul Nagy said.
Fishing for health
One of the final presentations, on the social impact of recreational fishing, was from Matt Tripet, a keen fisher who runs his own guiding business. The presentation focused on The Fly Program, a health-promotion charity he has developed to take men into the wilderness of the Snowy Mountains to enjoy all that the outdoors has to offer, including fly fishing in the highland streams.
"After losing my brother-in-law, who was also my best mate, through mental illness, I was determined to show the power that recreational fishing has to help with mental illness," Matt Tripet said.
He said the program brought together complete strangers who forged connections over a few short days in the Australian wilderness, fishing, to help rejuvenate their mental health.
Conference actions
FRDC executive director Patrick Hone provided a final wrap-up of the conference and noted several key areas that need action:
consolidate and capture the shared voice and vision of the conference – in state peak bodies and in their collective voice into a national peak body – to make ARFF an effective body for its members;
change the terms of trade with politicians and for funding to improve recreational fishing;
create a united front irrespective of brands or states to engage more people in this activity through relevant branding;
understand the importance of talking to others and obtaining an outside perspective;
improve capacity, harness the resources especially in areas such as habitat rehabilitation, and better understand resources still needed; and
discuss the significant benefits of general licensing systems, including revenue generation and opportunities this might bring.
---
National habitat initiatives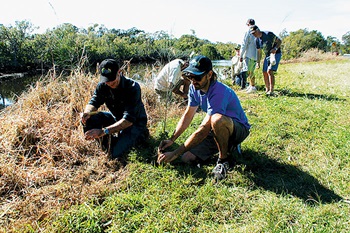 OzFish coordinates projects including tree plantings to improve habitat and water quality for fish.
Photo: OzFish
OzFish Unlimited is a not-for-profit organisation established to help educate and empower fishers to take control of the health of recreational fisheries by improving fish habitat and waterway health.
It has chapters across the country and has helped kick off projects to improve fish habitat, including habitat mapping, riparian revegetation, river resnagging and reef construction as well as shellfish reef restoration.
Through the FRDC's Recfishing Research Subprogram, OzFish has established the National Fish Habitat Strategy, working with fisheries agencies and key recreational fishers representative groups around the country.
The draft strategy has four objectives.
Make more fish: achieve fish habitat conservation results by restoring natural processes and preventing decline.
Get more fishers involved: broaden recreational fishing community support for habitat action.
Get smart: carry out research and development to support fish habitat action.
Get the story out: communicate fish habitat outcomes and issues to the general community.
Craig Copeland, the chief executive officer of OzFish, says there is a growing movement among recreational fishers who want to put back into the sport they love by looking after the habitats that the fish depend upon.
"If you are one of these fishers and want to help make a difference please contact us."
More information
---
FRDC Research Codes: 2015-501, 2016-505
More information
Australian Recreational Fishing Foundation