Research to optimise propagation and growth of the red seaweed Asparagopsis gathers pace, throwing up exciting new opportunities and challenges
By Catherine Norwood
At Port Victoria on South Australia's Yorke Peninsula, sunshine, crystal clear water and calm conditions greet the partners of a new venture for the Narungga nation and CH4 Global as they inspect recently approved marine leases.
The leases are held by the Narungga Nation Aboriginal Corporation (NNAC) and are catering for one of several pilot trials underway to test the growing conditions needed for the red seaweed Asparagopsis. The Port Victoria trials are part of a larger project, jointly funded by the FRDC and CH4 Global. The South Australian Research and Development Institute (SARDI) at the Department of Primary Industries and Regions (PIRSA) is leading the research project to optimise propagation and growing techniques in order to harvest this species from South Australian waters. The research is also investigating seaweed processing.
Image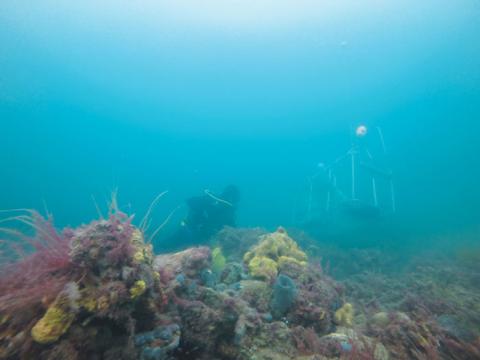 A diver collects Asparagopsis samples for propagation.
Photo: Sasi Nayar, SARDI
Asparagopsis is generating international headlines for its ability to reduce methane emissions by 90 per cent or more when fed as a dietary supplement to cattle. This could result in significant emissions reductions when you consider that livestock contribute 12 per cent of Australia's overall emissions.
But there's a catch. Thousands of hectares of seaweed would be needed to provide enough supplement, even at minuscule levels, for all livestock in Australia. Globally, the potential demand would require hundreds of thousands of hectares of Asparagopsis production, which is still in its infancy.
The researchers involved in this discovery, from CSIRO, James Cook University and Meat & Livestock Australia, have jointly patented the science behind it and formed the company FutureFeed to manage the patent and licensing.
South Australian sites
Leading the efforts to produce Asparagopsis in Australia is CH4 Global, which is actively partnering in local research to determine the best way to propagate and grow the species.
General manager, South Australia, for CH4 Adam Main says the Port Victoria trials are to be part of this work. The NNAC provides the site and CH4 provides the expertise and assistance to help set up the leases for production research. The research itself is being undertaken by SARDI, the research arm of PIRSA.
While SARDI investigates various cultivation techniques, PIRSA regulates where commercial aquaculture ventures can be established, issues marine leases and species-specific production licences. To facilitate aquaculture development across the state, the government has already pre-approved aquaculture zones, which Main says significantly simplifies the process of applying for leases followed by a species-specific licence.
In the past year CH4 has secured 880 hectares of its own leases and licences for seaweed aquaculture, with four sites along the Spencer Gulf side of Eyre Peninsula, at Tumby Bay, Louth Bay and Boston Bay.
This is in addition to two pilot trials that are part of the FRDC project: one of 20 hectares with the NNAC at Port Victoria and one on a two-hectare site in conjunction with Dinko Tuna at Port Lincoln on the Eyre Peninsula. Dinko and several other companies that ranch Southern Bluefin Tuna have received variations to their existing licences to include seaweed. Trials at Port Lincoln are now in their second year, while the Port Victoria trials officially kicked off with seeded ropes in the water in May 2021.
Main joined Klynton Wanganeen and Garry Goldsmith from the NNAC for a site inspection at Port Victoria in April. Depth readings showed one lease is almost five metres deep at high tide, the second is just shy of six metres deep, with an average 1.2 metre drop at low tide.
Image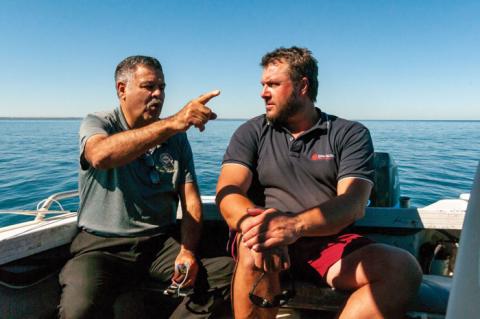 CEO of the Narungga Nation Aboriginal Corporation Klynton Wanganeen with Adam Main from CH4 Global discussing locations for seaweed leases at Port Victoria. 
Photo: Catherine Norwood
Asparagopsis grows naturally in the area. So, although red seaweed species are generally known to prefer deeper water, Wanganeen, Goldsmith and Main are optimistic about the local production potential once the infrastructure and seeded ropes are in the water. And if the current sites are not ideal, there are many others along the Yorke Peninsula to explore.
They see it as part of the learning process to identify what is optimal in terms of water depths and temperatures, currents and climate, along with the infrastructure, boats and labour needed to successfully seed, grow and harvest the crop. While the Port Victoria sites are relatively shallow, the site at Port Lincoln is up to 25 metres deep.
There are two species of Asparagopis: the tropical species A. taxiformis and a temperate species, A. armarta. Both are found in Gulf St Vincent and the Spencer Gulf. South Australia is possibly one of the few places where both species occur. A. taxiformis grows in water temperatures of more than 16oC, from December to May in South Australia. A. amarta grows in waters from 10 to 17oC from August to November or so. This counter-seasonality offers year-round production potential.
Propagation challenges
The initial seaweed samples for culturing have been collected from the wild, principally from a reef about 10 metres deep and two kilometres offshore from SARDI's facilities at West Beach, Adelaide. Samples are also being collected from other locations where trials are being run to assess the genetic diversity, map bioactive compounds and the comparative reproductive and growth potential of seaweeds from different areas.
Sasi Nayar, head of SARDI's Algal Production Group, is leading the Asparagopsis research for the FRDC–CH4 project. His team has successfully completed the sexual reproductive lifecycle of both species in the hatchery, which he says is a complex process involving gametophyte and two spore stages. Asparagopsis is a perennial that can regrow from its base each year, and can also reproduce asexually through division and fragmentation.
Image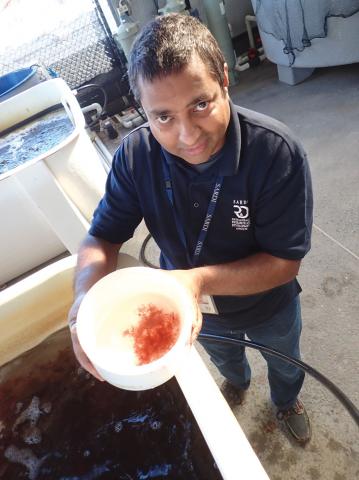 Sasi Nayar with Asparagopsis reproduced in tanks at the South Australian Research and Development Institute.
Photo: Catherine Norwood
SARDI is also partnering with Peter Alderson from Flinders University to investigate vegetative propagation using fragments and tissue culture techniques. The aim is to identify which technique will be the most cost-effective and efficient for mass propagation.
One of the issues for South Australian at-sea cultivation is the comparatively low nutrient levels in the water. Seaweeds require nitrogen and phosphorus to grow. The Yorke Peninsula has no rivers delivering run-off to sea, a process that often contributes significant nutrients, particularly nitrogen. And across the southern Australian coast there is an ongoing battle beneath the waves for scarce nutrients and space, with 1500 known seaweed species all already seeking their share.
Main says the need for nitrogen is one reason why CH4 is also partnering with fish farmers in South Australia, including Dinko Tuna and CleanSeas. Fish poo is a rich source of nitrogen. He sees the relationship with fish farmers as mutually beneficial, helping to maintain water quality around fish pens while producing secondary seaweed crops.
Main says CH4 also has its own tank trials underway to see if land-based operations could be used to produce more mature Asparagopsis plants for deployment at sea to improve survival rates and accelerate growth or extend the growing season.
In addition to the propagation research, SARDI will provide pilot processing of the Asparagopsis through to the end product as part of the project. SARDI is working with FutureFeed to determine the necessary production and quality standards.
Main says CH4 is also drawing together information about Asparagopsis from projects it has in other countries, including New Zealand, Canada and Fiji. Expertise provided by research partners in each country is contributing to a fuller understanding of the species and its attributes. This includes understanding the active components in the seaweed that help to reduce methane emissions.
---
New alliance to support emerging sector
A new industry body, the Australian Sustainable Seaweed Alliance, has been established to help advance the emerging seaweed sector in Australia. Founding members include CH4 Global, FutureFeed, the Australian Seaweed Institute and the University of Tasmania.
Alliance director Jo Kelly is also CEO of the Australian Seaweed Institute. She is leading the implementation of recommendations in the Australian Seaweed Industry Blueprint, released by AgriFutures Australia in 2020. Recommendations include the formation of a peak body to help develop networks and share information and services to aid the growth of the sector. Kelly says ultimately the alliance hopes to target diverse stakeholders, from state and local governments to growers, investors and product developers, and to end users and consumers.
The seaweed sector has been identified as a priority for development by the United Nations High Level Panel for a Sustainable Ocean Economy. Australia is a member of the panel and has committed to its Transformations action plan. This includes a commitment to: "Scale up environmentally responsible commercial farming of seaweed and algae to provide food and create alternatives for products such as fuels, aquaculture and agriculture feedstocks, biotech, and viable and sustainable plastic alternatives."
Kelly is also an Australian delegate to the international Safe Seaweed Coalition, which is pursuing similar goals on a global level. The focus of this coalition explicitly includes workplace, environmental and food or product safety as critical components in its development agenda. 
---
More information
Jo Kelly
Australian Sustainable Seaweed Alliance