It's sustainable seafood week and we are shining the spotlight on just a few of the numerous unsung heroes of Australian seafood.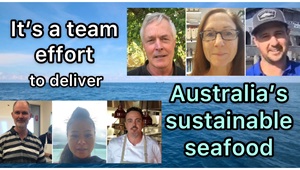 Getting sustainable Australian seafood on our tables is a collective effort involving a diverse cast. It includes the fishers and aquaculture operators that harvest and produce seafood, the processors and logistics operators, the chefs, food service staff and retailers, and the managers and scientists that ensure robust regulation informed by evidence-based science. And yes, it even includes the consumer who can stay informed and make choices about what they buy. 
To mark this year's sustainable seafood week, we asked  a few of them: "What is your role in making sure Australian seafood is sustainable?" Our video with their answers can be viewed on FRDC's YouTube channel at https://www.youtube.com/watch?v=WtS4CNM2WQg.
Karina Hall, Senior Research Scientist at NSW DPI say her work helps to establish the sustainability status of key finfish and marine invertebrate stocks. This information is then used by fisheries managers to manage sustainable fisheries. 
Tuna fisherman Todd Abbot from Narooma, says a big part of how he ensures fishing can continue sustainably into the future is to adhere to regulations like quota which limit the amount fishers can catch. 
Third-generation Fisher and Chairman of Fairfish SA for Port Wakefield Bart Butson is passionate about his role producing and supporting other fishers to deliver sustainable seafood and encourage people to try under-utilised species of seafood. 
For Umar Nguyen, the Fish Girl, who links seafood producers with chefs who use their product, her role is to create awareness of amazing sustainable seafood products and help their producers tell their stories.
Jamie Steel, sous chef at the Aurora restaurant in Adelaide says it's about sourcing and presenting underutilised species from sustainable fisheries and aquaculture operators, and educating their staff about this. 
Dr Patrick Hone, the Managing Director of the Fisheries Research and Development Corporation, sees his role and that of the organisation as ensuring that the best science possible underpins the sustainability of Australian seafood. 
As a national science agency, the FRDC is tasked with funding the science that underpins the regulation and reporting mechanisms that ensure Australia's fisheries and aquaculture operations remain some of the most sustainable in the world. 
Key amongst these is the Status of Australian Fish Stock's (SAFS) Reports www.fish.gov.au, but there are a number of other tools including the Shark Report Card, the National Bycatch Reporting Framework, the Healthcheck tool and Whichfish. In the aquaculture space, FRDC is currently developing a cumulative impact risk assessment tool.  
The FRDC invests in research, development and extension activities to increase economic, social and environmental benefits for Australian fishing and aquaculture, and the wider community.