By Julie Haldane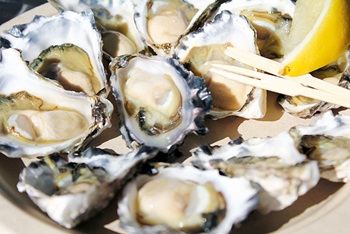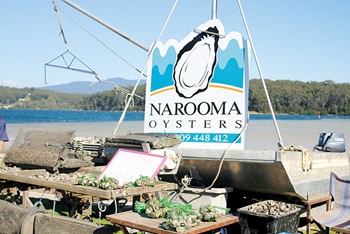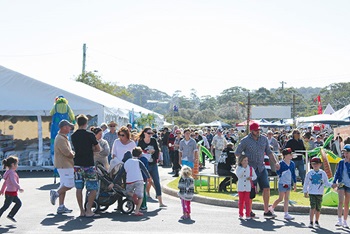 More than a food lovers' destination, Australia's Oyster Coast represents a world-class, environmentally sustainable industry.
Photos: Julie Haldane
Earlier this year, the likeable town of Narooma on the New South Wales south coast was buzzing with visitors who joined the locals to celebrate Narooma's greatest local product – oysters.
The Narooma Oyster Festival is an annual event, but this year was special: the festival was the catalyst for the launch of two important industry initiatives.
The first was the finalisation of an environmental management system (EMS) for Wagonga Inlet oyster growers. The second event was the launching of the region's new brand as Australia's Oyster Coast.
Launching the brand, NSW Primary Industries Minister Katrina Hodgkinson commended the oyster industry for working collaboratively with local organisations to promote south-coast oysters and sustainable seafood production.
"Australia's Oyster Coast is going to become a valuable marketing tool by increasing awareness of the south-coast oyster industry," she said.
The development of the Oyster Coast brand builds on the efforts of about 80 oyster farmers from the eight major estuaries between the Shoalhaven River and NSW/Victorian border over the past seven years to develop and implement an EMS. This ensures oyster businesses are continually improving, and environmental conditions in estuaries are suitable for shellfish production.
These systems require farmers to proactively identify and manage environmental issues that pose a risk to their businesses and the wider catchment.
Actions have ranged from upgrading to more environmentally friendly infrastructure to raising awareness of catchment issues in local communities.
The end result is pristine waterways, a more efficient and profitable oyster industry and higher-quality oysters.
Australia's Oyster Coast executive officer Andrew Wales said an EMS was probably the most important tool oyster growers could use to make sure their oysters grew in clean water. Oyster growers in the region had been proactive in deciding to develop an EMS for each of their estuaries.
"No other region in Australia, and possibly the world, has every estuary operating under such rigorous environmental systems," he said.
Local grower David Maidment, of Australian Native Shellfish, said it was heartening to see so many young growers coming into the industry. "
The EMS is something they have driven. It is their future, but it is also our future as a community. They have had terrific support from OceanWatch Australia, the Southern Rivers Catchment Management Authority and also support from the Australian Government as well. But ultimately it is an initiative of the growers themselves," he said.
Recognising this achievement, the Member for Eden-Monaro, Mike Kelly, who also attended the festival, launched the Wagonga Inlet Oyster Growers EMS.
"Environmental quality is the key to this product being what it is. Underpinning that will be confidence in clean ingredients and this is a really good example," he said.
In 2012, more than 24 million oysters were produced on the south coast, worth $11 million.
NSW is responsible for about 40 per cent of Australia's total oyster production. Given these figures, the oyster industry is an integral part of coastal communities that supports employment, local seafood and tourism.
It all means festival-goers can look forward to another great event next year.
Held on the shores of Wagonga Inlet, this year's festival included cooking demonstrations, the Ultimate Oyster Experience (a masterclass of oyster tasting), the Ulladulla Oyster Bar and Lounge, and the ActewAGL Oyster Bar, which served more than 9000 Sydney Rock Oysters to hungry patrons.