Perfect weather, an idyllic location, more than 100 top chefs and thousands of food enthusiasts helped to bring out the best in Australia's latest seafood offerings
Seafood was without question the star of the 2013 Noosa International Food and Wine Festival. There were 20 seafood companies showcasing produce, but almost every food stall at the festival had seafood on the menu.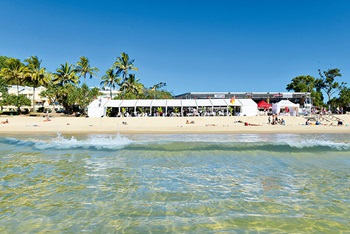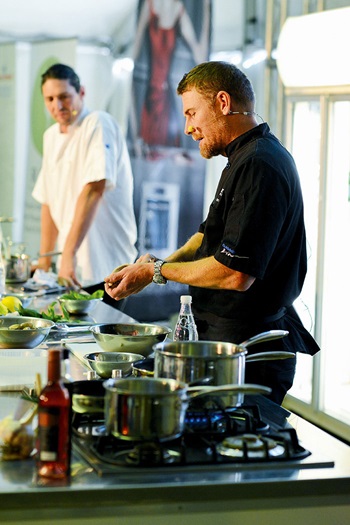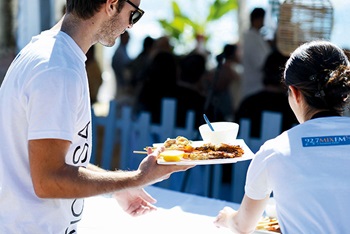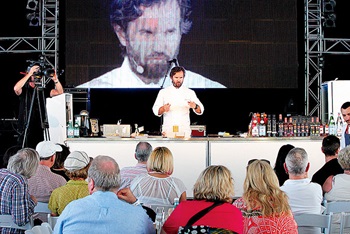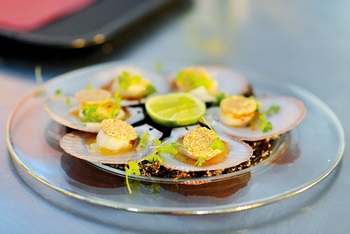 Engagement with food professionals was a key feature of the Noosa festival.
Photos: 2013 Noosa International Food and Wine Festival
Among the offerings were mackerel tacos, Malaysian crab curries, rocklobster dumplings, fish and chips, and smoked salmon tasting plates. Seafood was also used in nearly half of the cooking demonstrations on the main stage.
This year's event – the 10th – attracted about 30,000 patrons, including renowned international and Australian chefs, food media, wine experts, and amateur foodies and their families, who converged on Noosa to eat, drink, watch, participate, critique and taste award-winning produce.
The Noosa festival was started a decade ago by several dedicated foodies, to showcase the local produce. It has grown to be one of Australia's premier food events, attracting some of Australia's and the world's top chefs.
The Qantas Premier International Degustation dinners have become an integral part of the event, with the meals prepared by chefs named on the S. Pellegrino and Aqua Panna World's 50 Best Restaurants list.
This year, chefs included Mark Best (New South Wales), André Chiang (Singapore), Mauro Colagreco (France), Carlo Cracco (Italy), Peter Gilmore (NSW), David Kinch (US), Yoshihiro Narisawa (Japan), Ben Shewry (Victoria), David Thompson (Thailand) and Tetsuya Wakuda (Singapore/NSW).
The festival offers chefs the chance to catch up with colleagues and test their culinary mettle in friendly rivalry. It also provides an opportunity to showcase new food companies and suppliers to the chefs, to a large number of highly committed amateur foodies, and to a broad range of professionals and opinion leaders in the food media.
This year, there was a large seafood contingent, including the FRDC's team, which attended the event to launch the new FRDC consumer website Fishfiles. Many of these participants were coordinated and guided by John Susman and the Fishtales team.
While John Susman is no stranger to corralling members of the seafood industry, this was the first time he has done so on such a grand scale, organising an off-site base (referred to as Fish HQ) and a team of chefs and service staff on site to support the seafood suppliers presenting their product.  
Over the course of the four-day festival, the Fishtales team ran in-depth briefings and tastings at Fish HQ with a range of chefs and food media. They also helped coordinate and run several seafood events.
First-time participants at the festival included the Lakes Entrance Fishermen's Co-Operative Society, trialling the often-overlooked species Luderick. More than 3000 crumbed Luderick fillets were served at the Berardo's Seafood Shack, with feedback indicating patrons were impressed by the eating quality.
The Lakes Entrance co-op also featured several other underused species, such as mullet, School Whiting and Gould's Squid, at the Barefoot Beach Barbecue. This was held at the Noosa Main Beach and received the Golden Beachball as the best event of the festival.
The co-op's fish featured at the barbecue were all part of an FRDC project looking at ways to add value to fish that are usually overlooked by consumers.
The other notable seafood debut was Austral Fisheries, which launched Glacier 51, its newly branded Patagonian Toothfish product. Austral Fisheries' chief executive officer David Carter said he was impressed by the high standard of the festival and was pleased with the positive reception Glacier 51 received.
Simon Wilkinson, national food writer at News Limited Network, provided a half-page review of Glacier 51, and chef Tom Walton cooked the fish during a live presentation from the festival as part of Channel Nine's Today.
Fishfiles fires up
Noosa provided an ideal venue for the official launch of the FRDC's Fishfiles consumer website. The Fishfiles stand was strategically placed under the ornate Aly de Groot squid sculpture in the entrance to the main pavilion.
FRDC staff members Crispian Ashby, Julie Haldane and Peter Horvat were all on hand to take visitors through the interactive Fishfiles display. The stand provided an opportunity to showcase both Fishfiles and the recently released Status of Key Australian Fish Stocks 2012 report, as well as the FRDC website.
FRDC communications manager Peter Horvat says market research shows that more than 90 per cent of Australians consume seafood at some point during a year.
However, many are not comfortable with, nor really understand how to prepare, seafood. It became clear at the festival that even a very food-focused crowd has similar issues."
There was a high level of engagement with visitors at the Fishfiles stand, which was very positive, Peter Horvat says.
"Once they started looking at the site, the questions kept on rolling in. On average, a person would stay and talk seafood for five to 10 minutes. The general feedback after chatting with the visitors about Fishfiles was that the website was excellent and provided the basic answers that many had been looking for." 
---
Beautiful Monsters
Aly de Groot is an Australian contemporary fibre artist and recipient of a Charles Sturt University postgraduate scholarship to undertake research for a PhD.Her focus is on environmental issues in relation to fibre art and basketry.
Aly de Groot's squid display at the 2013 Noosa International Food and Wine Festival was an effective way to use discarded materials such as ghost nets and fishing line to tell a story.
As an artist, she finds value in the inspiration and knowledge gained and exchanged through formulating ideas and projects that can inspire people to use readily available materials that may otherwise be a pest or environmental threat.
---
Special seafood events at the 2013 Noosa International Food and Wine Festival
Gala opening dinner – chef Shane Bailey featured Yarra Valley caviar, Cloudy Bay diamond clams, Kinkawooka mussels and Cone Bay Barramundi.
Spice Trail – chefs Martin Boetz, Louis Tikaram and David Thompson featured Glacier 51 Patagonian Toothfish, Cloudy Bay diamond shell clams and Shark Bay wild prawns.
Launch of the Marine Stewardship Council-certified Glacier 51 Patagonian Toothfish.
The Berardo's Seafood Shack featured a range of Lakes Entrance's underused fish, selling more than 3000 serves of crumbed Luderick.
Barefoot Seafood BBQ – served more than 300 guests, including 30 media representatives. The event also received The Australian Golden Beachball for best event.
---
FRDC Research Code: 2012-230
More information