By Jemima Burt and Catherine Norwood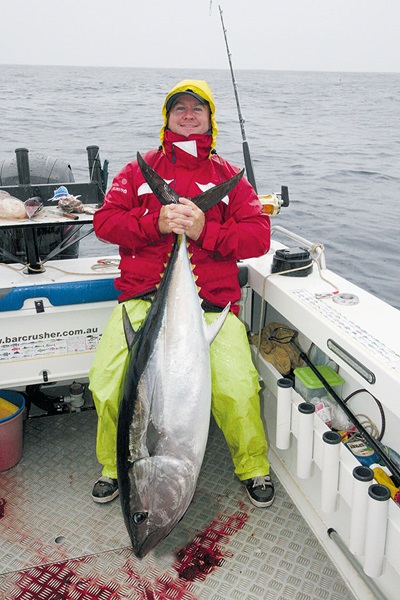 A successful game fishing trip lands Andy Clark a 35-kilogram Southern Bluefin Tuna, caught east of Jervis Bay, New South Wales, in July 2013.
Photo: Jim Harnwell, Fishing World
Southern Bluefin Tuna (Thunnus maccoyii) (SBT) is among the most highly sought after fish in the world. In January 2013, a new record was set for a single fish, which sold for more than $1 million at the opening auction of the Tsukiji Fish Market in Tokyo.
In Australia, SBT is highly valued both commercially and as a game fish. While there are detailed commercial records, researchers are now trying to estimate just what the local recreational catch is, given international efforts to rebuild the depleted SBT population, which is estimated at less than 10 per cent of its pre-fished biomass.
The pool of recreational SBT fishers is comparatively small, but the constant evolution of navigation technology and improvements in recreational boats all combine to make targeting SBT easier for game fishers. There has been an increased interest in the species among recreational fishers during the past decade.
Leading the recreational catch project is Andy Moore, a fisheries scientist with the Australian Bureau of Agricultural and Resource Economics and Sciences (ABARES).
The aim of his project is to design a survey approach that could be used to regularly assess the SBT recreational catch around Australia.
While ABARES is leading the study, Fisheries Victoria, the Institute for Marine and Antarctic Studies (IMAS) at the University of Tasmania, the New South Wales Department of Primary Industries and the South Australian Research and Development Institute are also assisting.
Researchers from these agencies are working with the Game Fishing Association Australia, Victorian and Tasmanian state game fishing associations, Recfish Australia and charter boat operators to evaluate the most effective survey techniques for different jurisdictions.
The highly mobile nature of the fish itself and the variable timing and location as they move along Australia's east coast make it a challenge to get figures on the recreational catch.
SBT migrate from west to east, from the Indian Ocean across southern Australia, stopping for periods closer to shore off SA, Victoria, Tasmania and NSW when they are more accessible to recreational fishers.
To identify the most likely locations where recreational fishers are targeting SBT, researchers are tapping into the same intelligence networks that commercial and recreational fishers use in targeting the fish.
Fishers track the SBT; the researchers track the fishers. This includes the networks of game fishing charters, fishing tournaments and recreational fishing forums.
Most SBT are caught in deep waters, 100 kilometres or so offshore, and only a limited number of boats and fishers are willing to venture out in search of target species.
The fish themselves can be more than 100 kilograms when caught in Australian waters, although they can grow to be up to 200 kilograms and two metres long during a 20-year lifespan.
In Tasmania, researchers have access to boat registration data, which makes it possible to identify the owners of boats with the capacity to target SBT and then to conduct  telephone surveys. Access to this data in other states is restricted, so creel surveys at boat ramps are a more practical option. Other strategies are also being considered.
The key to creel surveys is knowing when there are enough fishers targeting SBT to make it worthwhile sending survey staff to ramps.
Andy Moore says when the SBT have slowed their journey and remain in one location for a while, there can be upwards of 300 boats heading out on any one day to try their luck.
A survey undertaken by Fisheries Victoria in 2011 indicated that 19,700 SBT were caught and retained during the year, with a further 6900 caught and released.
Surveys also seek information on catch location and the size of the fish caught. In 2012 the IMAS surveyed Tasmanian fishers, but the information is still being analysed. 
---
Catch and release
In a separate project related to Southern Bluefin Tuna (SBT), the Institute for Marine and Antarctic Studies is investigating the post-release survival of SBT caught by recreational fishers.
This study uses state-of-the-art satellite tag technology to determine the fate of released fish, with the aim of improving handling techniques to improve survival rates.
It will also assess the effectiveness of recreational regulations, which rely on individual possession limits.
---
FRDC Research Code: 2013-025
More information
Andy Moore, 02 6272 3090
anthony.moore@daff.gov.au
Sean Tracey, IMAS
sean.tracey@utas.edu.au