Placing value on a life spent at sea is among the objectives social researchers are working to incorporate into fisheries management and policy decisions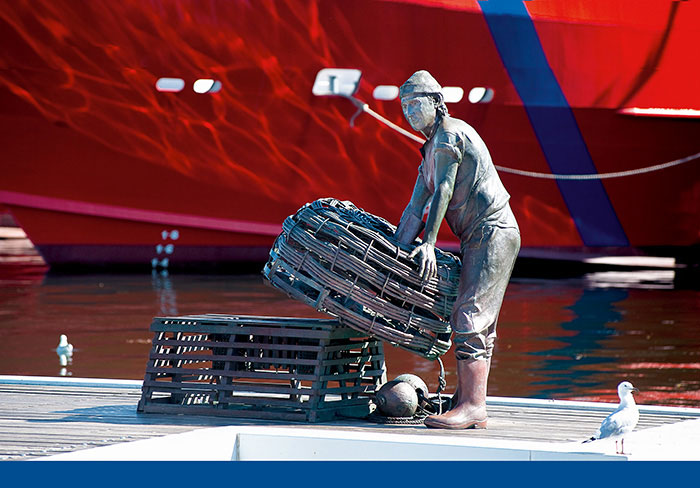 A memorial to the fishermen of Fremantle, WA
Photo: Brad Collis
By Susan Paterson
While much is known about the ecological and economic effects of the fishing industry, the value of fishing to the community and the social impact of fisheries management decisions and policies are, for the most part, still poorly understood.
It is a gap in the existing fisheries knowledge that Lianos Triantafillos is working to address through a three-year project to develop and test social objectives for Australian fisheries.
As fisheries manager at the Department of Primary Industries and Regions South Australia (PIRSA), he says the lack of social data is an important issue that needs urgent attention.
"In SA we're very lucky because we have one of the best sets of fisheries biological and economic data in Australia. But we have very little data on the social aspects of fishing."
He says this data is important because it helps to understand how fisheries management decisions affect the social well-being of fishers and their communities. It could also reveal why fishing was important to an individual and a community, and what motivated fishers.
Up until now, he says, "no one has really asked what's important to them from a social perspective. There's this whole complexity behind fisheries that we know nothing about."
Lianos Triantafillos talks of his own family, who emigrated from Greece to Australia, and others like them, who have spent their whole life on the sea. They made a new life while maintaining their roots with fishing.
"For them, it's not about money. What's important to them is that they have access to the sea and a livelihood."
The triple bottom line
The lack of social data and objectives becomes a problem when trying to manage fisheries in accordance with the principles of ecologically sustainable development (ESD), which underpins Australian fisheries management and is commonly agreed to be the way forward in fisheries and marine ecosystem management.
To achieve ESD, there needs to be not only biological and economic objectives but also social objectives.
To date, fisheries management has mostly been directed by ecological and economic objectives. With the call for triple-bottom-line assessments of industry performance, social objectives need to be integrated into decision-making.
To assist with this, Lianos Triantafillos and his team have set about developing appropriate social objectives and associated measurement indicators that could be used to monitor social performance and support management decision-making.
Their three-step process first involved conducting a literature review of social objectives, followed by workshops with fisheries management agencies from across the country to come up with a draft set of national objectives.
These objectives and indicators were then tested using case studies.
Testing objectives
One study focused on the Queensland East Coast Trawl Fishery, a commercial fishery that operates in different regions and communities in Queensland.
A second study looked at the SA communities of Ceduna, Port Lincoln and Wallaroo, in which fisheries operate across recreational, commercial and traditional sectors, and the indigenous community of Narungga.
The case studies were chosen because they offer information from both fishery-based and regionally based perspectives.
This provided two approaches to testing the practicality of the objectives and indicators.
The results of the research showed that the relative importance of most objectives varied depending on the location and type of fishery involved.
For instance, in the southern states, ensuring equitable treatment and access for fishers was more highly ranked by commercial, recreational and charter fisheries than in the northern states, which prioritised access to adequate infrastructure needed for successful operation of fishing activities.
Each objective comes with a set of recommended indicators to ascertain whether the objective is being met.
To establish which indicators best inform each social objective, a mix of mathematical analysis and face-to-face research was used.
Methods employed to gather information about objectives and indicators included online, hard-copy and in-person surveys, community interaction and meetings with fisheries managers.
Cost-effectiveness of collecting information and the level of difficulty in analysing the indicators were important considerations.
Data challenges
Challenges for gathering social data included reluctance within the community to comment.
The research team discovered that fishers were often happy to talk about their personal situation, but less willing to provide a broader opinion. Surveying fishers who had lower levels of literacy also required a different approach, where data gathering was best done face-to-face.
Gathering quality data in traditional fisheries was also a major challenge. Social scientists working with the indigenous community were able to identify important social objectives, which included issues such as continued access to iconic species. However, the study was unable to test the reliability of objectives and indicators.
Lianos Triantafillos says there is still some way to go in developing social indicators for indigenous fisheries.
But the research team has come away with a better understanding of how to approach working with indigenous communities in the future and the objectives they consider important.
The outcomes from the research include a two-part guide to managing the social dimension of fishing, due to be finalised later this year.
The guide takes fisheries managers and other stakeholders through the steps of implementing social objectives in an ecologically sustainable development context by helping them identify, document and manage social objectives relevant to their fishery.
The guide also helps fisheries managers identify what they can influence and what factors remain outside their direct influence, creating more targeted identification and management of social objectives.
The research and guide are a significant step towards achieving triple-bottom-line assessments for government management in Australia's fisheries.
Lianos Triantafillos says the research team found that, with the right questions, a survey of fisheries managers provided a simple and cost-effective way to determine whether many of the identified social objectives were being met.
He is confident that the consultation with and involvement of management agencies around the country as part of the project will result in a good uptake of this research.
This would also lead to a consistent, national approach that should increase certainty for stakeholders and improve management outcomes. 
FRDC Research Code: 2010-040
More information
Lianos Triantafillos, 08 8226 2961
lianos.triantafillos@sa.gov.au