From its origins in the Murray–Darling Basin rivers and streams, the Murray Cod is finding its way onto more urban menus through Marianvale Blue's successful aquaculture operations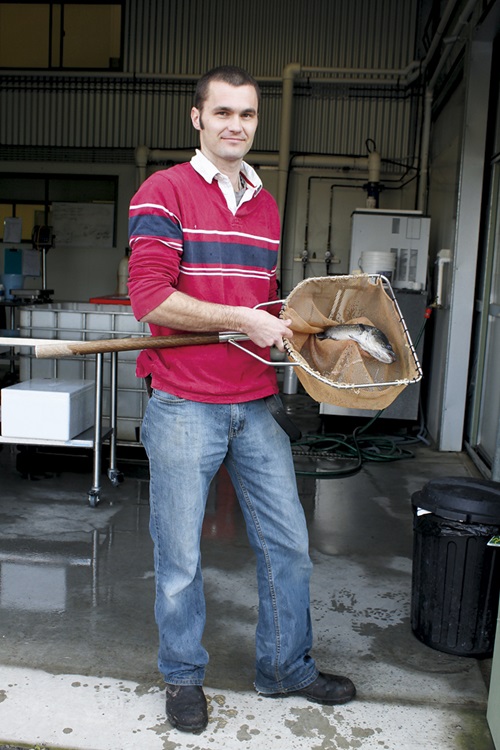 John Breen, general manager of Marianvale Blue, with a young Murray Cod (Maccullochella peelii).
Photo: Julie Haldane
By Julie Haldane
Murray Cod (Maccullochella peelii) is one of Australia's most iconic species, and a highly sought-after catch for recreational fishers. But if you are looking to put one on the table for dinner, the most reliable source of supply is likely to be farmed fish, sold live at local Asian markets and restaurants in Melbourne and Sydney.
This is where most of the 200 tonnes of Murray Cod John Breen produces goes. As general manager of Marianvale Blue, based near Goulburn in New South Wales, he runs the largest indoor commercial Murray Cod farm in Australia. The business was launched less than three years ago and is already close to full capacity.
Murray Cod only spawn once a year, so stocking is limited to an annual event, normally in December. Fingerlings are introduced to nursery tanks from ponds where they have been feeding on live feeds.
"Our process begins with the arrival of fingerlings at about one gram and then we wean them onto pelleted feed over a couple of weeks," John Breen says.
After the nursery, fish are grown out in 31 tanks, each with a capacity of 25,000 litres. The fish are moved into the grow-out tanks when they are between 50 and 100 grams.
The Murray Cod are constantly graded to ensure the fish in each tank are all of a similar size, which helps to keep the species' cannibalistic tendencies in check.
John and his team grade a tank every day. Typically the fish grow fast enough to require grading every six to eight weeks.
Water quality is critical to the operation. The daily morning checks include water, oxygen, temperature and quality parameters. For its fish farming operations Marianvale Blue relies on bore water, which is treated to remove iron and carbon dioxide.
 John Breen says that while the water does not have high levels of iron, it is removed as a precautionary measure, as iron is believed to contribute to hexamita (hole in the head disease) in the fish.
"I don't think it has been validated yet, but we remove it just in case – the technology is there. Removing the iron also helps to keep the equipment in good condition."
The business is very conscious of water quality and consumption, and uses filters and other technology to ensure as much water as possible is recycled. The water temperature is maintained at 23°C, and is heated with energy-efficient, state-of-the-art heaters.
"We were worried that the power consumption would be high, trying to heat the water in the tanks, but once you get 100 tonnes of stock feeding, swimming and being active, it just about maintains its own heat. We only have to put in a little amount of power," John Breen says.
Murray Cod normally take 10 to 18 months to reach a saleable size, but growth rates are proving variable.
"We can have a fish ready at 800 grams in 10 months and at the same time have a 300-gram fish from the same batch."
On the upside, having fish reaching saleable size at different times means he can supply the market all year round, even though he only receives fingerlings once a year.
"For the Murray Cod market at the moment we need the variability in growth rate to be able to dispatch over a longer period. This way, the farm is able to reliably supply four tonnes of Murray Cod week in, week out," he says.
Situated between Sydney and Melbourne, on the Hume Highway, Marianvale Blue is well positioned to access these two major markets.
Most of the fingerlings are grown to 800 grams.However, there is also a 500-gram, plate-size market. Most fish are sold live into Asian markets, with some chilled fish going to wholesalers.
"Most of the 800-gram live fish are going into tanks in places like Chinatown, whose clientele like the fat content of the fish,"John Breen says.
All fish are purged before they are sent to market; live fish are purged for three days and those sold chilled are purged for a week.
"We are getting great feedback from chefs. They are taking the 500-gram plate size and are really happy with the fish – especially the fat content as there is a bit more margin for error in the cooking, so if they overcook it for a minute it is not dry. Its special quality is that it is a really moist fish with firm, white flesh," John Breen says. 
---
Pan-seared Murray Cod
Murray Cod (Maccullochella peelii) is a moist, white fish that flakes easily and has a delicate flavour.It can be steamed, pan-fried (similarly to Atlantic Salmon) or baked.The skin crisps easily due to its fat content.
Chefs speak highly of the fish, acknowledging its flavour, texture and attractive appearance as a whole, filleted or banquet fish.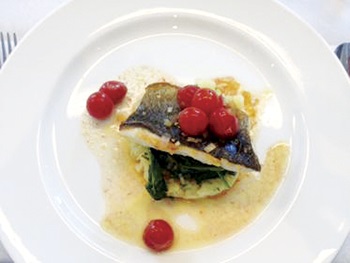 Ingredients
640 grams Murray Cod (skin on)
200 grams Desiree potatoes (peeled)
1⁄2 bunch flat-leaf parsley (chopped)
100 grams baby spinach
100 millilitres extra-virgin olive oil
1 carton cherry tomatoes
2 shallots (finely chopped)
50 millilitres sherry vinegar
20 grams brown sugar
2 bunches basil
Instructions
Potatoes:
Peel and quarter potatoes and boil in water until tender.
Strain, crush, stir through parsley, 50mL of olive oil and season with salt.
Tomato compote:
Place tomatoes, shallots, vinegar, sugar, basil and 50mL olive oil in an ovenproof dish.
Season, cover and cook at 180°C for 15 minutes.
To serve: Seal cod skin-side down in a hot pan with a little oil until crisp and golden brown.
Finish in 180°C oven for about four minutes.
Place potato in centre of plate, top with wilted spinach.
Place fish on top and spoon compote over fish.
Source: Marianvale Blue
---
FRDC Research Codes: 1999-328, 2006-053, 2010-036
More information
John Breen, 03 9519 9300
Marianvale Blue