With diverse stakeholders, creating the right links between research and marketing will be a challenge for the fishing and seafood industry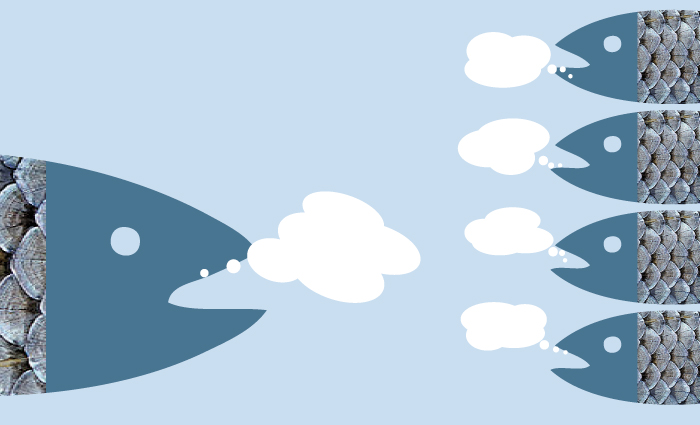 Illustration: Ken Uchida
How will the FRDC develop a marketing function? This may seem like a simple question but to do it right and to meet the needs of a diverse range of stakeholders – including commercial, recreational and Indigenous fishers who all have different views and business needs – means it is not an easy task.
The Rural Research and Development Legislation Amendment Bill 2013 was passed by Federal Parliament on 12 December 2013. It extends the scope and range of activities the FRDC can undertake by amending its enabling legislation, the Primary Industries Research and Development Act 1989 (PIRD Act).
The legislative changes now allow the FRDC to connect and activate research, development and extension with marketing, as part of a natural progression to improve outcomes for the industry.
The FRDC sees its initial role in marketing as around consulting, engaging and communicating with the industry to gain understanding of what end users want from a collective and stakeholder-specific marketing function.
Through stakeholder engagement, by the end of 2014 the FRDC hopes to have a good idea of the initiatives that the industry as a whole is willing to support – for example, increasing recreational participation rates or seafood consumption and addressing sustainability questions, says Peter Horvat, FRDC communications, marketing and trade manager.
Peter Horvat says a critical outcome of the engagement process is to develop a business case that clearly demonstrates 'What's in it for me?' – showing individuals within the industry the potential and likely benefits of marketing. The Australian seafood industry is diverse and complex and, while many in the industry face similar issues and drivers, it is unlikely that one generic business model will be sufficient to meet all stakeholder needs.
Information is the key
"A key activity for the FRDC in the coming year is to identify gaps in industry data and knowledge to inform industry end users. Information and data should be the foundation for all marketing activities. Without it stakeholders are flying blind when it comes to their investment," Peter Horvat says.
"There are several different areas we are looking at, to build up our knowledge in. For example, at present, many sectors within the commercial seafood industry do not have a good baseline set of trade or production figures."
Peter Horvat says the key areas the FRDC is trying to understand better are:
industry production volumes – by sector, fishery and region, and pathways to market;
real-time supply-chain data – volumes, venues and prices along the chain, from the producer, processor, wholesaler and retailer;
export countries; and
consumption or participation data.
Getting access to and understanding basic production figures is just as important as understanding what a consumer wants.
This basic data can show how often a consumer is buying a product, when they are purchasing and the price. This information alone provides some real insight into opportunities for marketing.
Just as the data provides a base from which to develop a marketing activity, it also provides a way to evaluate it.
For example, if a sector undertakes an activity designed to increase the price or rate of consumption without knowing the current rates, it will be difficult to know whether the activity has been successful.
The FRDC is now assessing how much information and data is available, what information could potentially be collected and how to do it in an efficient and cost-effective way.
Thanks for the thoughts
"Several stakeholders have contacted me with ideas and suggestions about marketing, which has been really valuable," Peter Horvat says.
"Their comments and specific issues raised have been added to the list of areas the FRDC needs to follow up on." 
If you have any comments, thoughts or questions about seafood marketing, please contact Peter Horvat (peter.horvat@frdc.com.au).
---
Consultation time
The FRDC is also revising two major strategic documents over the next 12 months – the National Fisheries and Aquaculture Research, Development and Extension Strategy and the FRDC's Research, Development and Extension Plan – for release in 2015.
The FRDC is conscious of the need not to burden stakeholders with multiple requests for input or participation in planning meetings.To minimise this, the FRDC will aim to align planning activities where possible.
This will allow for cost savings in meetings and ensure that discussions are linked, providing a holistic discussion around the FRDC's RD&E investment strategy.
---
FRDC Research Codes: 2009-723, 2011-736, 2012-774.20
More information
Peter Horvat, 02 6285 0400
peter.horvat@frdc.com.au