The tourist dollar is helping to keep this Queensland fish farm buoyant as it works towards expanding production of its award-winning Barramundi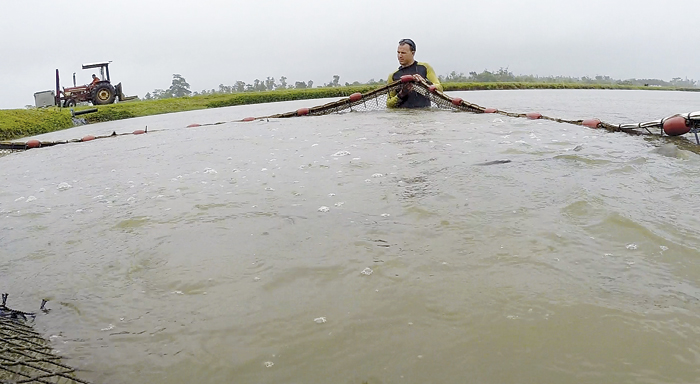 Rain, hail or shine, Barramundi harvesting goes on.
By Rebecca Thyer
The opportunity to catch an iconic Barramundi (Lates calcarifer), weighing anything up to 10 kilograms, has proven a drawcard for enthusiastic tourists and fishers alike at this Far North Queensland aquaculture farm.
For the past two years, Daintree Saltwater Barramundi (DSB) has been operating a special grow-out pond as a recreational fishing experience.
Manager Mark Hober says it has provided an opportunity to promote Barramundi and aquaculture in general, plus an important second revenue stream, supplementing the company's main fish-farming operation.
The farm is in a popular tourist spot. On its doorstep it has the Daintree Rainforest, Australia's largest continuous tropical rainforest, and the Great Barrier Reef World Heritage Area.
"We're in a busy tourist area and had people pulling in and wanting to catch a fish. So we listened to that, looked at the flow of traffic going past and decided to give the tourists what they wanted," Mark Hober says.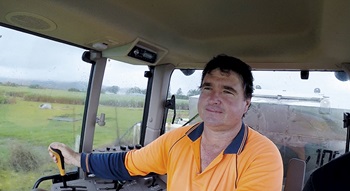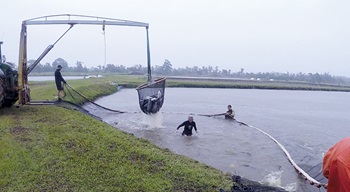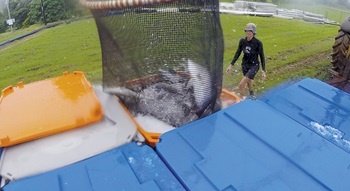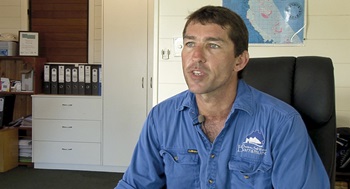 Marty Phillips, president of the Australian Barramundi Farmers Association, oversees the harvest at his farm, PEJO Enterprises.
Photos: FRDC
DSB's 'Hook-A-Barra' tourism venture opens every day. In a designated pond in front of the new reception area, the biggest Barramundi, including some rare albinos, can be found tempting tourists as they swim with Mangrove Jacks (Lutjanus argentimaculatus).
Tourists are supplied with rods and reels and a guide talks them through the species, aquaculture and the art of fishing. "Many tourists have already unsuccessfully attempted to catch Barramundi in the Daintree River so they're keen to give the pond a go," Mark Hober says.
As everyone wants to catch a fish, Hook-A-Barra will often take those struggling with the big Barramundi to another pond where smaller fish can be caught.On peak days, during school holidays, Hook-a-Barra attracts 30 to 40 visitors.
During non-peak times, the tourism venture attracts about 10 to 15 visitors daily. Most tourists catch and release the fish, although they can take home their catch for a per-kilogram fee.
DSB has also started building an aquarium to show tourists other fish and explain the Barramundi life cycle. "It looks fantastic and we do get repeat visitors," he says.
With its own Facebook page (search 'Hook-A-Barra'), the team is also reaching people via social media.
Award-winning flavour
As an aquaculture business, last year DSB produced 90 tonnes of Barramundi: two-thirds whole fish and one-third plate-sized fish.
Fingerlings are purchased from local hatcheries and raised in salt water sourced from the Daintree River. They are grown-out in large earthen ponds from 100 millimetres to commercial size over 12 to 18 months.
Its plate-sized fish (400 to 800 grams) and whole fish (two to four kilograms) both won gold and champion exhibit awards at the Sydney Royal Fine Food Show in 2013, for the fourth consecutive year.
Mark Hober credits the local environment for the prize-winning Barramundi.
"Our location, the soil and the dynamics of the pond make it ideal for growing Barramundi. The weather never gets that cool – we only ever get as low as 20°C overnight.
"We use the same fish feed as other producers and minimise fish stress when they are being handled, which other producers do too. I might drive the operation but it's the farm that produces such high-quality fish."
It is an achievement the business is keen to capitalise on, by expanding production. And there is plenty of room to expand. Operating from a 49-hectare site, DSB has only three hectares of ponds.
Expansion plans
Mark Hober, who has run the farm, at Wonga Beach, 17 kilometres north of Mossman, Queensland, for more than a decade, has spent the past few years consulting with various regulatory bodies to expand the farm's pondage and increase production.
"We have engaged a consultant about increasing productivity and we need to increase the size of the farm to be viable and profitable, but it is something we have found difficult. There is a lot of red tape," Mark Hober says.
Ironically, the farm's surroundings – which help it produce award-winning fish and also bring in tourists – are also the key point of contention in development plans: aquaculture producers bordering the Great Barrier Reef Marine Park are subject to strict regulations, especially in relation to wastewater discharge.
As a local, Mark Hober grew up fishing in the Daintree River, and recognises the value of the farm's surroundings; it is a point he is keen to share with the many tourists who visit Hook-a-Barra.
He previously worked as a diesel mechanic in the region's sugar mills, before turning his engineering skills to rebuild production at DSB 10 years ago, when he stepped into the manager's role.
"We had 13 ponds, an aquaculture licence and approvals, and I learnt how to keep the Barramundi alive. About 75 per cent of it is engineering – with all the pumps, electric motors, electricity supply, water supply," he says.
Following a change in ownership in 2010 infrastructure has again been upgraded: "We have improved roads, installed more efficient drainage, more energy-efficient pumping systems and built new facilities – in particular tourist facilities."
However, increasing production remains the major focus of efforts to grow the business, and Mark Hober says he will continue to work through the red tape to expand operations at the current site. 
---
The iconic Barra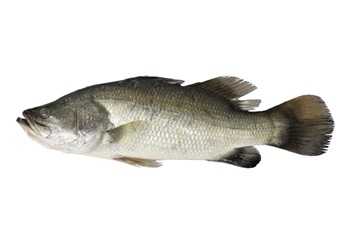 Barramundi (Lates calcarifer) farming is the second largest aquaculture activity in Queensland after marine prawn farming. Barramundi are grown in a variety of culture systems across Australia. Pond-based systems are used in the Northern Territory and Queensland to produce a range of fish sizes.
In Western Australia, there is one sea-cage operation producing larger fish. Southern states use recirculating or flow through tank-based systems to produce plate-sized live and chilled fish. Most of the product is marketed to domestic wholesalers and supermarket chains as whole fish or fillets, but export markets are becoming more important.
The main market is for larger fish (two to three kilograms), which require a second grow-out season. Plate-sized fish (400 to 800 grams live or chilled) still account for a significant portion of sales and can be produced within a year.
Source: Chris Calogeras, executive officer, Australian Barramundi farmers Association
---
FRDC Research Code: 2008-104
More information
Mark Hober, 07 4098 7259
dswbarra@bigpond.com