Research agencies join forces to lift the veil on the influences of the Indian Ocean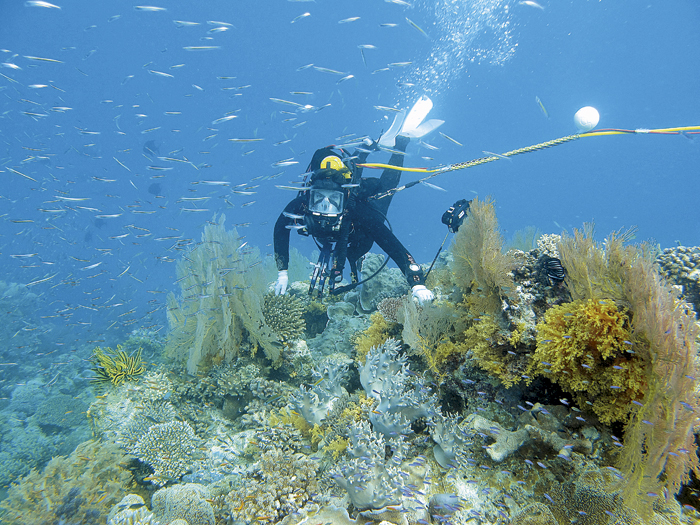 An AIMS scientist conducts a baseline survey of Scott Reef.
By Emily Weekes
Stretching from Australia to Africa, and north towards Asia, the Indian Ocean is the third largest of the world's five oceans. It is also one of the least explored.
Four of Australia's leading research organisations have united to help redress this knowledge gap, creating the Indian Ocean Marine Research Centre: the Australian Institute of Marine Science (AIMS), CSIRO, the University of Western Australia (UWA) Oceans Institute and the WA Department of Fisheries.
WA has already recognised 21,000 kilometres of its Indian Ocean coastline as a 'biodiversity hotspot'. At least 80 per cent of marine life in this region is found nowhere else. At the same time, the Indian Ocean is providing an increasing proportion of non-living resources such as gas and oil.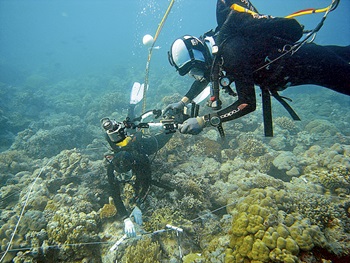 Maintaining the health of these complex marine environments, in conjunction with industry development, is essential to the economic growth of Australia and neighbouring countries.
The new collaborative research centre has been bolstered by a $34 million grant from the Australian Government's Education Investment Fund, along with sizeable contributions from each of the centre's partners.
More than 240 researchers from across the four organisations will work in residence together. They will collaborate on a range of subjects from oceanography and fisheries to marine technologies and governance.
The centre will include a $62 million purpose-built marine research centre at UWA's Crawley Campus, designed to meet a five-star Green Star environmental rating, and an $11 million upgrade to the Department of Fisheries' Watermans Bay marine research facility. This upgrade will feature flow-through seawater aquaria in which experiments can be conducted.
Collectively, both sites will be known as the Indian Ocean Marine Research Centre. It will be the largest collaborative marine research partnership in the Southern Hemisphere and provide the largest marine research capability in the Indian Ocean rim.
Collaborative approach
Peter Davies, pro vice-chancellor (research) at UWA, is the chair of the Indian Ocean Marine Research Centre steering committee. He says as a collaborative research centre it will provide a stronger base from which to address the kinds of issues facing marine and fishing industries.
"The questions now are big and cross-disciplinary. We're not asking simple questions about where our fish live, it's how will climate change impact the distribution of that fish and how will it change its production? We thought that by collaborating we could do more than each organisation could do alone," Peter Davies says.
Research funding has also begun to favour multidisciplinary-focused projects, which has prompted the need for better structures for collaborations.
Stuart Smith, director-general of the WA Department of Fisheries, sees the centre as integral to building the state's marine research capability. "We're obviously interested in the fisheries side, but we're also interested in broader issues which are impacting the marine environment," he says.
He says identifying the cause of the recent decline in Western Rocklobster (Panulirus cygnus) recruitment is one area of fisheries management that has already benefited from a broader collaborative research approach.
Rocklobster response
In 2008, WA's Western Rocklobster puerulus monitoring program predicted a reduction in the rocklobster population. This was based on recruitment data gathered annually for more than five decades, which was known to be highly accurate in predicting the number of rocklobsters that would enter the fishery for harvest in three to four years.
"If we hadn't had the baseline data, combined with research capability and external collaborations to deal with the issue at the time, we probably wouldn't have been able to act," Stuart Smith says. "We weren't going to have any stock unless we did something about it."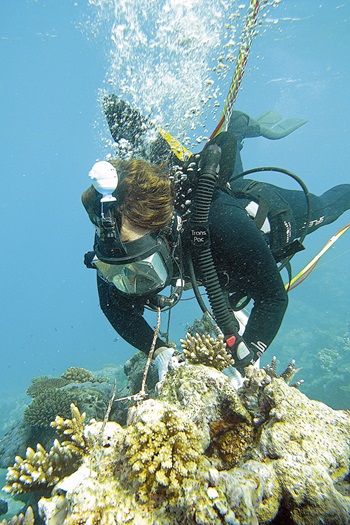 AIMS researchers found extensive coral communities in the South Reef lagoon.
Photos: AIMS
In response, fisheries management nearly halved the total allowable catch to a record low, to protect the breeding stock and spread the catch of available rocklobster over the next three years. The fishery also changed from input control to a quota system, which enabled fishers to focus more on maximising their margins than their volume.
Today, the fishery is more profitable than it has ever been and breeding stocks are at record levels, far above the long-term average, Stuart Smith says. Research collaborations established in 2008 to address the predicted resource decline confirmed that it was not caused by fishing pressure, but by changes in environmental and climatic conditions that were influencing fish stocks at the time.
"We've seen an enormous change in fisher behaviour coming out of a potential collapse of the fishery, along with outstanding results.We have strong capability in many marine research fields, and other players such as CSIRO and UWA provide substantial additional capabilities and resources, which makes working in collaboration really important for these initiatives." He says the new centre will offer scope to expand these kinds of collaborative relationships.
CSIRO is also looking to expand its research partnerships and horizons in what is one of the world's least explored marine environments. The deputy chief of marine and atmospheric research at CSIRO, Tony Worby, says evidence shows that the Indian Ocean contains a large proportion of the world's biodiversity and significant non-living resources.
While the region itself might be relatively unexplored, AIMS has been undertaking marine-focused research in WA for 20 years. Steve Rogers, AIMS science and business leader in WA, is confident that collaboration is the way forward and that the centre will provide practical opportunities to build on existing relationships and forge new partnerships to meet future challenges.
Shared space
"We've had joint research projects for many years, but there's an increasing realisation that all of the different research agencies and universities have to work together to be able to address the major issues," Steve Rogers says.
"To physically locate all of those people in a single, purpose-built, state-of-the-art facility means we'll have a focal point: a centre for the majority of the marine research undertaken here in WA."
Stuart Smith agrees.
He hopes that the centre will position Australia as a hub of expertise in marine research in the region and he foresees that the Watermans Bay facility, with the seawater flow-through, will be a distinctive drawcard for out-of-state researchers.
"It's a unique facility. While it's in the city, it's also located on the coast in an A-class marine reserve. It offers very high water quality in a metropolitan area, which isn't possible in many other places."
Researchers at the centre's facilities will be asked to focus on the questions they're trying to answer, rather than on projects within their specific organisations.
Common areas in each building have been designed to facilitate discussions; each floor is assigned by subject area, not organisation.
"And it's not just the collaboration in specific research projects we're after, it's that informal collaboration that is just as important," Stuart Smith says.
With plans to expand AIMS research in WA, particularly in partnership with the offshore oil and gas industry, the institute recently entered into a five-year project with Shell and INPEX to help protect the marine environment from potential oil spills. CSIRO and UWA are also involved in the project. Steve Rogers sees the centre as having a critical role in facilitating this kind of research.
"At AIMS, we underpin and assist the industry and regulators in terms of the sustainable management of the marine environment, to minimise the impact of offshore development in what is now a major industry," Steve Rogers says.
Career support
It is not just industry partners who will benefit from co-locating. Plans to engage AIMS and CSIRO specialists in PhD supervision are in place to help students develop different ways of thinking about their research questions and become better equipped for a career in the industry.
In his role as pro vice-chancellor of research at UWA, Peter Davies sees great value in having scientists who have not traditionally been involved in teaching located in the building and engaged in the teaching program.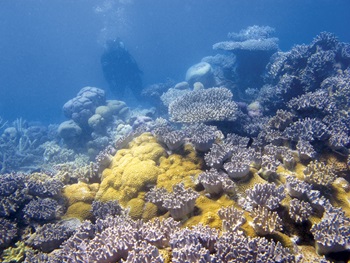 "The more we can engage people in discipline areas, rather than institutions, the more chance we have of making some real inroads," Peter Davies says.
"When there's competition, you have people hanging onto data and trying not to share. This is a very different way of operating. Gone are the days where a single researcher works alone and produces a paper."
Peter Davies admits there may be challenges as each partner organisation will have its own goals and ways of measuring success, but is nonetheless excited about the potential for sharing expertise.
"The willingness to work together has been really encouraging. Each partner sees the value of being in a collaborative arrangement, rather than doing it alone, and I think we'll see more co-location of agencies and universities in the future." 
---
Science for reef management
Initially established with a focus on the Great Barrier Reef in Queensland, for the past 20 years the Australian Institute of Marine Science (AIMS) has also undertaken research in Western Australia.
Today AIMS's WA research is primarily in partnership with the offshore oil and gas industry, including projects on Scott Reef in northern WA with oil and gas company Woodside.
"It's work that both organisations are very proud of," says Steve Rogers, science and business leader for AIMS in WA.
Scott Reef is made up of several oceanic reefs, which lie 200 nautical miles offshore. These occur where the ocean is 400 or 500 metres deep, sitting on top of a chimney of rock that comes up from the seabed to break the surface.
As the reefs are so far offshore, they are not impacted by human activities such as river run-off or agriculture, which are some of the major pressures facing the Great Barrier Reef. This makes Scott Reef quite rare.
"These reefs are unique geological features," Steve Rogers says.
"We're not quite sure what they are, but they're ecologically very important because they make up some of the most pristine reef systems on the planet."
These reefs are considered global coral refugia, meaning that they offer the potential for reseeding damaged coastal fringing reefs from this pristine habitat.
The main focus of AIMS research at Scott Reef relates to its location, at the centre of major offshore liquid natural gas developments. AIMS helped oil and gas companies operating in the area to undertake habitat and baseline assessments, and establish long-term monitoring programs. This helps to ensure that the reefs can be sustainably managed as part of the companies' operations.
"It's not just environmental sustainability," Steve Rogers says.
"Economic and social sustainability around the use of our marine environment is important too."
---
FRDC Research Code: 2007-250
More information
Steve Rogers, 08 6369 4049
s.rogers@aims.gov.au