Research, development and extension priorities for the next five years aim to ensure Australian fishing and aquaculture measure up to rising expectations for sustainable and ethical behaviour, while optimising the use of our natural resources
The FRDC's new Research, Development and Extension Plan will be officially launched in September 2015 and will herald a significant change to the direction and approach for the corporation. Senator Richard Colbeck, Parliamentary Secretary to the Minister for Agriculture, will officially launch the 2015–2020 RD&E Plan at Parliament House in Canberra on 16 September.
One of the priority areas for the plan and for the FRDC will be improving the confidence of consumers in the products of Australian fishing and aquaculture. There will also be improved opportunities for recreational fishers and Indigenous people to benefit from fish and aquaculture. Both will be able to play a greater role in the stewardship of natural resources.
Addressing the public's perception of Australian fishing and aquaculture has been arguably one of the single greatest emerging issues in the past five years – a trend also seen internationally.
Public perceptions
"It is clear that community perceptions can and do have a strong influence on government decision-making and management approaches – whether they are based on scientific evidence or not," says the FRDC's manager of communications, trade and marketing, Peter Horvat.
"The rise of social and digital media mean that concerned community members have increased the ability of the public to assert pressure for change and no longer have to resort to chaining themselves to machinery.
"This means that Australia's fishing and aquaculture sectors must not only be sustainable, humane and consistent in line with wider community expectations, they will have to continue to show it; and be open to scrutiny of their practices to continue to have community endorsement."
The RD&E Plan includes a performance target to increase the positive perceptions of commercial fishing in Australia from 28 per cent of survey participants in 2014 to 40 per cent by 2020.
To do this, the FRDC will be working with its stakeholders – government and industry – to implement a multi-tiered approach. The Australian Government, for example, is taking a leading role in understanding community views and in developing communication strategies and materials to help industry tell its story – see breakout 'Who cares about the seafood industry?'
The FRDC will continue to fund good R&D projects to underpin fisheries management and industry practice. It will shine a spotlight on the way fisheries operate and how they are meeting world's best practice through programs such as Appetite for Excellence (see "A decade of excellence in culinary connections"), and demonstrate the performance and sustainability of Australian fisheries.
The Status of Key Australian Fish Stocks Reports will be an important part of transparent reporting to the public on the sustainability of Australian fisheries.
In the next five years the number of commercial species assessed in the reports is expected to increase from 68 in 2014 to 200 by 2020. The FRDC will also establish standards for the management of Australian fisheries to provide the public with greater confidence that management practices take into account community values.
"We need to expand our capacity to connect with seafood consumers in markets and overseas and to tell the story of sustainable production to our customers," Peter Horvat says. "We can do this by better understanding the values of the wider community and how we can align the fishing and aquaculture sectors with these more broadly held values." 
---
National Marine Science Plan 2015–2025
A 10-year plan for investment and research has been developed to help grow Australia's blue economy and its fisheries.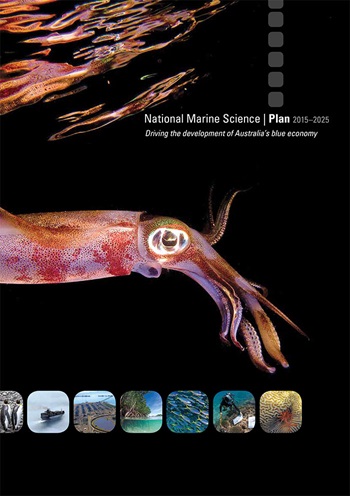 By 2025, Australia's marine industries will contribute around $100 billion each year to our economy and have the potential to supply a significant proportion of the seafood we eat.
The National Marine Science Plan, released by the Minister for Industry and Science, Ian Macfarlane, focuses on seven key challenges associated with our oceans. It provides a template for striking a balance between reaping the Australian ocean's economic potential and the need to safeguard its longer-term health.
A key challenge is food security, and marine and fisheries science will play a significant role in helping Australia respond to and meet this challenge.
According to John Gunn, chair of the National Marine Science Committee that coordinated the National Marine Science Plan, Australia's marine sector is already a significant contributor to the nation's economy. He says it has the potential to provide even greater economic wealth through growth in offshore oil and gas production, renewable energy resources, biotechnology, marine and coastal tourism, fishing and aquaculture.
The plan outlines the science needed to provide the knowledge, technology and innovation that will build a sustainable blue economy and how fisheries and aquaculture are a key part of the future.
The Marine Science Plan is a consensus document with input from more than 23 marine research organisations, universities and government departments, and more than 500 scientists. It provides recommendations for science that will be at the heart of dealing with these challenges.
The plan's recommendations are as follows.
Create an explicit focus on the blue economy throughout the marine science system.
Establish and support a national marine baseline and long-term monitoring program to develop a comprehensive assessment of our estate, and to help manage Commonwealth and state marine reserves.
Facilitate coordinated national studies on marine system processes and resilience to enable understanding of development and the impact of climate change on Australia's marine estate.
Create a national oceanographic modelling system to supply the accurate, detailed knowledge and predictions of ocean state that Defence, industry and government need.
Develop a dedicated and coordinated science program to support decision-making by policymakers and the marine industry.
Sustain and expand the Integrated Marine Observing System to support critical climate change and coastal systems research, including coverage of key estuarine systems.
Develop marine science research training that is more quantitative, cross-disciplinary and congruent with the needs of industry and government.
Fund national research vessels for full use.
The FRDC played an integral role in developing the fisheries productivity and food security aspects of the National Marine Science Plan, aligned with the objectives and directions set out in the FRDC's 2015–2020 RD&E Plan.
---
Who cares about the Seafood Industry?
Not the public, according to recent market research commissioned by the Department of Agriculture. The Australian community has little front-of-mind or spontaneous feeling for the seafood industry, particularly in comparison with other primary industries, according to a survey on community attitudes towards the management of fisheries and the seafood industry.
However, the research shows that there is potential for Australians to feel pride in and support for the seafood industry – they just need some encouragement. It also found that the public values sustainability and protection of the environment, and want to know that the industry is protecting it.
It is clear from the research that developing a compelling communications strategy is not only about factual education of the public, but also about what actions are being undertaken to ensure sustainable management of the fisheries resource. To deliver increased confidence and pride in Australian fisheries, this project focusses on attitude change. It is about challenging the status quo – ensuring that people reframe their perceptions and reconsider their beliefs.
The findings of the market research are the first step in a project by the Departmet of Agriculture to improve public attitudes and understanding of the seafood industry and fisheries management. Consumers generally have little consideration for the seafood industry when compared with other primary food source industries in Australia. The seafood industry lacks profile and status in their minds, and there is a need to get the industry onto the agenda of Australians.
The seafood industry has consistently agreed that it needs greater industry-wide unity and pride, supported by a consistent and positive image, to encourage Australians to understand and value this important primary industry.
The department is now taking the research findings, discussing with industry and working with communication experts to develop a concept and campaign that can be used to promote fisheries management and the seafood industry. The process includes developing strong, positive key messages, and testing them with further market research.
From September, the department will start discussions with key industry stakeholders and associations in the lead up to the Seafood Directions conference in Perth this October, where the results of this work will be presented.
The department welcomes industry and community input. Please send feedback to: fisheries.communication@agriculture.gov.au
FRDC Research Code: 2014-302
More information
Patrick Hone, patrick.hone@frdc.com.au