A new wave of support for recreational fishing, combined with technological advances, is allowing more native species to be cultured as part of stock-enhancement initiatives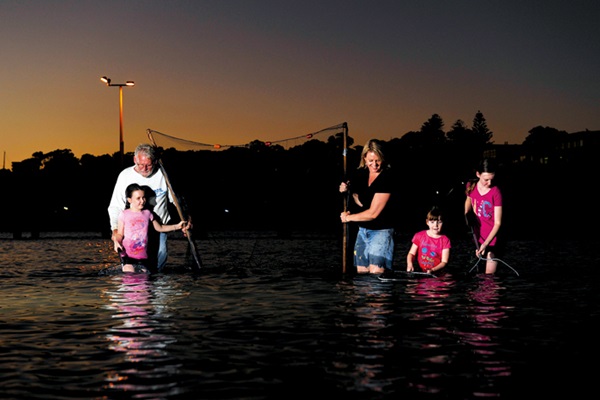 A family prawning on the Swan River, Western Australia.
Photo: Stewart Allen
By Natasha Prokop
The Western School Prawn (Metapenaeus dalli) is an iconic species for the people of Perth, many of whom share memories of huge catches and big feasts of barbecued prawns with families and friends on the banks of the Swan River and the Peel Inlet.
"People still either remember prawning as adults or as children, and now they want their kids to be able to experience prawning too," says James Tweedley, a marine scientist at Murdoch University in Western Australia.
However, a recent decline of the species has prompted new research with James Tweedley and colleague Neil Loneragan investigating the decline as part of a three-year project funded by the FRDC. In conjunction with their work is a separate but related project undertaken by the Challenger Institute of Technology in Fremantle, WA, to restock local waterways with school prawns.
New technology
Western School Prawns have previously been considered commercially unviable as a species for aquaculture production. Without the new-found support of the recreational fishing industry, they were an unlikely species for culturing.
The Recreational Fishing Initiatives Fund has allowed the Australian Centre for Applied Aquaculture Research at the Challenger Institute of Technology to close the life cycle on the species, successfully culturing 600,000 juvenile prawns for release in 2014 and two million for release this year.
"The response to the stock enhancement has been overwhelmingly positive," James Tweedley says. "This is a project that has captured the imagination of the people of Perth. And once you develop the technology for a difficult species such as school prawns, there's no reason you can't apply the lessons learnt to other species."
He says the cost of about 0.3 cents per prawn is seen as a good investment, given the community benefits that come from improved fishing.
In the case of school prawns, the enhancement is also providing a mechanism to overcome recruitment bottlenecks and to investigate why the species had declined. James Tweedley says it provides a baseline for stock numbers, as well as helping to track the factors that influence the survival of both natural and restocked populations.
Changing landscape
Head of Environmental and Conservation Sciences at Murdoch University Neil Loneragan has observed the changing landscape of marine stock enhancement over many decades.
He says the two key drivers behind recent initiatives are new technologies, which have allowed a wide range of native species to be cultured, and the growing significance and appreciation of the importance of recreational fisheries.
Enhancing recreational fisheries is about far more than just putting fish in the water, he says. "It's about enhancing the experience: having more fish caught and more people enjoying the experience."
While culturing technologies have helped to rebuild self-sustaining populations of threatened or endangered natives, they have also significantly benefited recreational fisheries, providing social and economic benefits to the wider community. New recreational fishing licences in many states, including general fishing licences in New South Wales and WA, have also expanded the potential sources of funding for recreational fishing initiatives such as stock enhancement.
Enhancement programs have been trialled or continue for a diverse range of species from large finfish such as Mulloway (Argyrosomus japonicus) to invertebrates such as Eastern King Prawns (Melicertus plebejus).
Stewardship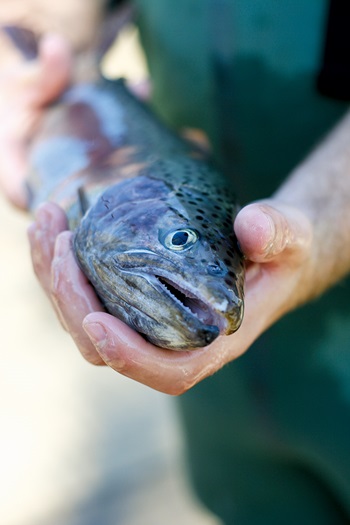 Fin-clipped trout are used to assess the success of stocking in Australia. However, some fisheries, particularly in the US, are moving to eliminate trout restocking in preference to native species.
Photo: Alistair Mcburn
In Queensland, fishing in impoundments is incredibly popular. More than 8.5 million native fish of species such as Murray Cod (Maccullochella peelii), Golden Perch (Macquaria ambigua) and Barramundi (Lates calcarifer) have been stocked between 2009 and 2013 alone.
Often these species will not breed in impoundments and the stocked populations are not self-sustaining. Barramundi, for example, will not spawn in fresh water. Maintaining these impoundment fisheries is a significant undertaking.
In 1986, Queensland initiated the recreational fishing enhancement program to promote community involvement in stock enhancement throughout Queensland. Today there are more than 70 community stocking groups that take responsibility for their own little piece of water.
Jennifer Mondora was among the first to establish community stocking groups in 1987 with what is now the Cairns Area Fish Stocking Group Inc. and, in 1990, with the Tableland Fish Stocking Society at Lake Tinaroo, Queensland.
"We like to get people to take ownership of the fish we are putting in," she says. "We want to do everything we can for each and every fish. It's about more than just putting fish in; it's about getting people involved, the whole community," she says. "We get people from all over the shire coming to help with releases."
About 20 per cent of Queensland impoundments receive funds from the Stocked Impoundment Permit (SIP) scheme: fishers purchase a permit to fish in an impoundment and 75 per cent of the fee is then used for stock enhancement.
In the remaining impoundments and open rivers and estuaries, enhancement programs are funded almost entirely by the community groups, although Jennifer Mondora says it has become harder to raise enough funds, outside the SIP scheme, to maintain stocking efforts in many of these systems.
Community benefits
The benefits of stock enhancement go beyond recreational enjoyment. A 1991 cost–benefit analysis of the Barramundi stocking program at Lake Tinaroo found that each dollar spent on fish stocking returned a potential $31 to the Queensland economy.
Similar research from 2001 estimated total expenditure on trout fishing and related activities in the Snowy Mountains region in New South Wales alone at up to $70 million a year.
Salmonoids such as trout are not native and their populations are not always self-sustaining in Australian environments. However, their popularity among recreational fishers ensures they continue to be stocked on a scale that dwarves native fish enhancement efforts.
In 2014, NSW and Victoria stocked more than three million and 660,000 salmonoids respectively. Tasmania and WA stock lower numbers, about 30,000 a year.
Criticisms of trout and salmon stocking highlight the potential impact of these fish on native fish populations. Cameron Westaway, senior inland fisheries manager at the NSW Department of Primary Industries, says NSW undertakes a formal risk-assessment process under the Fisheries Management Strategy  for stocking projects.
"We assess the risks of all stocking and set guidelines to address those risks, including impact on threatened species, disease, genetics, and the suitability of stocking sites." This includes assessing whether trout pose a risk to, or could prevent the rehabilitation of, a threatened species.
The feeding habits of trout are a major concern; they have diverse diets and will eat whatever food source is available. They are known to reduce the abundance of small native species including the Mountain Galaxias (Galaxias olidus) and the threatened Barred Galaxias (Galaxias fuscus).
However, the potential impact of trout pales in comparison to other introduced species such Redfin (Perca fluviatilis), also introduced more than 100 years ago for angling.
Redfin are an aggressive and highly piscivorous species known to affect native fish populations through predation. Fisheries managers now try to contain established populations rather than support any spread of the species.
Cameron Westaway says the substantial social and economic benefits of trout fisheries in particular make it worth the effort to manage the potential risks involved.
"Trout provide significant benefits and we manage the potential impacts," he says. "At the same time we are working hard to restore and rehabilitate the major native recreational species as well as our small-bodied threatened species." 
FRDC Research Code: 2013-221
More information
Neil Loneragan, 08 9360 6453
n.loneragan@murdoch.edu.au
James Tweedley, 08 9239 8808
j.tweedley@murdoch.edu.au