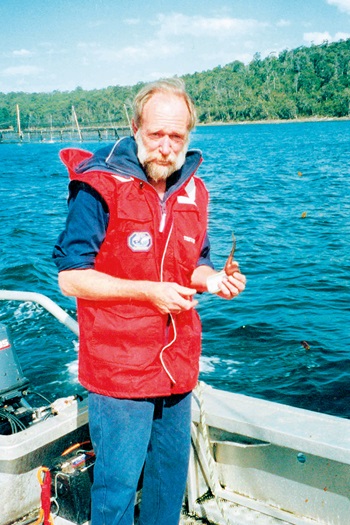 Trevor Dix, a pioneer of Australia's flourishing Atlantic Salmon industry.
By Mick Hortle, Tasmanian Salmonid Growers Association
When the first batch of Atlantic Salmon eggs arrived in Tasmania from Gaden Hatchery in New South Wales in July 1984, it was a pivotal moment for the development of aquaculture in Australia.
Trevor Dix, head of the Fisheries Research Laboratory at Taroona, Tasmania, had worked tirelessly for that moment, prophesying that "these eggs could provide the state's most valuable fishery".
Today Atlantic Salmon aquaculture is worth more than $600 million a year, and the industry is a lasting legacy of Trevor Dix, who died in June 2015.
Originally from New Zealand, Trevor Dix worked on pearl oyster and pearl cultivation at James Cook University when he first moved to Australia, becoming head of the newly built Fisheries Research Laboratory at Taroona in 1972.
Establishing the Atlantic Salmon industry was his greatest passion, although he also had a guiding hand in work on Pacific Oysters, Rainbow Trout, Native Oysters, mussels, scallops and abalone.
He had significant input into the foundation of the Atlantic Salmon industry – the Salt-water Salmonid Culture Act 1985, which provided a financial basis for research and defined the Tasmanian Government's role in development for the next decade.
Trevor Dix established his own consultancy in 1985 to fulfil his vision of farming Atlantic Salmon. He was the founding managing director of Tasmanian Atlantic Salmon, the first publicly listed salmon-farming company in Australia.
The business merged with Tassal in 1990 and he became general manager of marine operations at Tassal for the next 15 years, retiring in 2007.
Through his long career Trevor Dix mentored many young scientists and fish farmers who are now the backbone of Australia's aquaculture industry.
His legacy to Tasmania is a thriving aquaculture industry, the envy of the other states, and an industry that has provided the impetus for the development of aquaculture across Australia.