The seafood industry's "night of nights" celebrates outstanding performers showing the way for future success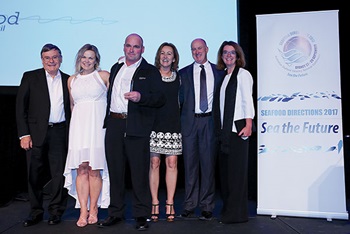 Members of the award-winning Bass Strait Direct team.
The team from Austral Fisheries (left to right): David Carter, Dylan Skinns, Camay Young, Sam Greaves, Jodie Blacker, Shin Tanabe, Clayton Nelson, Lily Zhang, Markus Gerlich, Sam Colvin, Martin Exel and Jay Shoesmith, celebrate their win of the Environment Award at the National Seafood Industry Awards in September.
Photos: Camera Creatoins
Leaders in the seafood industry gathered in Sydney in September to recognise excellence across a diverse range of categories at the biennial National Seafood Industry Awards.
Assistant Minister for Agriculture and Water Resources Senator Anne Ruston helped present the awards during a gala dinner at the Sydney International Convention Centre, attended by almost 400 guests.
The event was held in conjunction with the national Seafood Directions 2017 conference to celebrate outstanding achievements in categories that ranged from business innovation, promotion and safety to environmental sustainability and long-term service.
The most prestigious award of the evening, that of Industry Ambassador, was presented to Tasmanian fishers and aquaculture producers Peter and Una Rockliff, who founded Petuna. It recognises more than 60 years of involvement in the industry and their significant contribution to sustainability, innovation and best practice. This includes the pioneering of Atlantic Salmon and Ocean Trout aquaculture in Tasmania. Annie Jarrett and Chris Calogeras were the other finalists.
Winners for the national award categories were as follows:
The Young Achiever Award went to Western Australia's Asher Flynn, who is operations manager of Fremantle Octopus. Asher started his career at 14 and has proved himself a game changer in the industry. He has executed a successful product development launch for international markets and also volunteers his time to visit schools educating children about the seafood industry. Other finalists were: James Polanowski (Tasmania), Karthiga Kumanan (Queensland), and Michael Violante  (South Australia).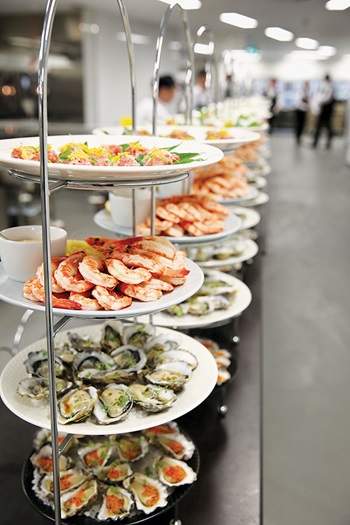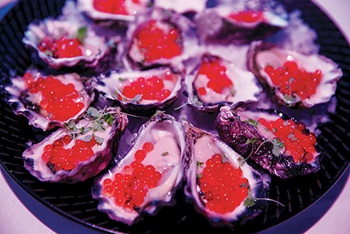 NSW seafood featured on the awards dinner menu.
The Best Large Business Award went to the Northern Territory aquaculture company Humpty Doo Barramundi, a family owned business that started farming Barramundi in 1993 and has become one of Australia's largest producers. Other finalists were Debbie's Seafood (Queensland) and Coastal Fisheries (Western Australia).
Victorian wild harvest fishers Bass Strait Direct won the Best Small Business Award. It sells directly to the public at Phillip Island, as well as to Melbourne markets. Other finalists were: Monsoon Aquatics (Northern Territory) and Tobin Fish Tales (Queensland).
Western Australia's Ocean Grown Abalone won the Best Primary Producer Award. The company is the world's first commercial abalone ranch and has been researching and developing its ranching technology for almost 20 years. Its first commercial harvest last year delivered 18 tonnes of Greenlip Abalone and is expected to rise to 40 tonnes this year. Other finalists were: Australian Bay Seafoods (Northern Territory) and Seafarms Group (Queensland).
Tasmanian mussel producer Spring Bay Seafoods won the Research, Development and Extension Award for its work to help develop a range of rapid test kits for paralytic shellfish toxins to reduce the commercial and health risks to producers and consumers, respectively. Other finalists included the research team from Primary Industries and Regions South Australia, the South Australian Research and Development Institute and the NZRLFA (South Australia), and Future Green Solutions (Western Australia).
The award for Excellence in Environmental Practice has become increasingly important for businesses as seafood lovers are more interested than ever before in sustainable seafood practices and scrutinise the origin of the fish and seafood they buy. This year, Austral Fisheries won the title for being the first carbon-neutral seafood business in the world.
Austral operates vessels in Australia's sub-Antarctic fisheries catching Patagonian Toothfish and prawn. All of Austral's wild-caught seafood is certified sustainable and well managed by the Marine Stewardship Council. Other finalists were the Jack and Albert Rivers' Restoration Committee (Victoria) and the Northern Prawn Fishery (Queensland).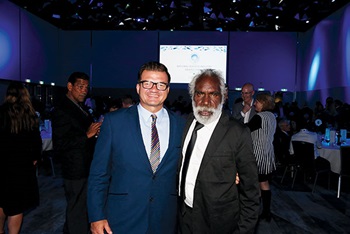 Ken Vowles, Northern Territory Minister for Primary Industries and Resources, left, with Bawinanga fisher Don Wilton.
The People Development Award was won by the Commercial Fishing Operations Skills for the Northern Territory Indigenous Communities program. The enthusiasm and commitment of the indigenous participants from Maningrida have been the key factor in the success of the program, which incorporates indigenous learning styles and has resulted in a flourishing commercial fishing business within the local Maningrida community.
Other finalists were Sam Evenjhuis (Tasmania) and the Seafarms Group (Queensland).
Winner of the Best Promotion Award was the Mandurah Licensed Fishermen's Association, in Western Australia, which represents commercial fishers. Its efforts range from marketing to the local community to a major role in the Mandurah Crab Fest, which attracts thousands of people to the region and celebrates the industry.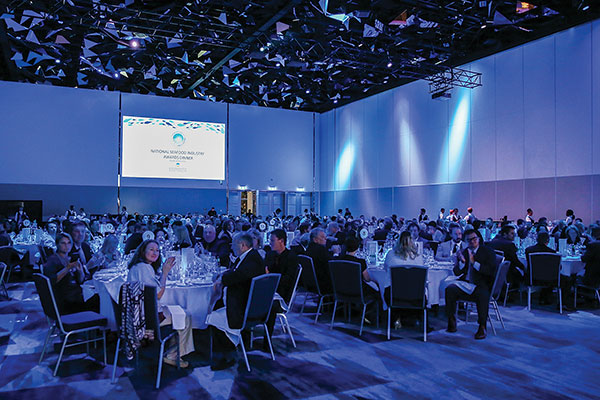 Guests applaud winnersat the National Seafood Awards ceremony at the International Convention Centre in Sydney.
Other finalists were Adelaide's Finest Supermarkets (South Australia) and Clive Perryman (Tasmania).
Sydney Fish Market, in New South Wales, received the Safety Award for its commitment to ensuring the safety of its customers and workers, having maintained third-party safety certification for 14 consecutive years. Other finalists were the Clean Green Program (South Australia) and Mareterram Fisheries (Western Australia).
Freycinet Marine Farm, which combines an oyster and mussel farm with a restaurant on the Freycinet Peninsula on Tasmania's east coast, won the Best Restaurant Award. Other finalists were Manly Fish Café (New South Wales) and Saffron (Northern Territory).
The hotly contested Best Fish and Chips – People's Choice Award went to Tasmanian Gourmet Seafoods, and the Northern Territory's Frying Nemo won the Best Fish and Chips – Judged Award category (see Out of the ocean, into the fryer).
---
National Seafood hall of fame
The National Seafood Industry Awards dinner also provided an opportunity to recognise new members of the National Seafood Industry Hall of Fame. These included the 2017 industry ambassadors Peter and Una Rockliff, as well as the following inductees:
Annie Jarrett began her career working as a deckhand in the Northern Prawn Fishery, Queensland, and Torres Strait prawn fisheries in the 1980s, and has progressed to represent the industry at the state, national and international levels.
Grahame Turk has been a leading figure in the Australian seafood industry for more than two decades, with roles that include leading the privatisation of the Sydney Fish Market and chairing the National Seafood Industry Council.
Bill Passey has provided vision and commitment to help develop the Northern Territory's offshore fisheries. This has included the development of a high lift net and bycatch reduction techniques that have won national environmental awards.
Barry Evans (deceased) was involved in the prawn industry for 50 years, leading collaborative efforts of industry, fishery managers and scientists – particularly in the Spencer Gulf – an approach that has become the hallmark of modern co-management of fisheries.
Arriving in Australia in 1958, Sime (Sam) Sarin has helped to shift the tuna industry from low-value canning and poling to high-value tuna ranching, building his company, the Sarin Group, into the world's largest producer and marketer of premium tuna.
Leonie Noble has been a long-standing advocate for the industry, and women in fisheries, promoting fisheries as environmentally responsible, economically important, legitimate users of the marine resource and serving on numerous industry and government advisory boards.
Initially a lobster fisher in Western Australia, Michael Kailis (deceased) expanded into lobster processing, then tuna farming, pearling, shipbuilding and exports. His business, MG Kailis Group remains one of Australia's leading marine corporations.
Jayne Gallagher began working in the Australian seafood sector in 1995 undertaking roles across government, research and industry and has established a strong reputation as a strategic thinker, creating wealth-producing visions for the industry.
FRDC Research Code: 2016-184
More information