New perspectives and broader communication were themes at this year's seafood leadership program
By Catherine Norwood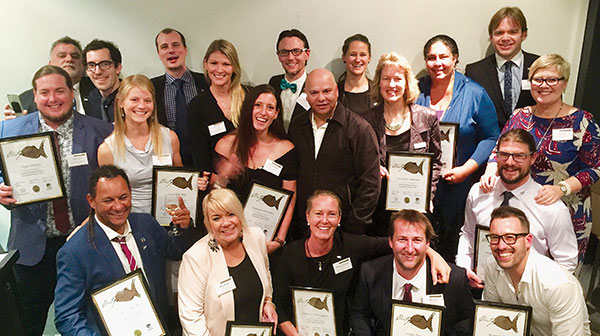 2017 NSILP graduates celebrate a great six months.
Standing (from left):
Tiger Davey, program facilitator Chris Calogeras, Michael Tropiano, Meredith Epp, Justin Holgate, Emily Grilly, Daniela Schwarz, John Ford, James Newman, Lief Hendrikz, Michelle Hansen, Flora Warrior, program facilitator Josiah Pit, program facilitator and manager Jill Briggs;
front row (from left):
Charles David, Kelly Morgan, Mel Carrington, Mike Terry, Brett Colley.
Emerging leaders of the seafood community presented their vision of a united seafood community during their final round of meetings and graduation dinner in Canberra in September.
The members of the 2017 National Seafood Industry Leadership Program (NSILP) met industry leaders and decision-makers to present the strategies they developed during the seven months of the program. They believe the strategies will play a key part in the industry's future.
This year's cohort included a diverse range of participants from the Australian and New Zealand seafood industries, including from retail, aquaculture, marine science, wild harvest, recreational fishing and indigenous fishing.
The vision the group established was: 'A unified and empowered seafood community'.
Their mission: 'To promote sustainable growth of the seafood industry'. This includes the group's aspiration for Australia's commercial fishing fleet to become carbon neutral by 2030.
Strategy planning
During the program, participants formed three teams to develop projects supporting the sector's future.
The 'Seafood Stories' project established a Facebook page and Instagram account (#ausseafoodstories) as places where seafood industry workers can tell their stories, and help build community awareness and enhance social licence. 
The second project, 'Blue Unity', focused on strategies to unify the seafood community through collaborative marine-habitat restoration and enhancement projects that would lead to an increase in marine resources.
Key to this was identifying and increasing awareness of the barriers that prevent restoration works and promoting potential solutions such as the Blue Carbon Initiative, a global program working to mitigate climate change through the restoration and sustainable use of coastal and marine ecosystems.
SeaTube was the third project, which proposed a marine version of YouTube. It would provide an extensive library of educational videos covering all aspects of the seafood industry.
The overall aim was to address lack of community awareness and understanding of the industry.
Diverse viewpoints
Michael Tropiano from Recfishwest says the course helped open his eyes to the bigger picture. "Living over on the west coast can sometimes insulate you from bigger national and whole-industry issues and opportunities, so to end up at the business end of town in Canberra is pretty exciting," he says.
Meredith Epp, from the Marine Stewardship Council, says the program is helping to break down barriers between different sectors of the seafood industry.
"Breaking down barriers is vital for us to ensure a sustainable industry for future generations. NSILP brings people with different backgrounds together to embrace the multidisciplinary nature of the seafood industry and to enable participants to become leaders in their professional and individual lives."
Program facilitator and manager Jill Briggs says industry speakers and mentors this year have put in a lot of work to support the program, and have been "hugely valuable".
"Those taking part have indicated that the diversity of perspectives involved has really stretched their thinking. The program may just seem like nine days of 'get-togethers,' but participants say putting together strategies is complex and hard work. And we don't shy away from that, because that's what leadership needs," she says.
NSILP has been running for 17 years, with funding from the FRDC and sponsorship from Sydney Fish Market.
2018 program
Expressions of interest in the 2018 programs are open, and more information is available at the Rural Training Initiatives website. Applications can be made online and will close on 15 January 2018. 
FRDC Research Code 2014-407
More information