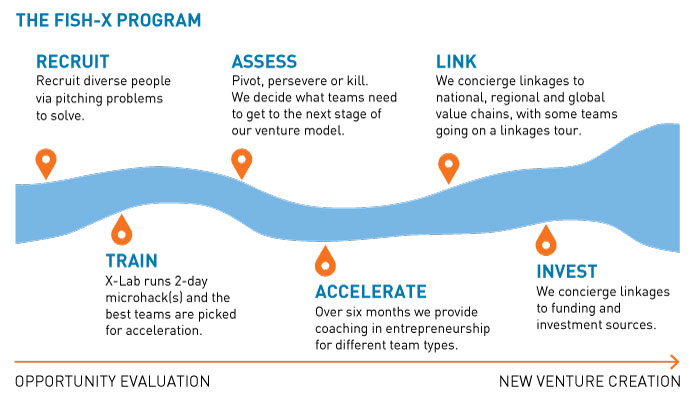 Business-acceleration program Fish-X launched at Seafood Directions 2017 with the aim of fostering innovation in fisheries and aquaculture.
Source: www.fish-x.com.au
The combination of fisheries and start-up science is set to accelerate innovation and the commercialisation of new ideas in the sector.
By Catherine Norwood
Fostering innovation to solve challenges in the fisheries and aquaculture sector is the aim of the new business-acceleration program Fish-X, officially launched at the Seafood Directions 2017 conference in Sydney in September.
Workshops prior to the launch have already identified seven projects that will receive development support through Fish-X. Further projects are expected to emerge out of workshops held in November 2017 and February 2018.
Fish-X is a joint initiative of the FRDC and business start-up science collaborator X-Lab to help small businesses bring their ideas to life, with a particular emphasis on lean start-ups in rural contexts. Proposals supported so far range from new export products to be made from the invasive freshwater pest species carp, to energy-free technology to oxygenate aquaculture tanks.
Microhacks
The Fish-X process begins with a two-day workshop or 'microhack', which brings together diverse participants who have ideas for a new product or service. The aim is to spark creative opportunities by encouraging synergies between people with different backgrounds. These might include scientists, primary producers or innovators.
Participants put forward their 'idea' and learn new skills by working on their own proposals as well as those put forward by others. They develop the value proposition for their ideas, pitches for investors and conduct real-market testing during the course of the workshop.
Ideas that add value, are scalable and that support sustainable fisheries or aquaculture are most likely to be advanced for FRDC sponsorship and ongoing assistance from X-Lab to bring them to market.
X-Lab CEO Tim Parsons says the workshops generated a new sense of excitement and possibility among participants. As well as identifying promising teams, it was exciting to see two industry-based accelerators (Fish-X and SparkLabs Cultiv8) established to help build a growing 'cohort' of innovators.
Digital advantage
Tim Parsons says the science of start-ups – the methodologies and tools – has been refined over many years to create a 'lean', experimental approach that can help participants to pursue big opportunities with less capital risk.
Digital 'ecosystems', in particular, are gathering momentum in farming and fisheries, making it easier for small players to implement many new ideas and reach broader audiences.
"We are looking for those in the fishing and aquaculture world with big ideas – individuals, pairs or small groups of fishers, farmers, researchers, consultants, inventors – to apply to participate in this first step to create change," he says.
Applicants can either have new proposals or may already have a fledgling business that could benefit from further support. The next workshop is scheduled for February 2018. Application details can be found at the Fish-X website (fish-x.com.au).
FRDC executive director Patrick Hone says Fish-X provides a systematic approach that considers the commercial opportunities of R&D from the outset, rather than just 'hoping' something might eventuate.
"Coming up with ideas and problems is easy," he says. "Finding answers and bringing them to life is harder. Fish-X aims to help take the next step and bring ideas to reality."
The FRDC initiative has emerged from a series of workshops co-sponsored by the FRDC, the Cotton Research and Development Corporation and the NSW Department of Primary Industries.
---
Development initiatives
Food production, digital platforms and technology are the focus of a growing number of development initiatives, including:
Food Agility Cooperative Research Centre
AgriFutures Australia (formerly the Rural Industries Research and Development Corporation)
SparkLabs Cultiv8 (Food and agricultural technology accelerator established by NSW Department of Primary Industries and international SparkLabs Group)
---
FRDC Research Code: 2017-058
More information