International experts gather to help Australia's Atlantic Salmon industry navigate a course for sustainable growth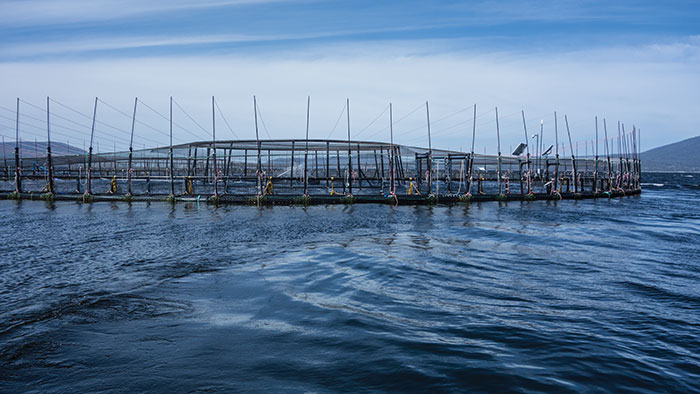 International experts discussed trends in the design and location of Atlantic Salmon pens at the Blue Future forum in Hobart.
Photos: Catherine Norwood
By Catherine Norwood
Is the future of Atlantic Salmon farming in Australia at sea, or all ashore? It is an issue that has generated much local debate in the state of Tasmania and was a focus of the 'Planning for a Blue Future' Global Salmon Symposium in Tasmania in December, along with biosecurity and environmental issues.
Held at the University of Tasmania in Hobart, the event was coordinated by the university and Atlantic Salmon production companies, recognising that the industry is 'at a crossroads' in Australia.
The symposium brought local players together to learn from government, production and research leaders from Norway, Denmark, the Faroe Islands, Scotland and Canada, who provided examples of the issues that had shaped the industry in their countries.
Local participants are keen to provide a common direction to development so that, going forward, they can better meet the challenges of increasing production in a sustainable way and address community concerns.
On a global scale, Tasmania's industry may be 'boutique', but in Tasmania, and in Australian terms, it is big business and a leading example of industrialised food production. That, in itself, generates some opposition. But Atlantic Salmon producers effectively put more fresh, locally grown fish on Australian tables than any other species, with all the attendant health, economic and social benefits that this brings.
In Tasmania there are ongoing tensions over the location of new and even existing farms, with production intensity and environmental impact all proving highly contentious. Views also differ among the state's three producers – Tassal, Huon Aquaculture and Petuna – about what the future of farming might look like.
Tasmanian Deputy Premier and Minister for Primary Industries and Water Jeremy Rockliff opened the symposium by outlining the government's support for Atlantic Salmon aquaculture. He launched the government's Sustainable Industry Growth Plan for the Salmon Industry, committing to ongoing reviews of the plan and a process of continuous improvement.
In the water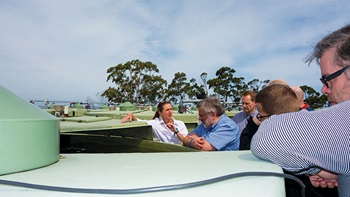 Manager of the Experimental Aquaculture Facility at Taroona, Polly Hilder (left), explains the Atlantic Salmon research underway to visitors.
Speakers highlighted international production trends, including the latest designs and increasing sophistication of ocean cage and land-based recirculation technology.
He said for exposed locations, such as those that the Tasmanian industry is seeking to move into, flexible cages were suited to sites with waves of up to 10 metres.
Huon's Fortress cages are the largest and most advanced in Australia, with a diameter of 76 metres and capable of dealing with swells of up to seven metres.
It is important to match designs with locations, he said, as animal welfare could become an issue; fish can be injured in wild seas if they are 'thrown' against inflexible pen walls.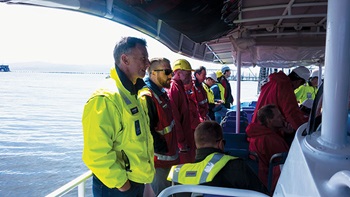 A field expedition to Hideaway Bay in south-east Tasmania was provided for speakers attending the Blue Future symposium.
Cage sizes are continually increasing and the world's largest pen system to date is being operated by Viewpoint Seafarm in Norway. Looking more like an oil rig than a fish farm, it combines 600,000 cubic metres of pens with the capacity to process 13,600 tonnes of fish a year, and it can withstand 15-metre waves.
On land
Joachim Buaro works for Norwegian-based Aquastructures, which specialises in offshore aquaculture. He provided an overview of the latest pen developments, including rigid versus flexible design as well as surface and subsea pens.
Danish company Billund Aquaculture is a global leader in recirculating aquaculture systems (RAS). The managing director of the company's Australian operations, Patrick Tigges, outlined how the technology has evolved over more than a decade and what it might hold for the future. Billund has already completed two recirculation systems for Atlantic Salmon hatcheries in Australia and is working on a third hatchery, now under construction.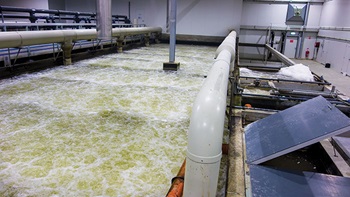 A recirculating aquaculture system at a Huon Aquaculture hatchery filters and treats water before it is reused in the fish grow-out tanks at the site.
Recirculation systems filter and treat water used in fish farming, which is then reused within the fish grow-out system as far as possible – an alternative to systems where water flows into a fish production system, is used, treated and released back into waterways.
Globally, RAS are becoming standard for hatcheries and Atlantic Salmon production of smolt up to 150 to 200 grams because they provide greater control over the environment
and biosecurity.
However, there is also an increasing move towards RAS for the post-smolt phase after fish have transitioned to their saltwater life stage. Some producers are growing fish post-smolt up to 600 grams in RAS where they would typically be put into a marine site at between 100 to 200 grams. This provides a more robust fish transferred to ocean pens and reduces time at sea.
Patrick Tigges said Billund had also proven that it was possible to raise fish to market size on land. It has a RAS operating in Langsand Laks, Denmark, which has provided a testbed for the technology and produces about 800 tonnes of fish a year. A more recent development is the construction of a 7700-tonne Atlantic Salmon farm in Miami, US, by Atlantic Sapphire Homestead.
Patrick Tigges said with improving technology, the economics of total grow-out RAS could stack up when they were close to markets. However, he said it was not a case of ocean or land, but rather "how much of each".
"You might build a grow-out facility in Sydney because you're close to markets; that's why they're building one in Miami. You wouldn't build something like this in Tasmania, because you have the ocean, and you still have all the logistics and transport costs," he said.
Fish health
However, biosecurity emerged as a more urgent issue. Presenters highlighted how animal health and environmental health were intertwined. Unavoidable environmental factors could trigger disease outbreaks. Specific management practices such as fallowing and reduced stocking densities could help reduce disease pressure, as could other operational changes to limit the spread of infection.
In Australia, amoebic gill disease has been the most well-recognised foe of producers to date. Breeding programs and new treatment regimes developed during the past decade have significantly reduced the extent and cost of treatment. However, new diseases continue to arise and mutate. Pilchard Orthomyxovirus has recently been identified as new threat to fish health, for all Tasmanian producers, causing fish mortalities in several production areas.
Regin Jacobsen from Bakkafrost, the largest salmon producer in the Danish Faroe Islands, told the symposium that the industry in the Faroe Islands had been reduced from 65 players down to just three over the course of 20 years.
This was principally the result of a series of disease outbreaks, and particularly Infectious Salmon Anemia (from the same virus family as Pilchard Orthomyxovirus), which saw annual production drop from a peak of more than 70,000 tonnes in 2002 to less than 20,000 by 2005.
Regin Jacobsen said surviving in the Faroe Islands had required a cultural shift and cooperation among the remaining producers including higher standards of biosecurity, which later became the basis of revised regulations.
New veterinary protocols mandated fallowing, age-class segregations, vaccinations and stocking densities. Companies also agreed to swap some marine leases, providing a sole operator in each region, which made it easier to manage production processes and eliminate the risk of cross-company contamination.
Larry Hammell from University of Prince Edward Island, Canada, also spoke about the need for biosecurity planning, and a scientific approach with agreed monitoring, prevention, protection and control strategies. He said while the protocols he helped to develop related to Infectious Salmon Anemia, they applied more generally to the transmission of disease pathogens in "a sea of unknowns".
Environment
Stuart Baird, area manager for the Scottish Environment Protection Agency, outlined the environmental monitoring processes used in Scotland, where there are 450 licence holders who produce 177,000 tonnes of fish a year.
He said regulations in Scotland were changing to incorporate higher standards of monitoring and compliance. The industry had a growth target of five per cent a year, but achieving this would require growers to be more actively involved in environmental management and to move beyond mere compliance.
Former head of section for Directorate of Fisheries Norway Henrik Hareide also discussed the complex regulatory environment in his country and efforts to control or reduce the impact of sea lice, which have become widespread. He said while the framework for Norwegian regulation was complicated, overarching principles were less prescriptive and put the onus on operators to meet high standards. 
For example, the environmental standard in the Norwegian Aquaculture Act 2005 requires that aquaculture "be established, operated and abandoned in an environmentally responsible manner". Regulations also provided some flexibility, such as the ability to relocate cages or farms, in response to changing environmental conditions.
Canadian speaker Thierry Chopin, a professor of marine biology at the University of New Brunswick, outlined the emerging practice of integrated multi-trophic aquaculture as one way to address the environmental impact of Atlantic Salmon farming.
This approach is being trialled in Australia by Tassal at its newly established Okehampton Bay marine farm.
It involves establishing complementary 'crops' – typically shellfish and seaweed species – in the nutrient zone of finfish aquaculture to take advantage of nutrients from the fish farm and provide water-filtration services. Thierry Chopin advocated regulations that encouraged this approach to reduce the potential impact of aquaculture.
The public symposium was followed by two days of workshops with invited industry, research and government participants. The workshops looked in more detail at the information gaps and the roles different parties needed to play to address biosecurity and environmental issues in particular.
Research efforts
International visitors were able to visit the operations of all three Atlantic Salmon producers as part of pre and post-conference tours. They also visited the Experimental Aquaculture Facility at the Institute for Marine and Antarctic Studies (IMAS) Taroona fisheries and aquaculture research centre. This is operated in partnership with Huon Aquaculture, Skretting, the University of Tasmania and the Tasmanian Government.
IMAS works with industry, government and the community to undertake world-class research that supports the efficiency, regulation and sustainability of salmon aquaculture in Tasmania.
As part of this work it has developed the video Listening to the harbour, which features research being undertaken at Macquarie Harbour, where Huon, Petuna and Tassal all have Atlantic Salmon farms.
In the video, researcher Jeff Ross describes the important natural features of Macquarie Harbour, the environmental responses to salmon farming, and the role that science is playing in determining the level of farming that is ecologically sustainable into the future.
Listening to the harbour from the IMAS YouTube channel.
More information
To explore all aspects of salmon farming science see here: Tasmanian Salmonid Growers Association
Note: The 2017 'Planning for a Blue Future' symposium was the precursor for a larger Global Salmon Symposium to be held in Tasmania later in 2018.