A focus on new opportunities to involve fishers in policymaking brings an international Nuffield Scholar to Australia
By Ilaria Catizone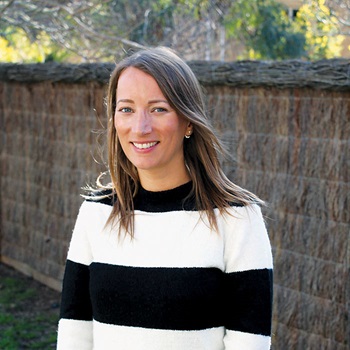 Kathryn Stack
Photo: Chelli Edri, FRDC
Belgium-based policy specialist Kathryn Stack has been on both sides of fisheries policymaking.
While working at the European Parliament, she tried to develop solutions that would balance what seemed to be competing needs of fishers and non-government organisations.
And as managing director of Europêche, the representative body for European fishers, she was lobbying policymakers to ensure a better outcome for fisheries.
Finding better ways to help fishers get their voices heard is what brought her to Australia recently as part of a 16-week Nuffield Australia Farming Scholarship study tour. She is the first fisheries-focused international scholar; for most of its history the Nuffield Scholarship program has been country-specific.
Originally from England, Kathryn Stack is also exploring on her study tour how the political changes that will come with the UK's exit from the European Union (EU) will affect the country's fisheries.
Her Nuffield Scholarship has allowed her to travel to 12 countries to study the role of primary industry associations and how they can be most effective in engaging with decision-makers and the environmental lobby.
"I am looking at the role of industry associations and how influential they are in forging policy around the world. I am also studying the powerful role of the environmental lobby and how it is influencing decision-making," Kathryn Stack says.
She aims to help by providing fishers with knowledge about how to get their message across.
"A more engaged fishing sector will be of interest to all parties since it is the fishers themselves who have to make the rules work in practice. If they have a say at the start, the rules will be fairer and more balanced and compliance will increase."
In the EU, fisheries regulations can be very rigid, she says, and applying one set of rules to all 28 EU countries means that fisheries in many countries may not be operating as efficiently as they could.
Protecting national interests is a high priority and member countries are often competing with each other in the marketplace. While all EU countries have to abide by the same set of rules and often share fishing waters, fishers in each country have different operating zones and environments and they use different gears and vessels.
Kathryn Stack says for the UK, Brexit presents its fishing sector with a unique opportunity to forge its own policy, suited to its specific circumstances.
Her Nuffield study tour began early in 2017 in Brazil where she attended a seven-day, intensive Nuffield Contemporary Scholars Conference. She then joined 10 fellow Nuffield Scholars of diverse nationalities and agricultural professions on a Global Focus program, a seven-week intensive program of travel that visited Chile, the US, Canada, the Netherlands and Italy.
Recently, Kathryn Stack capped off her scholarship travels with trips to Australia, New Zealand, Norway and Iceland. "Policymakers in Australia seem to engage much more with the sector," she says.
"This is the most important thing when forging policy, to have all stakeholders involved from the start. It not only breaks down barriers between industry and civil society but allows everyone to have a say."
Kathryn Stack's scholarship is sponsored by the Atlantis Fisheries Consulting Group and the Nuffield International Foundation Fund.
The FRDC has sponsored the Australian Nuffield Scholarship program since 2007. Applications for the next round of scholarships will open on 1 April 2018. For more information visit the Nuffield Australia website.
Nuffield is a non-profit organisation that provides the opportunity for those working in the primary industries to develop the skills to make a difference in the world. It supports up to 16 weeks of travel for scholars working in Australia's primary industries to research a topic of their choice.
More information