Traditional methods of recording a fisher's catch take on new meaning
"Decompression"
Artwork: Jane Dennis
By Rebecca Thyer
Using a paintbrush and a water-based ink, north-Queensland-based artist Jane Dennis carefully applies paint to one side of a fish. Then by pressing a sheet of paper onto the fish and gently rubbing it, the fish's details are transferred, revealing a mirror image on the paper.
The process, called Gyotaku, is Japanese. It translates as 'fish rubbing', and is behind the artist's 2017 collection called 'Sushi Train'.
The collection comprises 50 smaller 'sushi' pieces (at 30 x 30 centimetres) and 15 large pieces. With a focus on edible fish, the artworks feature different fish species printed in various colours on Japanese Kozo rice paper.
'Bait Ball', part of the collection, won a Queensland Regional Art Award.
Jane Dennis works from her studio in Far North Queensland where the hot and humid conditions often make working at night easier. "It is cooler, quieter and there are less flies," she says.
The Gyotaku technique Jane Dennis adopts is Chokusetsu-ho, a fast and spontaneous method.
Originally Chokusetsu-ho was used by Japanese fishers for recording species and catch numbers. "They would take paper and ink out on the fishing boats and take a rubbing of the fish after the kill. Each species was duly recorded on paper and the catch counted," she says.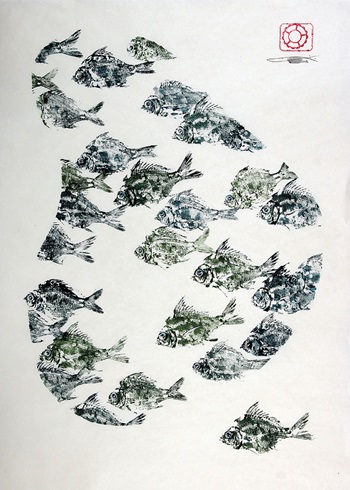 Jane Dennis's work won a Queensland Regional Art Award for her Chokusetsu-ho print called 'Bait Ball'. It is part of a group exhibition, 'Iconic', on tour throughout regional Queensland 2018-19.
By the mid-1800s, fish rubbing had developed into an art form, and it is still practised by artists today. Today the technique is utilised by artists in Japan and around the world.
For Jane Dennis, fish capture the essence of life. "They are ocean dwellers, our distant cousins, these living fossils mythically swimming in a parallel world. They are also our food source, our hobby. Their physical diversity is an abundant encyclopedia of aesthetics."
She was introduced to the technique about five years ago. "The whole concept has completely captured my imagination as it combines my love of biology, archaeology and art," she says.
"Each time I paint a new fish it is a mystery as to how it will work out. Each fish has a different oil content and reacts differently to the process. It's as random as fishing."
With her freezer kept full of fresh 'plates', Jane Dennis has printed many types of sea life. "Currently, I deal with what we catch and eat. But there are a lot of strange things I've just found on the beach."
The technique is more about texture than colour and can lead to surprising outcomes. "Tilapia, for example, with its large scales, prints beautifully. There is also the huge variety of fins. I've also printed prawns, stingrays and look forward to doing jellyfish!"
Chokusetsu-ho also suits Jane Dennis's 'scientific' approach to art, which began as a child, when she collected anything she could find to investigate it further.
"I was a collector. I loved dead things like insects and I spent years drawing what I collected. My mother was scientifically minded and I think that also played a part. As a physiotherapist she had lots of anatomy books around and that spiked my interest."
Her collections soon became known as Jane Dennis's 'Boxes of death'.
"I consider that I'm researching them from an artistic point of view, like Leonardo da Vinci did.
"Art, for me, is about creating an image and stories. And this printmaking technique offers a fresh approach to my collection of the dead. Death is an enduring part of life, and holds the key to survival and evolution.
"My approach to making this body of work has been a simple combination: catch, print, eat." Indeed, she says she often has a friend over to eat the fish after it has been painted.
Her ideas for using the technique continue to grow. She is experimenting with using the technique on silk and is in the process of approaching scientific groups on the Great Barrier Reef about recording the sea life found there.
More information