Product safety, waste prevention and reputation protection all benefit from increased monitoring for algal toxins
By Catherine Norwood
In September 2017, staff at Spring Bay Seafoods at Triabunna, on Tasmania's east coast, decided they needed to suspend their mussel harvest to protect the safety of their product.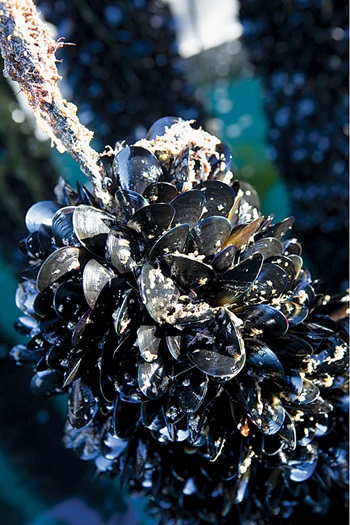 Australian Blue Mussels are able to quickly eliminate toxins once algal blooms abate
Photo: Spring Bay Seafoods
The decision was based on evidence gathered in the company's own laboratory: cell counts of potentially harmful algae in water samples, DNA testing that identified the presence of a toxic algal species, and a 'positive' result for high levels of paralytic shellfish toxins (PSTs) using a test kit that had recently received international validation.
That was on Monday 11 September 2017, as the mussel harvest was gearing up towards a peak of 20 tonnes a week. But it was not until the following Friday 15 September 2017 that formal laboratory testing of samples sent from Triabunna to Sydney confirmed that PSTs in the mussel meat exceeded regulatory limits and waters were officially closed.
Without that decision earlier in the week, Spring Bay's managing director Phil Lamb knows the company was likely to have been subject to a product recall.
It is a heartache Phil Lamb is all too familiar with, in the wake of repeated blooms of the toxic Alexandrium tamarense (Group 1) species. The first major bloom in Tasmania and an international product recall was in 2012. Recurring blooms have varied in intensity, but have become more common along the length of Tasmania's east coast, persisting for longer in some years and also becoming increasingly toxic.
Spring Bay is naturally keen to prevent any further recalls. After four years of its own 'extension' work, including collaborative investigations and a lot of field testing to develop some proactive decision-making tools, the Spring Bay laboratory now pre-emptively tests for both PSTs and diarrhetic shellfish toxins, the latter of which emerged as an issue during a bloom of a different algal species in 2016.
Its efforts won the company the FRDC's Research, Development and Extension Award at the biennial National Seafood Industry Awards in September 2017.
But more importantly, Phil Lamb says, the suite of tools it is using has prevented potentially unsafe seafood being sent to market, and averted many tonnes of wasted product. Mussels in the water will happily live on, gobbling through the algae but then quickly flushing themselves of the toxins once the bloom abates.
At Spring Bay's main marine farm near Triabunna, waters remained closed to harvesting until 5 January 2018, almost 17 weeks that included the entire peak demand period of Christmas and New Year.
Maintaining product supply during closures has been a critical issue for the sustainability of the business. On the supply front, the company moved to diversify production geographically by joining forces with a former competitor and long-time mussel grower in Victoria, Sea Bounty Pty Ltd. In a combined venture, they opened a new processing plant in Geelong, Victoria, in 2015.
The arrangement provides both businesses with better certainty, two brands and a continuous supply of Australian Blue Mussels (Mytilus galloprovincialis) for domestic and international customers.
More information
Phil Lamb, Spring Bay Mussels